There's no easy button for parents, but each of us has our own little hacks that help make life a little easier. Here are 4 hacks that you need to know!
I can already sense the skeptical moms. "There's no such thing as making this easier," you're probably thinking. For the most part, I agree--there's no easy button for parents, but each of us has our own little hacks that help make life a little easier. There are even probably a few hacks that we don't necessarily broadcast to the world in an effort to avoid judgement. It's often easier to pretend that we're always going the extra mile for our kids. Unfortunately, that's just not possible most days in my world--or in anyone's world, and it's okay to admit it!
If you're looking for permission to cut a few corners then here you have it--my own list of unconventional shortcuts:
Limit Bath Time:

Some families love bath time. I agree that it can be a great way to fill up an hour over the weekend, but not during the week. I would just rather not deal with a Tsunami in my bathroom on a Tuesday night. Not to mention the struggle of getting my kids out of the tub once they're having fun making a wave pool...forget it. Instead I opt for:
Hide the Fun Stuff
Sometimes I'm just not in the mood to make Play-Doh cupcakes or paint a watercolor masterpiece. Most of the time my kids are fine with activities that lack a certain level of chaos as long as they don't see the Play-Doh or paint. I'm pretty sure my kids believe that certain toys just appear out of thin air, which happens to be only when I'm good and ready to deal with them.
Don't separate laundry.
Do people still do this? Unless I'm bleaching whites (a rare occasion only forced by the most disgusting of accidents), I've completely abandoned this task. Like most moms, the majority of my laundry is kids clothing. Clothes that they're either going to destroy or grow out of in 6 months. Why on Earth would I spend time to keep the brights brighter and the whites whiter? The only rule I have when it comes to laundry is that the machine door closes.
Start allergen introduction early
I can name multiple families in our circle of friends with a child that has a food allergy. Food allergies can be a real challenge, especially in social circumstances like recreational sports, birthday parties, and school.
Thanks to science and proactive physicians, early allergen introduction is now a reality! Three recent clinical trials have laid the groundbreaking evidence for early allergen introduction infants with a focus on early and sustained exposure to allergens. Leading medical societies have also shifted guidelines to support early allergen introduction as early as 4-6 months. Even better news is that there is an easy way to implement early allergen introduction for babies with Ready. Set. Food! Aka no need to spend hours in the kitchen preparing baby food with the right dosage of allergens or worrying about how to best introduce peanut butter to your 6 month old. You're welcome, mamas!
To learn more about how Ready. Set. Food! makes early allergen introduction easy for all babies and feeding routines, explore the plans below!
About Lindsay: Lindsay is mom to 4 boys and a chocolate lab. When she's not hacking her way through parenthood, she's leading communications and media relations for Jiobit. Jiobit is a tiny location monitor for kiddos. It clips discreetly to a child's clothing and pairs with a parent's smartphone to deliver real-time location alerts at any distance. It's the perfect tool for peace of mind.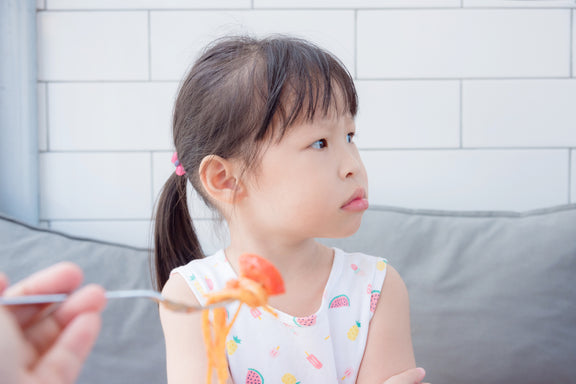 All health-related content on this website is for informational purposes only and does not create a doctor-patient relationship. Always seek the advice of your own pediatrician in connection with any questions regarding your baby's health.
These statements have not been evaluated by the Food and Drug Administration. Products are not intended to diagnose, treat, cure or prevent any disease.  If your infant has severe eczema, check with your infant's healthcare provider before feeding foods containing ground peanuts.