Peanut allergies are associated with high healthcare costs, but can seeing an allergist relieve some of that financial burden? The results of a 2022 study indicate that this is the case. Find out more about this study here.
Peanut allergies are associated with high healthcare costs, but can seeing an allergist relieve some of that financial burden? A 2022 study published in the Journal of Allergy and Clinical Immunology: In Practice has found that peanut-allergic children who see an allergist have much lower healthcare costs, compared to peanut-allergic children who are not receiving allergist care. Today, we'll break down these findings and what they mean for families.
The allergist care cost study: A closer look
The 2022 study on allergist care was led by Dr. Matthew Greenhawt, professor of pediatric allergy and immunology in the University of Colorado School of Medicine. Dr. Greenhawt wanted to find out if allergist care lowers the medical costs of living with a peanut allergy, including for peanut-allergic children and their families.
Let's take a closer look at the study:
Who was included in the study?

72,854 patients with peanut allergies

39,068 of these patients, or 53.6% of the above group, have seen an allergist at least once

166,825 patients with food allergies

other than

peanut, who served as a control group

Not just children – the people were 64 years of age and younger at the time of the study

How was the study conducted?

Dr. Greenhawt accessed food allergy-related medical claims through the IBM MarketScan Commercial Claims and Encounters data, to see how much the allergy treatments cost.




Data was from between January 2010 and June 2019, and each patient's claims were examined over a 1-year span.

What were the main findings?

People with peanut allergies who visited the allergist at least once:

Had lower healthcare costs compared to peers who haven't seen an allergist

Were more likely to have an epinephrine prescription than peers who haven't seen an allergist
Breaking down the findings
Dr. Greenhawt's study found that people with peanut allergies had lower health care costs after visiting an allergist, compared to their peers with the same allergy who haven't received allergist care. The group that visited an allergist paid an average of $6,347 in a year, compared to an average of $8,270 paid by the group that hadn't seen an allergist.
Also, people with peanut allergies who visited the allergist at least once were significantly more likely to have a prescription for an epinephrine auto-injector, which provides lifesaving care in the event of anaphylaxis (a severe allergic reaction that requires emergency attention). This is crucial, because epinephrine is the only medication that can stop anaphylaxis.
The health care costs were lower among the peanut allergy group that visited the allergist, even though that group had more recorded medical visits for anaphylaxis, and higher epinephrine costs (both markers of severe reactions) versus the group with no allergist visits.
"Total health care costs were… lower for persons with [peanut allergy] with versus without an allergist visit ($6347 vs $8270)." – Dr. Greenhawt's 2022 study
Even more strikingly, the study also found that people with peanut allergies have more health claims (including anaphylaxis emergency visits, doctor visits, and epinephrine prescriptions) compared to peers with other types of food allergies. Yet, the non-peanut food allergy group had higher health care costs – and fewer allergist visits – overall.
To quote the study, "Across all food allergies analyzed in this data set, total mean health care costs were higher in the [non-peanut food allergy] group than in the peanut allergy group despite the peanut allergy group having higher mean visit days for both allergy and general pediatric care, as well as a higher number of anaphylaxis episode and epinephrine claims data."
It's already known that peanut allergies tend to cause severe and life-threatening allergic reactions more often, compared to allergies to other foods. And it makes sense that allergists are treating people with a history of severe reactions. But this study's findings show that allergists have helped peanut allergic patients manage severe peanut allergies in a way that keeps treatment costs significantly lower.
What do these findings mean for families?
If your child has a peanut allergy and you aren't already sending them to an allergist, this study's findings present a strong case for seeking out allergist treatment. The allergist can help you manage your child's allergies, so medical costs will likely be lower in the long run.
Although there isn't similar data on whether allergist visits lower the treatment costs for people with other types of food allergies, the guidance that an allergist gives may also keep costs in check if your child has a different food allergy.
Dr. Greenhawt also hopes that this study's findings will improve the insurance landscape for food allergy families, since the cost savings through an allergist leads cost savings for plan payers as well. As Dr. Greenhawt told Science Daily, "This study provides data that for people with a peanut allergy, allergy specialty care is cost-saving compared to not having a specialist involved, and this provides value to both [healthcare plan] payers and patients. We want to make sure that allergists are central in caring for patients with food allergy."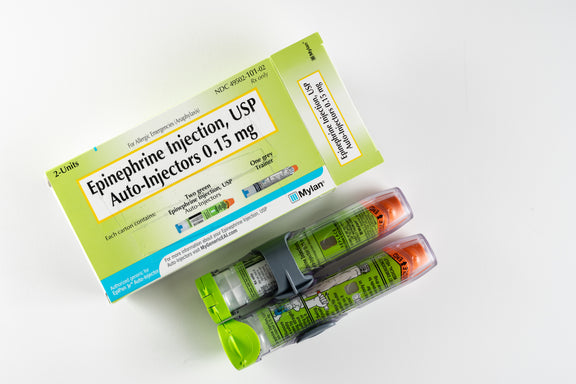 All health-related content on this website is for informational purposes only and does not create a doctor-patient relationship. Always seek the advice of your own pediatrician in connection with any questions regarding your baby's health.
These statements have not been evaluated by the Food and Drug Administration. Products are not intended to diagnose, treat, cure or prevent any disease.  If your infant has severe eczema, check with your infant's healthcare provider before feeding foods containing ground peanuts.