In your day-to-day routine, you will likely encounter a situation where you will have to take a moment to pause and breastfeed your baby while out of the house. Here's everything you need to know about the legal rules of breastfeeding in public.
Breastfeeding is a beautiful and natural thing that most mothers and their babies will experience. A mother's body was built to feed their baby, however, nursing in public has become a controversial topic. According to the Centers for Disease Control and Prevention (CDC) over 81 percent of new mothers will start breastfeeding right after giving birth. But, only 25 percent of babies are exclusively breastfed six months later. This significant decrease does not come as much of a surprise given the amount of challenges breastfeeding moms face. The CDC accounts this decrease to the fact that nursing mothers do not receive enough support from healthcare providers, family members, and employers.
It is the top priority of any parent to have all of their baby's needs met. So when your baby is hungry, it doesn't matter where you are, you'll make sure it happens! Unfortunately, a mother nursing in public can often spark a heated debate. Regardless of personal beliefs, as of 2018, all 50 states offer some form of legal protection and support for nursing moms.
Breastfeeding in Public Laws
The good news for all breastfeeding mothers is that all 50 states, the District of Columbia, Puerto Rico, and the Virgin Islands have approved legislation that allow women to breastfeed in any public or private location. There are a few places that also have additional laws related to public spaces.
You can nurse whenever your baby is hungry

. In every state, you are entitled to breastfeed your baby whenever they are hungry. Newborn babies feed every 4 to 5 hours so you'll likely be out-and-about when your baby gets hungry during the day. This includes private establishments like restaurants or stores.

There are extra protections in specific places

. Federal legislation guarantees that you will be able to nurse on any federal property. Additionally, your employer must allow you to nurse or pump during work breaks. All day care centers are required to provide comfortable nursing accommodations.

Breastfeeding on planes

. There have been recent stories about moms facing challenges when it comes to breastfeeding their baby while on a plane. Most major airlines do allow for breastfeeding on a flight, it is best to double-check your airline's policy on breastfeeding before the trip.

Know your rights

. Regardless of anyone's personal opinions, you are legally allowed to breastfeed your baby, no matter where you are. If someone does approach or harass you while breastfeeding in public, stay calm and remember that the law is on your side. If the situation begins to escalate, you may call the police to protect your safety.
Breastfeeding at Work Laws
Across the United States, moms are protected in the workplace under the Break Time for Nursing Mothers law. This was an amendment to the 1938 Fair Labor Standards Act and states, "employers covered by the Fair Labor Standards Act are required to provide basic accommodations for breastfeeding mothers at work—up to one year after the child's birth—each time such employee has need to express milk," The room must be hidden from public viewing and free from any interruptions by coworkers or any other individuals in public.
The nationwide law states that the private space dedicated for breastfeeding and lactation must not be a bathroom and "private" is defined as a space where others cannot see an employee while she is pumping breast milk. This means that the area could be only blocked off by a mobile screen or tall cubicle wall. According to the U.S. Department of Health and Human Services, It is not required to be a permanent, dedicated room.
State-Specific Laws for Breastfeeding at Work
Twenty-nine states, the District of Columbia and Puerto Rico have laws related to breastfeeding in the workplace. To look up your state's laws on breastfeeding at work, you can visit this website. It is important to research your state's specific breastfeeding laws as they change state-to-state.
In most states, the law prohibits an employer from not allowing an employee to breastfeed during a meal period or break period. The law states that it is discriminatory practice for any employer or labor organization to refuse to hire or employ, fire, withhold pay, or demote an individual because they are breastfeeding their baby at the workplace.
Breastfeeding Laws by State
Nationwide, there are laws to protect breastfeeding in public. Certain states have also passed laws to protect breastfeeding moms in other ways outside of just being in public or in the workplace. This includes being able to pass on jury duty or nursing in a child care facility.
Tips for Breastfeeding in Public
Now that you have a better understanding of your rights for breastfeeding in public and at work, here are a few tips that can make nursing outside of the house more comfortable and easy for you and your baby.
Dress for success

. Finding options that are easy to adjust and nurse your baby while out in public can make breastfeeding on-the-go a more comfortable experience for you and your baby. Look for nursing tops or shirts that button from the bottom up, can be easily lifted, or pulled to the side to make it easier for your baby to access your breast. Wrap-style dresses and tops are also a great option to look into.

Wear your baby

. Using a sling or wrap to "wear" your baby can make public breastfeeding more comfortable and convenient for you.

Use a cover

. Using a nursing cover is a completely personal choice and is not required by any legislation. If you are interested in using a cover, make sure that your baby still has enough room for easy feeding and breathing. The cover should be lightweight and well-ventilated so that they do not get overheated. If you're in a pinch, a large napkin from a restaurant works well as a temporary cover.

Ask for accommodations

. Never hesitate to ask for special accommodations while out in public and needing to breastfeed. Most public places such as shopping malls, airports, and amusement parks, will have special nursing rooms that will make nursing on-the-go more comfortable for you.

Bring a travel nursing pillow

. If you are someone who enjoys using a nursing pillow at home, you might want to look into having a travel-sized or

inflatable

nursing pillow to bring with you. You can store this in your diaper bag for easy access and convenience.
Public Indecency Breastfeeding Laws
In 30 states, breastfeeding moms are exempt from public indecency laws. Those states are Alaska, Arizona, Arkansas, Florida, Idaho, Illinois,Kentucky, Louisiana, Massachusetts, Michigan, Minnesota, Mississippi, Missouri, Montana, Nevada, New Hampshire, New York, North Carolina, North Dakota, Oklahoma, Pennsylvania, Rhode Island, South Carolina, South Dakota, Tennessee, Utah, Virginia, Washington, Wisconsin, and Wyoming.
Jury Duty Breastfeeding Laws
Jury duty is a critically important part of our civic duty. However, new moms are trying to balance countless responsibilities and adjust to their new life raising their baby. Some states have passed laws to exempt or excuse breastfeeding moms from jury duty to provide moms flexibility to focus on caring for their child. The most recent state to pass legislation related to this is New York. Governor Andrew Cuomo signed the bill into a law that now allows nursing moms to delay jury duty with a note from their doctor, only as long as their service was not previously postponed or delayed.
There are 17 other states that have provided moms that ability to delay jury duty that include: California, Connecticut, Idaho, Illinois, Iowa, Kansas, Kentucky, Michigan, Mississippi, Missouri, Montana, Nebraska, Oklahoma, Oregon, South Dakota, Utah, and Virginia.
Child Care Facility Laws
Currently, 3 states have laws that are related to child care facilities and breastfeeding.
In the state of Mississippi, licensed child care facilities must provide breastfeeding mothers a clean, private space, that is not a bathroom, to breastfeed their baby. They must also provide a fridge to store breast milk, have proper training for all staff members on how to safely store breast milk, and have breastfeeding information and resources available to all clients and customers.

Louisiana prohibits any child care facility from discriminating against breastfed babies.

Maryland requires child care centers to promote proper nutrition and developmentally appropriate practices by establishing training and policies promoting breastfeeding.
Other Unique Breastfeeding Laws in the U.S.
It is important to do some research on any unique laws that your state might have relating to breastfeeding. There are a few restrictions or exemptions that vary state-by-state.
Tax exemptions: In some states, such as Maryland, breastfeeding moms are given a tax exemption on the sale of tangible property that is created and purchased for the purpose of initiating, supporting, or sustaining breastfeeding. Louisiana also prohibits state sales taxes and use taxes from being applied to any consumer purchases of breastfeeding items.
Correctional facility rights: In New York, any child under the age of 1 is allowed to join their mom to a correctional facility if the mother is breastfeeding at the time that she is committed.
Public school rights: California requires schools operated by a school district or a county office of education, the California School for the Deaf, the California School for the Blind, and charter schools to provide reasonable accommodations to a student on a high school campus to pump breast milk, breastfeed an infant child, or address other needs related to breastfeeding. Similarly, Illinois requires public schools, including charter schools, to provide clean and suitable accommodations to a breastfeeding mother and student, as well.
Breastfeeding Custody Laws
The laws for child custody change state-to-state. However, there are 3 states that have specific laws related to child custody and breastfeeding.
In Maine, a judge must consider whether the mother of a child under one year old is breastfeeding when the judge determines parental rights and responsibilities.

In Michigan, one of the factors a judge must consider when deciding parenting time and custody is whether the child is under six months old and breastfeeding or under one year old and receives a substantial portion of his nutrition through breastfeeding.

In Utah, a judge may consider a nursing child's lack of reasonable alternatives when determining whether the default custody schedule should apply to a particular case.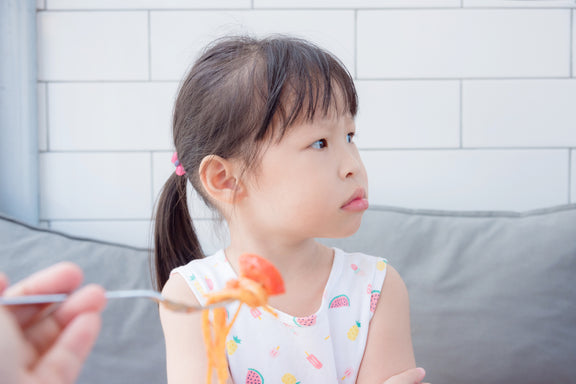 All health-related content on this website is for informational purposes only and does not create a doctor-patient relationship. Always seek the advice of your own pediatrician in connection with any questions regarding your baby's health.
These statements have not been evaluated by the Food and Drug Administration. Products are not intended to diagnose, treat, cure or prevent any disease.  If your infant has severe eczema, check with your infant's healthcare provider before feeding foods containing ground peanuts.