As an infant, Abe suffered a severe peanut allergy. Now, Abe's mom is helping families introduce allergens early. Check out her story here!
We all have a "what if…" story. A time in our lives when we can look back and recall a single action (or lack of action) that may have altered where we are today.
My story is about my younger son, Abe, and his life threatening food allergies. To be clear, we had no family history of food allergies but I knew the drill: give your baby peanut butter (or Bamba) at the age of 7 months, and we did that. But our Abe suffered a severe peanut allergy, and soon after tested positive for egg and dairy allergies.
7 months old was too late for Abe, I wish I had known how important it was to start allergen introduction at 4 months

.
Within weeks and months of Abe's reaction, new studies were coming out and NIH and AAP guidelines were changing about allergen introduction, indicating families should start even as early as 4 months old. Contrary to the previously established practice of avoidance, it was shown that early introduction and sustained exposure to peanut, egg, and other foods was important.
Tremendous guilt fell over me, as I knew I had missed a critical window for Abe.
I felt like I had failed. It's been a difficult process. At home it's easier because I can control and monitor every piece of food that goes into Abe's mouth. But then we leave the house and I feel like I am constantly on guard. I remember having a play-date when another child innocently fed Abe one of her goldfish crackers-- I ran over to remove it from his mouth, but hives still began appearing all over his face and Abe started scratching himself uncontrollably. Just recently Abe's symptoms necessitated giving him an Epi-Pen and medical attention because Abe's breathing was labored and wheezy after he accidentally ate some cheese.
Wherever Abe goes, an Epi-Pen must follow him as well.
As Abe gets older, and goes to school, to birthday parties and field trips, I know I will have less control. I will need to entrust other adults and Abe with what are typically mindless acts of eating -- but for Abe have severe consequences. For now I just take one day at a time.
Today, Abe is our inspiration for changing this "what if…" story to a "what now?" story. He has inspired my family to embark on a mission to change how and when we give our babies foods and to give parents the tools to do it, easily and safely.
I am hopeful that Abe's struggle can help make things better for families like yours, please don't wait and miss your window.
What can all parents now do differently? We want to make it easy for you to start early and sustain exposure so you don't miss that critical window. We have done the research, calculated the doses, and made the mess, so you don't have to. To learn more about the science behind Ready. Set. Food!, visit our Science page.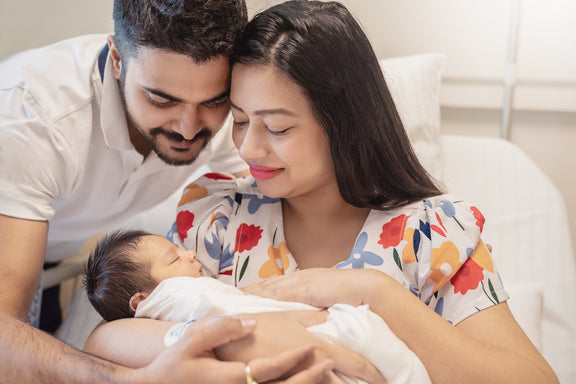 All health-related content on this website is for informational purposes only and does not create a doctor-patient relationship. Always seek the advice of your own pediatrician in connection with any questions regarding your baby's health.
These statements have not been evaluated by the Food and Drug Administration. Products are not intended to diagnose, treat, cure or prevent any disease.  If your infant has severe eczema, check with your infant's healthcare provider before feeding foods containing ground peanuts.