Board-Certified Allergist Dr. Katie Marks-Cogan answers questions on emerging peanut allergy immunotherapy options, including risks, effectiveness, and availability.
What are the different types of immunotherapy?
Oral Immunotherapy (OIT):

Involves small doses of the allergenic food given to the patient with the amounts slowly increased over time until a target dose is reached.

Sublingual Immunotherapy (SLIT)

: Similar to OIT, but instead uses drops of liquid that contain the food allergen given under the tongue.

Epicutaneous ("on the skin") Immunotherapy (EPIT):

A patch that contains the food allergen is applied to the skin and releases tiny amounts of the food allergen into the skin.
When successful, what does immunotherapy achieve? And is it considered a cure for peanut allergy?
It is currently unknown if these treatments can successfully achieve tolerance, which is the ability to permanently tolerate ingesting the food. They may only allow the food allergic person to be protected from accidental ingestion of the allergic food temporarily while they are receiving the treatment. Learn more about the spectrum of clinical reactivity here. There is still no true "cure" for food allergies.
What are the new, noteworthy advancements in peanut allergy treatments?
There are two new advancements in this area that are in different stages of FDA approval:
Palforzia (Aimmune) - Earlier this year, an FDA advisory panel recommended Aimmune's new peanut allergy immunotherapy, Palforzia, for FDA approval with the FDA expected to make their decision in January 2020. Palforzia is an OIT treatment intended for children and teens. Palforzia capsules contain peanut powder with a pre-dosed level of allergenic proteins. The amount of protein powder in a capsule starts out very low, and gradually increases to a daily maintenance dose of roughly one peanut.
Viaskin (DBV) - DBV Technologies is developing a form of EPIT with their Viaskin patch. This product is currently being developed to treat peanut, milk and egg allergies. Viaskin Peanut has already completed a Phase III clinical trial whereas Viaskin Milk is in Phase II clinical trials and Viaskin Egg is in pre-clinical development.
For both of the above treatments in development, it is important to note that these therapies are only meant to desensitize and are not intended as a cure for food allergies. Even after successful treatment, patients may still need to avoid allergenic foods and carry emergency medication.
What are the risks associated with these new treatments?
Because allergens are introduced to the body, there is also an increased risk of allergic and anaphylactic reactions. Gastrointestinal symptoms such as abdominal pain, cramping, and vomiting are the most common side effects of oral immunotherapy. Upper and lower respiratory tract reactions have also been reported. For EPIT, the most common reactions are rashes at the patch sites. Patients generally tolerate EPIT better than OIT.
Are these new treatments effective?
There is still no proven cure for food allergies. Peanut, egg, and milk OIT have been shown to induce desensitization in 60 to 80% of patients who were observed. It may not be effective for all types of food allergy as evidence suggests. More studies are also needed to determine whether desensitization can provide protection against accidental exposure.
Both OIT and EPIT have not yet been found to result in a permanent immunologic change. It can only provide temporary protection from accidental ingestion of the allergen while patients are receiving the treatment. Again, it is still unknown whether these treatments can achieve tolerance, where the patient can permanently tolerate the allergen.
When and how will these treatments be available?
It is not known when these specific OIT and EPIT treatments will be available for food allergy treatment, but the current thinking is that it will be in the next couple of years. These have not yet been approved by the FDA.
How would I know if these treatments are right for my child?
If you suspect that your child has a food allergy, consult an allergist. An allergist will be able to assess your child's history and confirm diagnosis through food allergy testing and oral challenge if needed. Your child's allergist will be able to recommend the right kind of management and treatment for your child and make a shared decision with you and your family. Currently, the standard approach for treating IgE-mediated food allergies remains to be strict avoidance and nutritional counseling.
While the advancements in this area of research are exciting, there are some things to take into consideration such as the fact that treatment can require repeated office visits and regularly exposing your child to an allergen that can trigger a reaction at any time. It is important to remember that there are many factors for parents to consider in deciding whether or not to participate in these new treatments, including assessing the risks versus the benefits. This is an intriguing time in the world of food allergy with more options becoming available than ever before. Shared decision making by the patient with their family and allergist can help determine if a specific treatment is right for them.
About the author: Our Chief Allergist, Katie Marks-Cogan, M.D., is board certified in Allergy/Immunology and Internal Medicine, and treats both pediatric and adult patients. Originally from Cleveland, Ohio, she received her M.D. with honors from the University of Maryland School of Medicine. She then completed her residency in Internal Medicine at Northwestern and fellowship in Allergy/Immunology at the prestigious University of Pennsylvania and Children's Hospital of Pennsylvania (CHOP). After finishing training, she moved to Southern California and currently works in private practice. She is a member of the scientific advisory board for Ready. Set. Food! She currently resides in Los Angeles with her husband, 4-year-old son, and 1-year-old daughter where she enjoys hiking, building LEGO castles with her kids, and cooking with her family.
Sources:
https://www.aaaai.org/conditions-and-treatments/library/allergy-library/oit
Vickery, Brian P., et al. Current and Future Treatment of Peanut Allergy. JACI: In Practice.https://www.sciencedirect.com/science/article/abs/pii/S2213219818308304?via%3Dihub
https://www.thelancet.com/journals/lancet/article/PIIS0140-6736(19)30420-9/fulltext
https://www.biospace.com/article/insight-report-where-is-the-peanut-allergy-drug-pipeline-now-/
https://www.allergicliving.com/2019/10/04/fda-to-review-viaskin-peanut-patch-for-possible-approval/
https://www.aaaai.org/global/latest-research-summaries/Current-JACI-Research/epicutaneous-peanut-allergy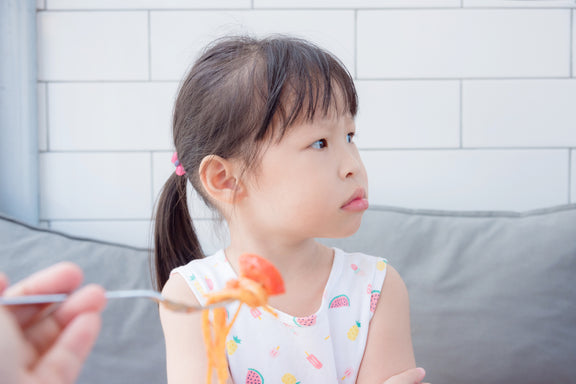 All health-related content on this website is for informational purposes only and does not create a doctor-patient relationship. Always seek the advice of your own pediatrician in connection with any questions regarding your baby's health.
These statements have not been evaluated by the Food and Drug Administration. Products are not intended to diagnose, treat, cure or prevent any disease.  If your infant has severe eczema, check with your infant's healthcare provider before feeding foods containing ground peanuts.