For Food Allergy Action Month 2021, we're excited to announce our new Ask the Allergist series featuring our Chief Allergist and Board Certified Allergist Katie Marks-Cogan, M.D., to answer your most commonly asked question on food allergies. In our third installment, Dr. Marks-Cogan will discuss common food allergy symptoms in children, the difference between a food allergy and a food intolerance, food allergy testing and tips for introducing allergens safely to your baby.
Common Food Allergy Symptoms in Children
In infants and children, hives and vomiting are the most common symptoms of a food allergic reaction. However, symptoms can vary widely, from one child to another and from one reaction to another. It's important to know that while hives and vomiting are mild symptoms, any reaction involving more than one organ system is considered to be anaphylaxis, which can be life-threatening and requires immediate attention.
Anaphylaxis can be life-threatening and requires immediate attention.
Other common symptoms can include redness of skin, swelling of face, lips, and eyes and diarrhea; in addition to all the possible symptoms listed below.
When Do Symptoms First Appear
Symptoms most often appear within minutes of exposure to an allergenic food, however symptoms can occur up to 2 hours after exposure. It's important to supervise your baby for up to two hours after feeding a new allergenic food in case of an allergic reaction.
Food Allergy v. Food Intolerance: How To Tell the Difference
What is a food allergy? A food allergy is an immune system response to the proteins in an allergenic food that are mistaken as foreign invaders, i.e. bacteria, viruses, etc, triggering an allergic reaction.
What is a food intolerance? A food intolerance is an adverse reaction to a food that does not involve the immune system. Food intolerance most often involves the digestive system.
A food allergy always involves the immune system; a food intolerance does not involve the immune system.
Common food intolerance symptoms include:
Diarrhea

Gas

Bloating

Stomach ache

Abdominal pain/cramps

Nausea

Vomiting

Headaches/Migraines
Unlike a food allergy, symptoms of a food intolerance are rarely ever life-threatening.
Food Allergy Testing
The history of exposure to an allergenic food is the most important part of the evaluation for a food allergy. If your child has a history of symptoms after eating an allergenic food, then there are 3 different tests that your allergist may recommend:
Skin Prick Testing: In this test, a tiny amount of allergen will be introduced through the top layer into the second layer.
Specific IgE Blood Testing: This test measures the levels of IgE that are present in the blood to a specific allergen. Like the skin prick test, it has a high negative predictive value, which means a negative result is most likely accurate. But it has a low positive predictive value, which again means there's a greater chance of getting a false positive result. If high levels of specific IgE are seen, then a food allergy may be diagnosed.
An important note about Skin Prick Testing and Blood Testing: Remember, blood and skin tests alone cannot be used to diagnose food allergy. A person does not have a food allergy unless they also have clinical symptoms. There is also a chance that a person could have a "false positive" on their skin or blood test.
Oral Food Challenge - Exposes a person to their potential allergenic food in small doses, slowly increasing over time with careful observation in a medical facility to watch for signs of an allergic reaction. An oral food challenge is the only way to definitively diagnose a food allergy.
An oral food challenge is the only way to definitively diagnose a food allergy.
Introducing Allergens Safely
New guidelines from leading health organizations all recommend early allergen introduction, including the new USDA Dietary Guidelines for Americans which recommend that: "potentially allergenic foods (e.g., peanuts, egg, cow milk products, tree nuts, wheat, crustacean shellfish, fish, and soy) should be introduced when other complementary foods are introduced to an infant's diet."
"Potentially allergenic foods should be introduced...to an infant's diet" - USDA Dietary Guidelines for Americans
While early allergen introduction is inherently safe, many parents are still anxious about introducing allergenic foods to their baby for the first time. Here are some tips that I offer to my patients to maximize safety while introducing allergens:
Introduce Allergens When It's Best for Baby - It's best to introduce allergens at home, when a parent/caregiver can supervise for up to 2 hours after feeding (in case of an allergic reaction), and of course, when baby is healthy.
Start With a Low Dose - Starting with a smaller amount of an allergenic food will be gentler on your baby.
Don't Delay, Earlier is Safest -

New research

reinforces that introducing allergens in infancy is inherently safe. In fact, we now know that infancy is the safest time to introduce allergens as this age group has the lowest reported cases of allergic reactions and zero cases of severe anaphylaxis.
It's also important to remember that introducing solids to your baby is an important and exciting milestone and that parents should try to enjoy this new adventure with their baby. As a parent myself, that's one of the reasons why I was inspired to develop Ready. Set. Food! with a team of leading physicians. I wanted an easier, safer solution for busy parents to help them follow the new guidelines. Introducing allergens is perfectly safe and Ready. Set. Food! is one option for busy families to help maximize ease and safety while still being able to enjoy the exciting milestone of introducing solids to their baby.
About Katie Marks-Cogan, M.D.: Dr. Marks-Cogan is board certified in Allergy/Immunology and Internal Medicine, and treats both pediatric and adult patients. Originally from Cleveland, Ohio, she received her M.D. with honors from the University of Maryland School of Medicine. She then completed her residency in Internal Medicine at Northwestern and fellowship in Allergy/Immunology at the prestigious University of Pennsylvania and Children's Hospital of Philadelphia (CHOP). After finishing training, she moved to Southern California where she works in private practice and is the owner of Clear Allergy. She is also Chief Allergist and a member of the scientific advisory board for Ready. Set. Food! She has numerous media appearances and has authored many articles pertaining to topics in the field of allergy. She currently resides in Los Angeles with her husband, 6-year-old son, and 3-year-old daughter where she enjoys hiking, building LEGO castles with her kids, and cooking with her family.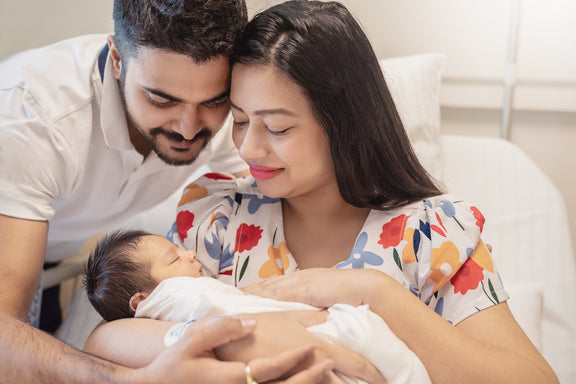 All health-related content on this website is for informational purposes only and does not create a doctor-patient relationship. Always seek the advice of your own pediatrician in connection with any questions regarding your baby's health.
These statements have not been evaluated by the Food and Drug Administration. Products are not intended to diagnose, treat, cure or prevent any disease.  If your infant has severe eczema, check with your infant's healthcare provider before feeding foods containing ground peanuts.