Heading back to school can be a hectic time for families. Changing schedules, new classes and friends can be exciting, but for children with food allergies back to school also means new challenges. Learn more about how you can best prepare for back to school with food allergies.
Heading back to school can put kids with food allergies at increased risk. With some preparation you can keep your child safe and reduce stress.
Understanding and cooperation from your child's school community is key. Their involvement is necessary for avoiding allergic reactions.
The CDC has published a voluntary guideline for managing food allergies in schools but it's important for parents to assure their children are protected and prepared.
In this article we will review 5 steps for preparing for back to school for children with food allergies.
Review your school's allergy policy:
School can be an unpredictable environment for allergies. All schools should have a plan to keep a food allergic child from coming in contact with allergens.
Reviewing your child's school policy is your best first step. After you can begin planning what extra precautions may be necessary.
This way you can also find out what documentation is necessary to best alert your school. Perhaps a signed notice to the teacher, or something more formal from your child's doctor is needed. Ask about the school's procedure for allergic reactions. You should know when you will be contacted, and the closest hospital in an emergency.
Parents may find it helpful to develop a 504 Plan. This will help outline necessary accommodations for your child to minimize risk for allergen interaction. Read Our Guide to Drafting A 504 Plan to learn our tips for a well rounded plan.
Make an action plan:
Once you understand what procedures are in place at your child's school you can develop an allergy action plan. This is specific to your child if they have an allergic reaction. Information on what emergency medication will be needed should come first. Crucial information on triggers and symptoms should all be written down and easily accessible.
Teachers, staff and nurses at your child's school may be dealing with dozens of allergenic children. The easier it is for them to understand the signs, the quicker they will be to act.
The most stressful part of returning to school is that your child will not receive the same individual attention they have at home. In a busy classroom many things are happening, and classroom triggers may be harder to spot. Having an emergency treatment plan can minimize worry and stress when you are not there to step in.
Keep an action plan available for your child, their teacher and nurse. If participating in afterschool sports, gym, arts and crafts or any other out of classroom activity, an action plan should be available to the adults supervising.
Medic alert bracelets can serve a similar role for children who are constantly on the move. With a labelled bracelet or pin your child can indicate their allergy in an emergency without an action plan at hand.
Refill medications:
Check your expiration dates on medication. Refill any needed prescriptions for the new school year. Label your child's medication clearly. Follow your school's allergy policy on registering medication and where to store. Ensure your child can access the medication. Review instructions for use with your child at the start of every school year.
Review instructions with your child's teacher and/or other in class staff.
Teachers benefit from knowing your child's triggers and typical allergic symptoms. Allergic reactions can progress rapidly. A teacher's effectiveness in administering medication is truly important.
Plan meals and snacks:
If your child's school offers breakfast and lunch, review the meal options and make 504 Plan accommodation requests where necessary.
Parents with allergic children may find it easiest to prepare packed lunches to avoid confusion in school or misunderstanding.
Your child should be taught not to share meals to avoid hidden allergens. Your child may think they know what foods to avoid. Even if a list of ingredients is available it is best to avoid sharing. Your child or teacher may be unaware of an ingredient that also causes allergies. Such as casein, or whey in the case of a milk allergy. Check with your school regarding their food sharing policy.
If there is an upcoming event or celebration coordinate an allergen free treat for your child. The temptation of pizza or cake at a celebration may make your child feel left out. Having something prepared for the occasion can help avoid disappointment.
Try encouraging non food rewards for children in the classroom.
Talk to your child about their allergies:
Going over your child's allergies and action plan also requires involvement from your child. Preparing for back to school is not just your discussions with the school and teachers, but also means talking to your child about allergies.
In your home you can make sure allergen cross contamination is rare and contact is limited. When your child is in school they must learn that they are the last line of defense when it comes to food allergies. This is one of many conversations for children with allergies as they learn that they must be cautious without your supervision.
For smaller children, or those who have not experienced a reaction yet be sure to go over what feelings and signs they should look out for.
This video features several children with food allergies. Sharing everyday things they do to stay safe. Try watching it with your child and talk to them about their habits for safety. Having an allergy does not define a child, but their awareness can be lifesaving.
Learn more about how children's experiences at school can be strongly influenced by food allergies:
Encouraging allergy self management can improve your child's self esteem regarding allergies. Knowledge will give them a stronger sense of autonomy. Control over their food allergies is good for their emotional and physical wellbeing. These are tools that will benefit them throughout their life.
Educate your community:
The more you know about allergies, the better you will be at explaining the seriousness to your community. We have compiled a glossary of relevant terms related to food allergies that can help.
Returning to school can be stressful if you are not confident that your child will be safe from allergies. Your knowledge of your child and their health makes you the most reliable person for them. If you are able to share your knowledge with the people in your child's life they can be just cautious as you.
Talk to your child's bus driver, coach and tutor about allergies and stay positive. The people in your child's life probably interact with lots of different children every day. Being personable and candid can be an educational experience and make everyone more mindful.
Seeing you can also encourage your child. Your comfort and knowledge will make it easier for your child to explain to a new friend that they can not share their lunch. Maintaining a healthy and safe environment requires everyone's cooperation. Making it known that your child has an allergy does not have to be painful or anxiety inducing.
Key Takeaways for Food Allergy Parents
School age children with allergies need a parent to guide and protect them as they return to school. It is an experience they will repeat several times over until they finally graduate. Even after school is over they will still have food allergies and lots more conversations about it. Starting early with education, positivity and discussion will be the best way to prepare.
Families that continue to grow and already have allergic children should consider methods of early allergen introduction. Children with a family history are an increased risk (or have a 1 in 8 chance) for developing a food allergy .
Parents concerned about the development of food allergy in their newborn have an opportunity for action! No treatment for food allergies exists but parents can introduce allergens early.
With Ready. Set. Food! your baby is gently introduced to the three most common food allergies. Organic non-GMO peanuts, milk and egg can be served to your little one without putting your allergenic children at risk.
Our approach is evidence based and 100% organic. Continue being an advocate for your children, and their health with Ready, Set Food!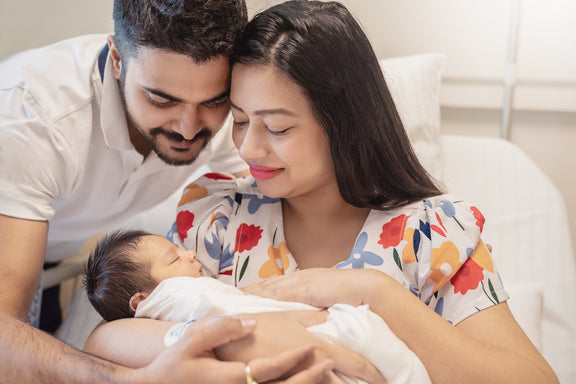 All health-related content on this website is for informational purposes only and does not create a doctor-patient relationship. Always seek the advice of your own pediatrician in connection with any questions regarding your baby's health.
These statements have not been evaluated by the Food and Drug Administration. Products are not intended to diagnose, treat, cure or prevent any disease.  If your infant has severe eczema, check with your infant's healthcare provider before feeding foods containing ground peanuts.