Board-certified allergist and pediatrician Dr. Nikhila Schroeder answers your most common questions about infant food allergies and early allergen introduction.
We spoke with Nikhila Schroeder, M.D., M.Eng., a board-certified allergist, board-certified pediatrician, and mother of 2 children under 3 years old, to discuss parents' most common questions about infant food allergies and early allergen introduction. Learn more about early allergen introduction and why 1000+ pediatricians and allergists recommend Ready. Set. Food!.
What's the difference between a food allergy and intolerance?
A food allergy is typically defined as an unfavorable reaction that occurs due to an abnormal immune system response to a food exposure. It occurs when a person's immune system overreacts to a harmless food substance, treating it like a dangerous invader and mounting a response to it instead of ignoring it. Symptoms can range from mild to life-threatening.
A food intolerance is an unfavorable reaction to a food that does not involve the immune system. One well-known example would be lactose intolerance, which is due to an enzyme deficiency. Food intolerances are typically less severe conditions that do not carry the same risk as food allergies or whole-body immune system reactions, such as anaphylaxis.
Both food allergies and food intolerances can make someone feel unwell, and it can sometimes be difficult to tell the difference between a food allergy and food intolerance. If you are concerned about food-related symptoms in your child, especially food allergy, appropriate evaluation by an allergist can provide useful guidance.
What are the most common food allergies found in children?

The most common food allergies in young children in the US right now are milk, egg, and peanut. Allergies to tree nuts, soy, wheat, fish, and shellfish are also prevalent in children. Together, these 8 categories of foods are reported to account for 90% of all food allergy reactions. Sesame seeds and mustard seeds are also important allergy triggers in the US and around the world. There are certainly other food allergies found in children, so any concerning reaction should be properly evaluated since each person's health conditions, environment, and food exposure history is different.
How do I know if my young child is having an allergic reaction?

There are many types of allergic reactions. I'll touch on a few of the most relevant ones for young children here.
The classic "immediate-type" food allergy reaction occurs within 2 hours – but most often within just minutes – of contact with or ingestion of the food. Symptoms can remain in one localized area or they can spread, and they can be anywhere from mild to very severe. A classic food allergy reaction typically includes one or more of the following symptoms: itching, hives, swelling, trouble swallowing or talking, hoarse voice, shortness of breath, repetitive coughing, wheezing, runny nose, vomiting, diarrhea, pale or blue-colored skin, feeling faint or dizzy, a weak pulse, and rarely a drastic drop in blood pressure (called shock). Anaphylaxis is a significant, whole-body allergic reaction that can cause life-threatening symptoms that severely affect a person's breathing, heart rate, and blood pressure.
Mild rashes that occur quickly and only in areas of direct contact with a food (such as the face and hands) are common in infants and toddlers and may or may not indicate a classic food allergy. Sometimes the rash is a sign of classic allergy from activating immune pathways. Other times, the rash can be simply from other properties of the food itself (acidity, histamine content or releasing ability, associated preservatives, etc) and does not indicate the activation of underlying food allergy mechanisms. Proper evaluation by an allergist can help sort out the likelihood of an allergy and the appropriate next steps in these instances.
Delayed and chronic allergic reactions can also occur. For example, food allergies can trigger eczema (atopic dermatitis) flares. Depending on the particular immune mechanisms involved, the flare could occur within 1-3 hours of the exposure or could appear several hours later.
Eosinophilic Esophagitis (EoE) is another type of chronic food allergy-related condition that involves complex immune mechanisms and delayed reactions. Symptoms in infants and young children often include weight gain problems as well as feeding difficulty, and vomiting, abdominal pain, trouble swallowing, and food impaction are related symptoms that often develop as children get older. The most commonly involved foods in EoE are cow's milk, egg, soy, wheat, corn, and beef.
Finally, there is also a category of delayed food allergy conditions called food protein-induced gastrointestinal disorders. An example from this category is food protein-induced enterocolitis syndrome (FPIES), which is a potentially severe immune reaction within a child's gastrointestinal system that typically occurs 2-6 hours after consuming a food. Common symptoms include intermittent or chronic vomiting, diarrhea, and sometimes blood or mucus in the stool. The foods most implicated in FPIES are milk, soy, and grains, however other solid foods can also be the cause. Trouble gaining weight and severe dehydration are serious complications of this condition. Severe symptoms from any one of these disorders can also include a drop in blood pressure and can appear essentially identical to some presentations of anaphylaxis, even though the particular immune response causing them is different.
About Nikhila Schroeder, M.D., M.Eng.:
Dr. Nikhila Deo Schroeder is board-certified in Allergy & Immunology (pediatric and adult) and also board-certified in Pediatrics. She was born and raised in Wisconsin. She attended college in Cambridge, Massachusetts at the Massachusetts Institute of Technology where she obtained both Bachelor's (2004) and Master's of Engineering (2005) degrees in electrical engineering and computer science with a minor in biomedical engineering and a concentration in music. She went on to medical school in Madison, Wisconsin and earned her Doctor of Medicine degree from the University of Wisconsin School of Medicine and Public Health in 2009. She then completed her Pediatrics Residency training program (2012) and Allergy-Immunology Fellowship training program (2014) both at the University of Virginia in Charlottesville, VA. She has been very involved in food allergy treatment and possible prevention strategies, sub-specializing in comprehensive immunotherapy methods to help retrain the immune system towards tolerance. From 2014-2017, she worked at Allergy Associates of La Crosse and treated nearly 1000 patients from all over the country with Sublingual Immunotherapy (SLIT), the majority of which had one or more food allergies. She and her husband also had 2 children during this time and she delightfully augmented her perspectives and insights from being a pediatrician and allergist to now also being a mom. In 2018, Dr. Schroeder and her husband James Schroeder decided to move their family to Charlotte, North Carolina and open a clinic called Allergenuity Health Associates together in their vision – a direct care comprehensive sublingual immunotherapy treatment center, designed to offer coveted high-quality, scientific, personalized sublingual immunotherapy options and a health care model that supports the return to a strong patient-doctor relationship. Allergenuity Health has been open since the late summer of 2018 and is already helping patients from 13 states around the US. For more information, visit http://allergenuityhealth.com/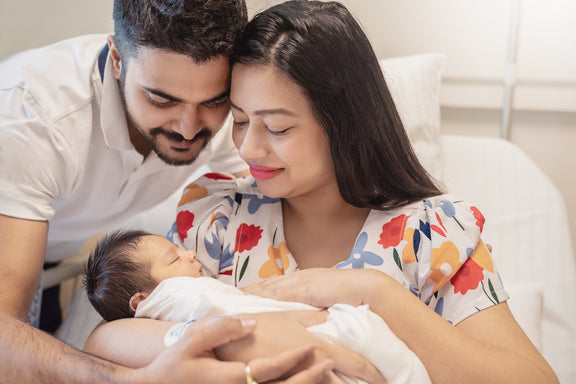 All health-related content on this website is for informational purposes only and does not create a doctor-patient relationship. Always seek the advice of your own pediatrician in connection with any questions regarding your baby's health.
These statements have not been evaluated by the Food and Drug Administration. Products are not intended to diagnose, treat, cure or prevent any disease.  If your infant has severe eczema, check with your infant's healthcare provider before feeding foods containing ground peanuts.