"Motivated by our own experiences, we set out to make it easy and safe for families to prepare their babies for food." - Andrew Leitner, M.D., Co-Founder
We are a group of physicians, scientists, and parents who are passionate about early allergen introduction. Meet the team behind our mission to help families give their babies the freedom to eat!
Why are you so passionate about food allergen introduction?
With more than 1 in 10 children suffering from a food allergy today, it's hard to not know someone who suffers. I'm inspired to be a part of the mission and I know Ready. Set. Food! will help make a difference for families everywhere.
What motivated you to become involved with Ready. Set. Food!?
I first heard of Ready. Set. Food! during a Baby Care 101 class at The Pump Station & Nurtury, a respected, local resource for parents. When I learned more about their innovative solution to help introduce food allergens, I immediately wanted to get involved. As a first time mother, I often thought about what it would be like to have a child with food allergies and all of the complexities and scares that might come with that. So using Ready. Set. Food! was a no brainer. It was so simple to use and all-natural. It doesn't happen all that often that we see a product presenting an easy route to a difficult process - introducing food allergens to infants, with an excellent team behind it, making it the perfect investment opportunity for us.
How has Ready. Set. Food! helped give your family a future with food freedom?
We started Ready. Set. Food! when my daughter Emma was 4 months old and it has fit perfectly into our routine even as her feeding habits have changed. We started adding it to her bottle once a day, and now we add it to her breakfast every morning. More important than the ease of use, it's given my husband and myself the peace of mind that we're doing everything we can to safely introduce food allergens to our baby.
How do you see Ready. Set. Food! advancing its mission of food freedom in the next 10 years?
Innovation is at the heart of Ready. Set. Food! and in keeping with that, they are in the process of developing additional products and partnerships (e.g. with insurance companies and corporate wellness programs) to make sure every baby can have access to food allergen introduction.
About Amanda Schutzbank: Amanda is an Investor at Amplify.LA and joined the Amplify team from Primary Venture Partners in New York. She was previously the Vice President of Marketing at Karma, a New York City hardware startup, and an Associate in the Techstars New York program. Prior to that, she spent time as an Investment Banker at Bank of America Merrill Lynch, where she worked on IPOs within the Technology sector. Amanda earned a BS in Finance and Marketing from the Wharton School of Business at the University of Pennsylvania. Amanda lives in Los Angeles with her 10-month-old daughter and husband and serves on the board of advisors for Ready. Set. Food!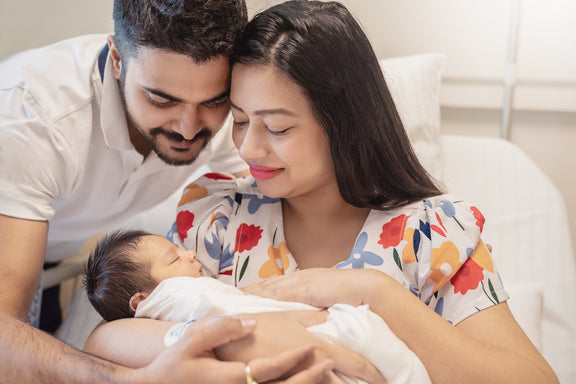 All health-related content on this website is for informational purposes only and does not create a doctor-patient relationship. Always seek the advice of your own pediatrician in connection with any questions regarding your baby's health.
These statements have not been evaluated by the Food and Drug Administration. Products are not intended to diagnose, treat, cure or prevent any disease.  If your infant has severe eczema, check with your infant's healthcare provider before feeding foods containing ground peanuts.