Registered dietitian Whitney Crouch shares her family's struggle with her son's allergies, and why she trusts Ready. Set. Food! Read her story here.
To say that my experience with my son's food allergy and gut health issues is unique would be naive. I was not alone, but I felt alone.
Our Early Struggle With Food Allergies
Our son was born just two days before his due date and was everything we'd imagined -- for the first two weeks.
But early on, we started to experience a lot of crying (mostly from him, but some from me!), breastfeeding issues, and he had excessive gas, bloating, and diarrhea. Did I mention the reflux? Oh yes, that too.
We first reached out to our primary support group -- grandmas, grandpas, friends with kids, and friends with any kind of healthcare background. Immediately after that was his pediatrician, where we received a reflux diagnosis and recommendation to cut dairy and soy from my diet.
When his symptoms persisted through 6 months of age, we took him to a pediatric allergy and immunology doctor, where he was given a scratch test on his back that revealed an allergy to egg whites.
As a Registered Dietitian myself, I thought that would be easy peasy, but with the fatigue and confusion of being a new parent, coupled with the help of well-meaning friends and family, there was also the fear of accidental exposures. Anyone who has a baby with Milk/Soy Protein Intolerance and/or food allergy can attest to the repercussions of just one accidental exposure.
The Non-Stop Care for a Food Allergic Child
I was so overwhelmed with medical duties and caring for this sensitive babe, that it was impossible to work. It was a full-time job with 2-3 doctor visits per week, not to mention the accruing expenses of these doctor visits, special elemental formula, medications, and the loss of what was previously a pretty decent income. The financial and emotional stress of managing a baby or child with multiple health issues can be a very real struggle.
But as if avoiding certain allergenic foods wasn't hard enough (and yes, I know there are babes with far more allergies out there, and I feel for these parents!), the pain and discomfort caused by my son's reflux and gastrointestinal problems due to his delayed-type food allergies led to feeding aversions. We had weekly, and eventually bi-weekly, Occupational Therapy appointments to help develop his oral motor skills, since he mostly refused solid food after all of his negative experiences. It took a few months of regular therapy, but eventually he developed the skills to eat non-pureed foods.
Our Future with Food Freedom
Per our doctor's recommendations, we had IgE blood testing done 4 months after our son's original egg allergy diagnosis. This test came back all negative - hallelujah! Just after his first birthday, we were able to complete his in-office oral egg challenge, and with the exception of any one year old's resistance towards a three hour office visit, we were successful!
Our son is now almost two and a half years old, with a little sister on the way. He is happy, healthy, active, and on the road to becoming a "good eater". If you have a baby or child with food allergies, please know that you are not alone, and that it does get better.
Since our journey began, early introduction of the top common allergens has been well studied. This is great news for families because managing a child's food allergies does affect the entire family. Food allergies can not only be a burden, but can also be life-threatening. As a dietitian (and an expecting mom), I've poured over the latest research on infant food allergies, studied all the new options available for parents to help introduce their children to allergenic foods. After all this careful consideration, I'm excited to use Ready. Set. Food! for my daughter and know that it is safe because of its evidence-based approach:
Starts off with a gentle dosing of peanut, egg, and milk

Makes early allergen introduction easy for busy families, especially those with an existing allergic child/sibling
You can find more information about these studies and what you can do for your babies here, and subscribe now to Ready. Set. Food!'s all-natural and easy early allergen introduction system:
About the author:
Whitney Crouch is a Registered Dietitian with a BS in Clinical Nutrition from the University of California, Davis. She has over 10 years of experience across multiple areas of dietetics, specializing in integrative and functional nutrition and low toxicity living. When she's not writing about nutrition or educating others on non-toxic skincare, autoimmune disease, or infant food intolerances, she's spending time with her husband and young son. She's often found running around the bay near her home with the family's dog or in the kitchen cooking up new ideas to help her picky eater expand his palate. Find her on Instagram @whitneyc.the.rd.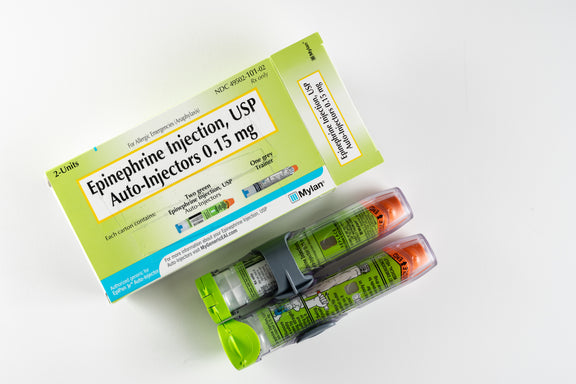 All health-related content on this website is for informational purposes only and does not create a doctor-patient relationship. Always seek the advice of your own pediatrician in connection with any questions regarding your baby's health.
These statements have not been evaluated by the Food and Drug Administration. Products are not intended to diagnose, treat, cure or prevent any disease.  If your infant has severe eczema, check with your infant's healthcare provider before feeding foods containing ground peanuts.