For Food Allergy Action Month 2021, we're excited to announce our new Ask the Allergist series featuring our Chief Allergist and Board Certified Allergist Katie Marks-Cogan, M.D., to answer your most commonly asked question on food allergies. In our last installment, Dr. Marks-Cogan will explain severe food allergy symptoms including anaphylaxis, how to manage a food allergy safely and new immunotherapy options available for those suffering from a peanut allergy.
Anaphylaxis: Symptoms and Causes
Anaphylaxis is a severe, life-threatening allergic reaction that involves more than one organ system and usually occurs within minutes of exposure to an allergenic food. It's possible but less common that symptoms can occur up to 2 hours after exposure. In up to 20% of cases, another wave of symptoms can occur within hours or days after the first reaction; this is known as biphasic anaphylaxis.
If symptoms involve more than one organ system, the reaction is classified as anaphylaxis and can be life-threatening.
Epinephrine: When to Use
Epinephrine is the only medication that can stop anaphylaxis and should be given promptly if your child is showing signs of anaphylaxis. If your child has a diagnosed food allergy, it's important to be prepared with an emergency care plan (in consultation with your health care provider) in case of anaphylaxis or a severe allergic reaction which may include the following steps:
Administer epinephrine with an auto-injector (e.g., EpiPen and AuviQ) if available and keep track of the time

Call 911 and communicate that your baby is having anaphylaxis or a severe allergic reaction and request an ambulance

Monitor your child for signs of a biphasic reaction and have a second dose of epinephrine available
A note about antihistamines - Antihistamines, such as Benadryl, Zyrtec, Xyzal, Allegra, and Claritin, steroids (Prednisone) and inhalers (Albuterol) should not be used as a first-line treatment for anaphylaxis. They can be used as additional medications that can improve symptoms, but they will not stop anaphylaxis from progressing
Food Allergy Management and Avoidance
Currently, there is no cure for food allergy. Therefore, if your child has a diagnosed food allergy, avoiding allergy-causing foods is essential to avoiding accidental exposure and in turn, a severe allergic reaction or anaphylaxis. As part of avoiding certain allergenic foods, label-reading will be needed to maintain safety, especially when it comes to hidden ingredients.
New Peanut Allergy Treatments
There are two new developments in the field of peanut allergy immunotherapy:
Palforzia

- Last year,

Palforzia received FDA approval

as an Oral Immunotherapy (OIT) treatment intended for children and teens. Palforzia capsules contain peanut powder with a pre-dosed level of allergenic proteins. The amount of protein powder in a capsule starts out very low, and gradually increases to a daily maintenance dose of roughly one peanut.

Viaskin

- DBV Technologies is developing a form of Epicutaneous ("on the skin") Immunotherapy with their Viaskin patch. This product is currently being developed to treat peanut, milk and egg allergies. Viaskin Peanut had already completed a Phase III clinical trial but

last year, was turned down for FDA approval

, requiring modification to the patch and further data on chemistry and manufacturing to be considered for approval.
A note about peanut allergy immunotherapy - It's important to note that these new treatments are not a "cure" for food allergy. They are only designed to desensitize, which means they can only protect a food allergic person from accidental exposure and only while receiving the treatment. In relation to Palforzia, the FDA has stated "those who take Palforzia must continue to avoid peanuts in their diets."
About Katie Marks-Cogan, M.D.: Dr. Marks-Cogan is board certified in Allergy/Immunology and Internal Medicine, and treats both pediatric and adult patients. Originally from Cleveland, Ohio, she received her M.D. with honors from the University of Maryland School of Medicine. She then completed her residency in Internal Medicine at Northwestern and fellowship in Allergy/Immunology at the prestigious University of Pennsylvania and Children's Hospital of Philadelphia (CHOP). After finishing training, she moved to Southern California where she works in private practice and is the owner of Clear Allergy. She is also Chief Allergist and a member of the scientific advisory board for Ready. Set. Food! She has numerous media appearances and has authored many articles pertaining to topics in the field of allergy. She currently resides in Los Angeles with her husband, 6-year-old son, and 3-year-old daughter where she enjoys hiking, building LEGO castles with her kids, and cooking with her family.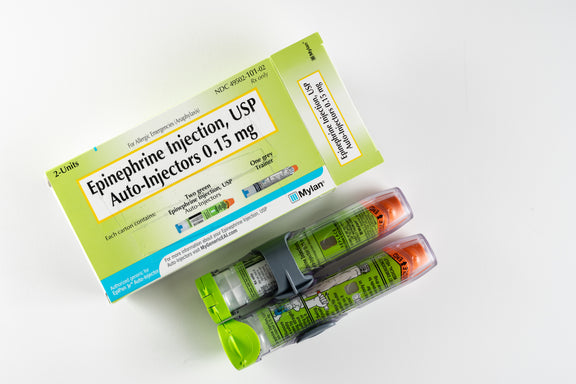 All health-related content on this website is for informational purposes only and does not create a doctor-patient relationship. Always seek the advice of your own pediatrician in connection with any questions regarding your baby's health.
These statements have not been evaluated by the Food and Drug Administration. Products are not intended to diagnose, treat, cure or prevent any disease.  If your infant has severe eczema, check with your infant's healthcare provider before feeding foods containing ground peanuts.