Non-allergic siblings of a food allergic child have their own needs and emotions related to food allergies. Learn how to support your non-allergic children when a sibling has a food allergy.
Food allergies can bring major changes into your child's home and 1 in 12 children in the US suffer from a food allergy. Food allergies can bring in a mix of emotions, not only to the parents, but also to the non-allergic siblings.
The Feelings of the Non-Allergic Child
1. Worry
If parents are often worried about their allergic child, you'd be surprised to find that most non-allergic siblings feel the same way, too. A survey conducted by family therapy-trained Licensed Clinical Professional Counselor Tamara Hubbard reveals that 92% of non-allergic siblings worried about their allergic sibling. They are worried about safety. They are also worried that their sibling might feel left out or be bullied.
2. Getting less attention
Non-allergic children may feel they're getting less attention compared to their allergic sibling. Parents may be spending more time preparing food that's safe to eat for their allergic child or they may focus more on the allergic child to protect him from coming into contact with allergens in public or social settings. This may be perceived by non-allergic children as giving special attention to their allergic sibling.
How to Deal With Your Non-Allergic Children
Your non-allergic children need your support as much as your allergic child does. Every child needs to feel loved and if your non-allergic children feel they're less special because you devote more time to your allergic kid, then it can cause problems for the siblings and the family.
Here's what you can do to manage the needs of your non-allergic child/ren:
1. Acknowledge their feelings
Non-allergic kids may not express how they feel about their allergic sibling. Have a one-on-one talk with your non-allergic kids and ask about their feelings. Ask what they feel and think about their sibling's food allergies. Let them know that their feelings are valid. Appreciate your children's effort to understand their allergic sibling's limitations and the sacrifices they make in order to keep their sibling safe.
2. Manage allergies together
Make the non-allergic child/ren understand their role in managing allergies in the family. For example, if you want to keep a peanut-free home, the non-allergic child/ren should be aware of foods they can or can't bring into your home. They should also be taught to read food labels.
Remind everyone to be mindful of their role to help maintain an allergy-free home. Managing allergies should be a team effort, but keep in mind that there is no substitute for your role to protect and look after your allergic child as a parent. Be your allergic child's primary guardian and advocate. Roles should be age-appropriate.

3. Take a positive approach to managing allergies
Instead of instilling fear, educate your non-allergic children about allergies. Avoid saying words like "your sister might die if she eats X" or "your brother might end up in the ER if he accidentally eats X."
Focus on making sure that rules are followed. When you're calm and empowered with the information you need to protect the allergic child in the family, your other children will feel the same way, too. Assure your children that you know how to handle allergies in the family and each family member can help in maintaining safety. Have a plan that outlines what to do in case of allergic reactions.

Learn more about the information you need for managing food allergies in our parent's guide to food allergies.
4. Schedule dates with your non-allergic children
Schedule exclusive dates and cheat days for your non-allergic children. They may not be able to express how they feel about avoiding certain foods for the sake of their allergic sibling, but it can sometimes be sad and frustrating for them. They may also feel neglected. Spend time with your non-allergic children and give them the freedom to explore foods outside that are typically banned at home. Make them feel special.

5. Take steps to introduce allergens early as family history increases a sibling's risk.
Research shows that family history does increase your child's risk of developing a food allergy and because there is no cure for food allergies, early allergen introduction is important, according to new guidelines from the American Academy of Pediatrics (AAP). There is a critical window for allergen introduction. It is recommended to start introducing potential allergens like peanut, egg, and milk as early as 4 months of age.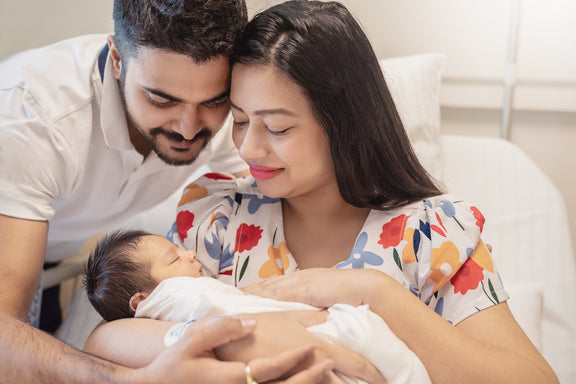 All health-related content on this website is for informational purposes only and does not create a doctor-patient relationship. Always seek the advice of your own pediatrician in connection with any questions regarding your baby's health.
These statements have not been evaluated by the Food and Drug Administration. Products are not intended to diagnose, treat, cure or prevent any disease.  If your infant has severe eczema, check with your infant's healthcare provider before feeding foods containing ground peanuts.