August is National Breastfeeding Month. If you choose to pump your breastmilk and use a bottle, selecting the right bottle type is key to successful feeding. To keep your baby nursing well, the bottle needs to mimic your breast. We've rounded up our top 5 bottle picks for breastfed babies, to help promote successful nursing.
When you're breastfeeding and pumping your breastmilk for later bottle feeding, you can't just choose any bottle to feed your baby.
If you choose a regular bottle, your baby may develop nipple confusion when you try to nurse them. They may find it hard to latch onto your breast, have trouble sucking, struggle and cry, have difficulty drinking enough milk, or even completely refuse to nurse. Your breastfed baby might also reject a bottle if it isn't similar enough to your breast.
So, to continue successful breastfeeding, you need a bottle designed for breastfed babies, that mimics the look and feel of your breast. This way, your baby will both accept the bottle and keep nursing successfully.
Key Features of Breastfeeding Bottles
Here are the top features to look out for, to choose the best bottle for your breastfed baby and prevent nipple confusion:
Feel and Shape
The bottle needs to feel similar to your breast, so it doesn't confuse your baby.

The bottle should have a similar shape to your breast.
Nipple
The nipple should also have a similar shape to your own nipple.

The nipple needs to encourage the same latch as your baby would use on your breast.

The nipple should have an accordion shape that bends and flexes, to best mimic your own nipple.
Flow
The flow of breastmilk through the bottle nipple should closely match your own flow of milk.
Venting
The bottle should have some sort of venting to keep air bubbles from forming, so your baby doesn't develop gas or colic (prolonged fussiness) from sucking in too much air.
Makes Baby Work
Most importantly, the bottle must make your baby work to get milk out, just like they need to do when breastfeeding. If your baby can get milk out from a bottle too easily, it's likely that they'll prefer the bottle over your breast, and/or start to have difficulty nursing from your breast.
Today, we're sharing the top 5 bottles for breastfed babies, that meet all of these criteria (They aren't listed in any particular order).
Features:
Wide mound and naturally shaped, soft silicone nipple mimic a breast for a natural feel, so baby doesn't develop nipple confusion.

Flexible silicone base makes the bottle easy for baby to grab and squish, just like they would with a breast. The super soft material even feels like skin.

Two vents on the nipple reduce air bubbles, to help prevent colic.

Super wide neck means this bottle is easy to clean (no brush needed).

BPA-free, and safe in the dishwasher, microwave, sterilizer, and boiling water.

Two sizes available for babies of different ages and appetites.
Features:
Most breast-like bottle available, with innovative dome shape and soft silicone nipple

Nipple is even angled to one side, to further mimic a breast

Quickly cools breastmilk (2 times faster than other bottles), so it preserves key nutrients.

The shape also lets you quickly warm breastmilk without destroying key nutrients.

Easy for babies to hold and self-feed at an earlier age.

360-degree venting system: anti-colic vents release air even when covered by baby's mouth.

Breast pump adapter lets you pump right into the bottle.

BPA-free, dishwasher-safe, and easy to take apart and clean.
Features:
Bottle nipple stretches and flexes just like a breast nipple, promoting the proper latch that your baby needs to use at the breast.

Baby must work to get milk out, exactly like they must do at the breast. Milk only flows when baby puts pressure on the nipple, promoting the same sucking habits needed at the breast and minimizing the chances of nipple confusion.

Anti-colic valve at the bottom of the bottle keeps air bubbles out, and reduces fussiness.

BPA-free, dishwasher safe, and easy to clean.

Pump adapter (sold separately) is compatible with many leading pumps, letting you pump right into the bottle.

Two sizes available for babies of different ages and appetites.
Features:
Breast-like nipple stretches and flexes, so it promotes an easy and proper latch

Silicone nipple looks and feels natural: it mimics the feel of a breast, so you won't have to worry about nipple confusion.

Slow flow nipple means the bottle flow more closely matches the flow from a breast.

Anti-colic valve keeps baby from taking in too much air, reducing discomfort

Wide neck means the bottle is easy for baby to hold.

BPA-free and easy to clean.

Three bottle sizes available for babies of different ages and appetites.

Less expensive than other bottles: the 6-bottle "Fiesta" pack costs less than $5 per bottle

Key Features:
Shorter nipple size, slightly different nipple shape, and thick matte nipple surface feels natural and may appeal to pickier babies. Several parents' reviews say that their babies did well with this bottle even after refusing other bottle brands.

Wide nipple base promotes the proper latch.

Bottle nipple promotes the same sucking motion needed at the breast---baby must work to get milk out. This minimizes the chances of nipple confusion.

Anti-colic venting keeps your baby from swallowing too much air.

Inner vertical grooves help keep the nipple from collapsing, for less mess.

BPA-free and easy to clean.

Two sizes available for babies of different ages and stages.
Ready. Set. Food! Fully Dissolves in a Bottle of Breastmilk (or Formula)
You need to introduce allergy-causing foods to your baby early and often, starting as early as 4 months of age.
Ready. Set. Food! can help you introduce peanut, egg, and milk to your baby, even if you're exclusively breastfeeding, and even if your baby isn't yet ready for solids.
Ready. Set. Food! fully dissolves in breastmilk (or formula) and works with every type of bottle and nipple. It won't clog the bottle or restrict the natural flow. Simply pour a pre-measured daily packet into baby's bottle of breastmilk, and shake well for 5-10 seconds.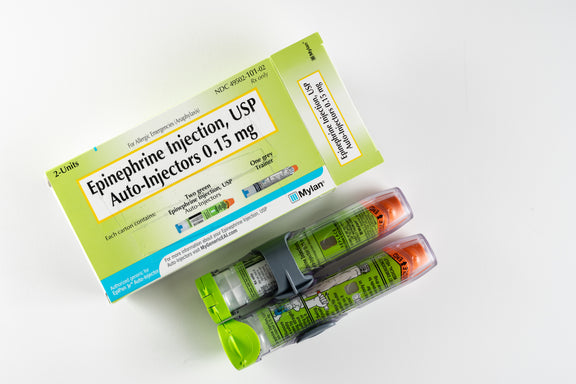 All health-related content on this website is for informational purposes only and does not create a doctor-patient relationship. Always seek the advice of your own pediatrician in connection with any questions regarding your baby's health.
These statements have not been evaluated by the Food and Drug Administration. Products are not intended to diagnose, treat, cure or prevent any disease.  If your infant has severe eczema, check with your infant's healthcare provider before feeding foods containing ground peanuts.