Starting allergens early is safe. Ready. Set. Food! makes it even safer.
Feeding allergens to kids under 1 year of age is the safest time to start. Less than one percent of children under the age of 1 have any reaction at all, and when they do, it is mild. Ready. Set. Food! makes early allergen introduction even safer, by carefully introducing the Top 3 allergens, little by little, one at a time. Our pre-measured doses start small to ensure safety throughout the program.

Safety
We're committed to making early allergen introduction with Ready. Set. Food! as safe as possible for your baby. Here are our safety principles:
01
Starting early is safer.
Feeding your baby allergenic foods when as early as 4 months of age is the safest time. Kids under the age of 1 rarely see a reaction, and if they do it is mild. In fact, any of the very few reactions reported in 3 clinical trials with over 2,000 babies, were mild at most. We developed our patent-pending process of feeding allergens through a bottle so you can start at the safest time.
02
Smaller amounts of food cause smaller reactions.
Ready. Set. Food! is much gentler than what families typically feed their infants, with a starting dose equivalent to 1 teaspoon of yogurt, 1/8th teaspoon of peanut butter, and 1/250th of an egg. We start with a very small amount of each allergen before slowly increasing to the same amount used in the clinical studies.
03
One food at a time.
Our approach makes it easy for families to follow medical recommendations from the AAP and CDC by introducing allergenic foods one at a time.
04
Supported by USDA guidelines.
The new USDA dietary guidelines, as well as medical guidelines in the US and around the world all recommend frequently feeding allergens, starting as early as 4 months of age.
05
Created by experts. Recommended by doctors.
Allergy experts helped create Ready. Set. Food!, like Dr. Jonathan Spergel, head of allergy at Children's Hospital of Philadelphia (CHOP) and Dr. Gary Rachelefsky, former President of the American Academy of Asthma, Allergy & Immunology (AAAAI). Thousands of pediatricians recommend Ready, Set, Food! because we safely follow medical guidelines and use the same doses shown to be effective in clinical trials.
The Science of Safely Introducing Allergens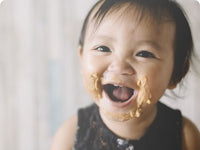 In the three groundbreaking clinical studies demonstrating the efficacy of early allergen introduction in infants (LEAP, EAT, PETIT), there were no cases of severe allergic reactions in over 2,000 infant participants between the ages of 4 - 11 months of age.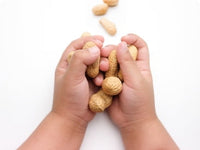 Furthermore, according to a recent study from Ann & Robert H. Lurie Children's Hospital of Chicago, infants experience significantly fewer severe reactions compared with older children, and that in turn, all infants can benefit from the early introduction of allergenic foods into their diet.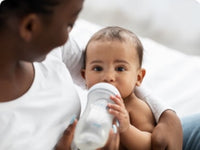 "We found that infants, unlike older children, have a low-severity food-induced anaphylaxis, which should come as reassuring news to parents who are about to introduce their baby to potentially allergenic foods like peanuts," says lead author Waheeda Samady, MD, from Lurie Children's, who also is an Assistant Professor of Pediatrics at Northwestern University Feinberg School of Medicine.
FAQ
Do I need to consult my pediatrician before starting Ready. Set. Food!?
We would always encourage you to consult with your pediatrician about any questions you may have around food allergy introduction for your baby. However, you should still feel comfortable introducing Ready. Set. Food! to your baby. even with an intolerance to one of the top 3 allergens - peanut, egg and milk.
Both food allergies and food intolerances can make someone feel unwell, and it can sometimes be difficult to tell the difference between a food allergy and food intolerance. A food intolerance is defined as an unfavorable reaction to a food that does not involve the immune system. One well-known example would be lactose intolerance, which is due to an enzyme deficiency. Food intolerances are typically mild conditions that do not carry the same risk as food allergies or whole-body immune system reactions.

Also, we use very small amounts of each food in our packets, so even if your baby has an intolerance to any of the 3 foods (such as cow's milk), it is still gentle enough to use. In fact, the protein amounts we use are equivalent to less than 1 teaspoon of yogurt or cow's milk, 1/8th teaspoon of peanut butter, and 1/250th of a cooked egg.

If your baby has a confirmed food allergy to cow's milk or egg, we do offer dairy-free and egg-free options, and you can click here to view our peanut and egg, and peanut only product. It's very important to note that our product is not to be used to treat existing food allergies. Once an allergy develops, there is no cure. If you aren't sure if your baby has an intolerance or an allergy, you should speak to your pediatrician.

If your baby has a milk or egg intolerance or allergy, check out our peanut only and peanut & egg only products.

What are common symptoms of an allergic reaction?
If you think your baby is having an allergic reaction, the first step is to discontinue feeding your baby the allergenic foods and contact your pediatrician to discuss the symptoms. Click here to view detailed information about food allergic reaction symptoms, and what steps to take.
What does a severe allergic reaction look like?
We understand it can be difficult to tell the difference between a food allergy and a food intolerance.
A food intolerance is a sign that our body is having trouble digesting certain foods. Some typical symptoms of an intolerance are gassiness, bloating, or a runny nose. These symptoms are less severe and oftentimes you can build up a tolerance by reintroducing the foods to your body. If your baby has an intolerance to any of the 3 foods in our product, you can still use Ready. Set. Food! given that we use very small amounts of each food, making it safe and gentle.

In an allergic reaction, our body's immune system kicks into overdrive and begins working to protect us from certain proteins in foods, also known as allergens. Some typical symptoms of a reaction include hives, swelling around the lips, or vomiting. If your baby has an allergic reaction, you should discontinue feeding the food item causing the reaction and contact your medical provider.

If your baby has a milk or egg allergy, we have other versions of our product without either of those foods. Please check out our peanut only and peanut & egg only products