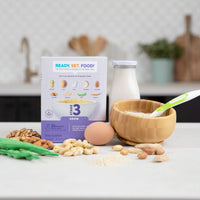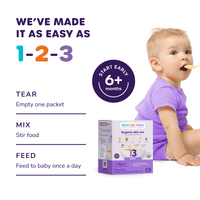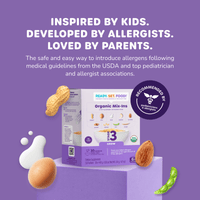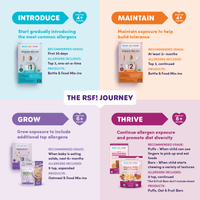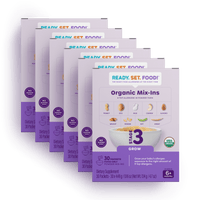 Stage 3 Mix-Ins
Peanut, Egg, Milk, Cashew, Almond,Walnut, Sesame, Soy, and Wheat. For Food Eaters Only.
Introduce 9 of the top allergens to your baby mixed into any food they eat (they need to be regular food eaters for Stage 3). Pre-measured daily packets. 100% organic real food. No added sugar.

Continue with Stage 3 after Stage 2 or start with Stage 3 if your baby is a regular food eater and hasn't been introduced to these top allergens.
More +
Less -
USDA Organic
No added sugar
For food eaters only
Peanut, egg, milk, cashew, almond, walnut, sesame, soy, wheat
SAFE & EASY
Babies can be messy.
So we've made it as
easy as 1-2-3.
Step 1
Tear open packet
Step 2
Mix into food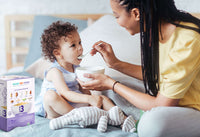 Step 3
Feed your baby
FAQ
Why is Ready. Set. Food! the best way to introduce allergens?
When should I start my baby on Ready. Set. Food! and for how long?
Is Ready. Set. Food! safe?
How do I use Ready. Set. Food! Stage 3 and can it be mixed in with solids?
I heard one-time purchase options are available now. How does this work vs the monthly plan options?
MORE CHOICES FOR BABIES AT 6+ MONTHS
Stage 3 MIX-INS
VS.
Baby Oatmeal
If you are already feeding your baby 9 top allergens in Stage 3, now you have the freedom of substituting our new Organic Baby Oatmeal, which is available in a variety of flavors. Our oatmeal has the same allergens - peanut, egg, milk, cashew, almond, walnut, sesame, soy, and wheat - already in every tasty bite.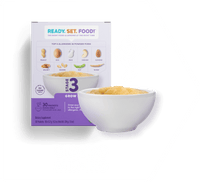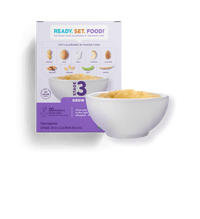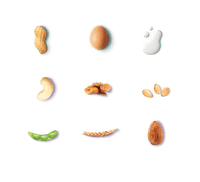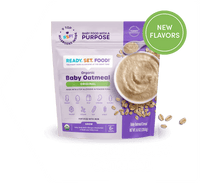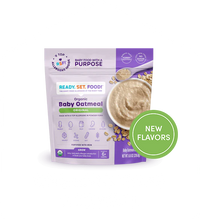 More Allergen Introduction Products From Ready. Set. Food!
More Ways to Introduce Allergens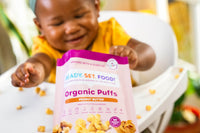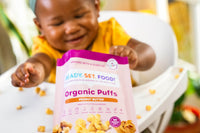 New Organic Puffs
ENJOY ORGANIC PUFFS AT HOME OR ON THE GO
These are puffs with a purpose, made with 9 top allergens on an organic corn base. Maintaining regular exposure to top allergens in your little one's diet has never been easier – or more delicious.