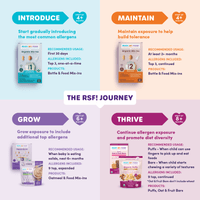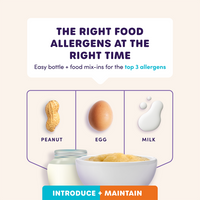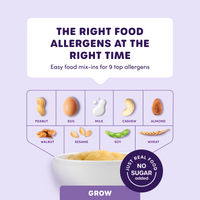 Stage 1 + 2 + 3 - Complete System
Introduce 9 top allergens with bottle and food mix-ins over a 6 or 12-month plan
Starting as early as 4 months of age, introduce babies to 9 top allergens safely over a 6 or 12-month plan; moving your baby through all three stages of our entire system. For 12-month plans, the first 6 months will be a staged introduction to Peanut, Egg, and Milk; expanding exposure to another 6 top allergens: Cashew, Almond, Walnut, Sesame, Soy, and Wheat. Always no mess, all organic, natural, and no added sugar.
Note: for 6-month plans, Stage 3 introduction begins in month 4 instead. 
More +
Less -
Start as early as 4 months
9 top allergens
No added sugar
USDA Organic
6 or 12 Month Plan
CLEAN LABEL PROJECT PURITY AWARD WINNER
SAFE & EASY
Babies can be messy.
So we've made it as
easy as 1-2-3.
Step 1
Tear open packet
Step 2
Mix into food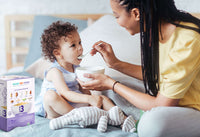 Step 3
Feed your baby
FAQ
Why is Ready. Set. Food! the best way to introduce allergens?
When should I start my baby on Ready. Set. Food! and for how long?
Is Ready, Set, Food! safe?
How do I use Ready. Set. Food!?
What is Ready. Set. Food! Baby Oatmeal?
More Allergen Introduction Products From Ready. Set. Food!
More Ways to Introduce Allergens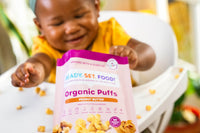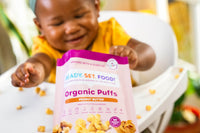 New Organic Puffs
ENJOY ORGANIC PUFFS AT HOME OR ON THE GO
These are puffs with a purpose, made with 9 top allergens on an organic corn base. Maintaining regular exposure to top allergens in your little one's diet has never been easier – or more delicious.