In honor of Food Allergy Action Month, we're excited to kick off our Ask the Allergist series, focused on Early Allergen Introduction. At Ready. Set. Food!, we're committed to all aspects of food allergy education, so families can make informed decisions about their children's nutrition and give their babies food freedom.
Food Allergies Are On the Rise
More than 1 in 10 suffer from a food allergy today, and food allergies are more common in children. With food allergies on the rise, It's hard to find someone who isn't directly or indirectly affected by food allergies.
Major Food Allergens
Although more than 170 foods have been identified as triggers of food allergy, the FDA classifies 8 foods/food groups as the major food allergens in the US: milk, egg, peanut, tree nuts, shellfish, fish, wheat, and soy. Sesame is becoming an emerging concern and the FDA is considering including it as the 9th major food allergen in the US (Canada, Australia, New Zealand, and the EU already list sesame as a major food allergen). In young children, milk, egg, and peanut comprise ~ 80% of food allergies.
These represent the most common childhood food allergies.
Top Three Allergens: Milk
Milk allergy is the most common food allergy in infants and young children

In school-age children, milk is the most common cause of reactions at school

Milk allergy usually presents in the 1st year of life

Most children "outgrow" (or become tolerant to) their milk allergy

However, outgrowing a childhood allergy may occur as late as the teenage years
Top Three Allergens: Peanut
Peanut allergy is more likely to be lifelong; only 20% outgrow a peanut allergy

Although peanut is the allergen most often associated with severe or fatal reactions, any food allergen has the potential to cause anaphylaxis.
Any food allergen has the potential to cause anaphylaxis.
Top Three Allergens: Egg
Egg allergy usually presents in the 1st year of life

Most children "outgrow" (or become tolerant to) their egg allergy

However, outgrowing a childhood allergy may occur as late as the teenage years
Tree Nuts
Includes brazil nuts, cashews, pistachios, almonds, macadamia nuts, walnuts, pine nuts (as well as foods made with these nuts)

Many people with tree nut allergies are only allergic to 1 or 2 types of tree nuts. Therefore, it's worth working with an allergist to determine if they can safely eat other types of tree nuts.
Shellfish
Includes shrimp, prawns, lobster, squid, crab, scallops

Often caused by a protein called tropomyosin

Even the steam from cooking can trigger an allergy
Fish
May be allergic to finned fish and not shellfish or vice versa
Wheat
Often confused with celiac disease, but an allergy to wheat is different because it causes an allergic immune response to a protein found in wheat (celiac disease is in response to gluten) — people with a wheat allergy can often have other grains that are not wheat.

Wheat is sometimes found in cosmetic products, too, so people with wheat allergies should avoid using these products on their lips.
Soy
Affects 0.4% of kids

, normally under the age of 3; Affects 0.3% of the general population

70% outgrow it by age 10

Found in many food products, so it's important to read the labels
The Economic Impact of Food Allergies
Parents of food allergic children can face costs of up to $4200 every year per child according to a 2013 study, accounting for direct medical care; out of pocket cost for special foods; lost labor productivity and opportunity costs (reduced labor productivity of caregivers).
The Impact on A Child's Quality of Life
Social Exclusion & Activity Avoidance -

Children with food allergies, particularly milk and egg, can find many social events (e.g. birthday parties) difficult and isolating.

Bullying -

About 1 in 3 children with food allergies has been bullied at least once, according to a 2014

study

. With roughly a third of those children reported to be bullied at least twice a month.
A Recent Breakthrough in Early Allergen Introduction
Thankfully, recent landmark studies (LEAP, EAT, PETIT) have shown the importance and effectiveness of early allergen introduction. In addition, new medical guidelines from the American Academy of Pediatrics, the National Institutes of Health (NIH), and the American Academy of Allergy, Asthma, and Immunology (AAAAI) have been published supporting early and sustained allergen introduction.
Along with a team of leading allergy experts and parents, I helped develop Ready. Set. Food!, a gentle, guided system based on these medical guidelines. After over a year of research and development, we're proud to offer Ready. Set. Food! to families like yours, making it as easy and safe as possible to introduce babies to peanut, egg, and milk in the amounts used in the landmark clinical studies.
About the author: Our Chief Allergist, Katie Marks-Cogan, M.D., is board certified in Allergy/Immunology and Internal Medicine, and treats both pediatric and adult patients. Originally from Cleveland, Ohio, she received her M.D. with honors from the University of Maryland School of Medicine. She then completed her residency in Internal Medicine at Northwestern and fellowship in Allergy/Immunology at the prestigious University of Pennsylvania and Children's Hospital of Pennsylvania (CHOP). After finishing training, she moved to Southern California and currently works in private practice. She is a member of the scientific advisory board for Ready. Set. Food! She currently resides in Los Angeles with her husband, 4-year-old son, and 1-year-old daughter where she enjoys hiking, building LEGO castles with her kids, and cooking with her family.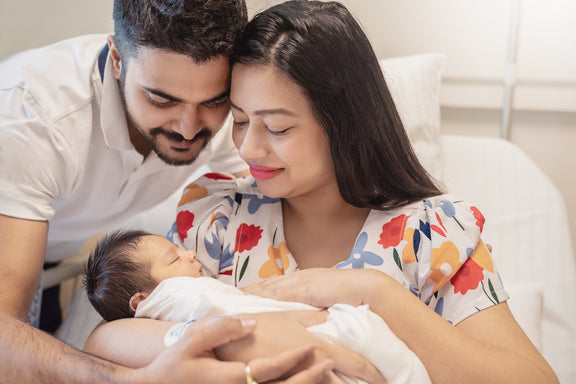 All health-related content on this website is for informational purposes only and does not create a doctor-patient relationship. Always seek the advice of your own pediatrician in connection with any questions regarding your baby's health.
These statements have not been evaluated by the Food and Drug Administration. Products are not intended to diagnose, treat, cure or prevent any disease.  If your infant has severe eczema, check with your infant's healthcare provider before feeding foods containing ground peanuts.