Registered Dietitian Whitney Crouch answers your most common questions about baby led weaning and early allergen introduction.
What is Baby Led Weaning (BLW)?
With Baby Led Weaning, parents skip the "purees" stage and allow their babies to feed themselves with finger foods starting at 6 months of age. The guiding principle of Baby Led Weaning is that babies can feed themselves right from the start and that this can lay an important foundation for healthy nutrition habits.
When is baby ready for BLW?
Your baby can sit upright (For most infants, between 6-9 months of age)

An adult can monitor your baby while eating at all times

You've consulted with a pediatrician and/or pediatric dietitian before starting
While Baby Led Weaning is recommended for most babies, parents of babies with developmental delays should consider a more traditional approach to solids, such as starting with purees.
What are the benefits of Baby Led Weaning?
There are many benefits for baby, including:
Fine tunes motor development, e.g. eye-hand coordination, dexterity, etc

Allows baby to experience food with a wider variety of tastes, textures, colors, and more

Supports self-regulation, or in other words, baby ends the meal when they feel full

Plus, it frees parents from the extra time and/or cost required to prepare or purchase purees
What are some tips you can share for parents to ensure a successful transition to Baby Led Weaning?
Breastmilk or formula remains primary source of nutrition: The term "weaning" can be confusing for many parents as infants should continue relying on breastmilk or formula as their primary source of nutrition. BLW and finger foods should be considered as additive to breastfeeding or formula feeding.



Introduce soft foods first: Ripe bananas, cooked pasta, and/or shredded meats are all great options for first finger foods.

Prepare foods to allow for easy grasp: Long, thin strips or crinkle-cut pieces will be easier for baby to grasp and manage.

Maximize nutrient intake: Consider foods that are higher in calories and/or healthy fats to add a nutrient boost to baby led weaning.

Expect a messy start: Because BLW is all about letting your child explore food in many ways, meals can certainly get messy, especially in the beginning. I would recommend protecting the floor underneath your child's high chair with a trash bag or tarp to help parents manage the mess.

Enjoy BLW together: Baby Led Weaning is really your child's opportunity to dine with the family. As much as possible, parents should dine with their child and enjoy their meals together as a family. Baby Led Weaning is an important bonding time for parent and child.

Lastly, don't give up!: Baby Led Weaning can certainly be challenging at times because infants can often be picky eaters, and some babies can be slower to self-feed than others. It's fine to also alternate purees with finger foods if baby prefers purees at first.
How can you follow the new guidelines on early allergen introduction while following BLW practices?
Many parents struggle with feeding the right amount of food allergens on a regular basis to babies starting at 4–6 months of age, especially those following BLW practices. While it's nearly impossible to create a whole food, BLW-oriented approach to introducing allergens like peanut, thankfully there's a product like Ready. Set. Food! that allows parents to enjoy the baby led weaning process while still achieving all the benefits of early allergen introduction. Their innovative, pre-measured system supports the BLW process (and all other feeding routines) with stick packs that dissolve easily into breastmilk or formula. In addition, Ready. Set. Food! is the only multi-allergen introduction system that is all-natural -- with only 3 organic, non-GMO ingredients -- peanut, egg, and milk.
About Whitney Crouch, RDN:
Whitney Crouch is a Registered Dietitian with a BS in Clinical Nutrition from the University of California, Davis. She has over 10 years of experience across multiple areas of dietetics, specializing in integrative and functional nutrition and low toxicity living. When she's not writing about nutrition or educating others on non-toxic skincare, autoimmune disease, or infant food intolerances, she's spending time with her husband and young son. She's often found running around the bay near her home with the family's dog or in the kitchen cooking up new ideas to help her picky eater expand his palate. Find her on Instagram @whitneyc.the.rd.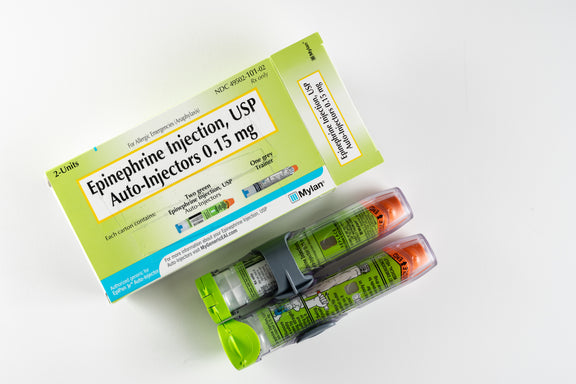 All health-related content on this website is for informational purposes only and does not create a doctor-patient relationship. Always seek the advice of your own pediatrician in connection with any questions regarding your baby's health.
These statements have not been evaluated by the Food and Drug Administration. Products are not intended to diagnose, treat, cure or prevent any disease.  If your infant has severe eczema, check with your infant's healthcare provider before feeding foods containing ground peanuts.