For Food Allergy Action Month 2021, we're excited to announce our new Ask the Allergist series featuring our Chief Allergist and Board Certified Allergist Katie Marks-Cogan, M.D., to answer your most commonly asked question on food allergies. In our second installment, Dr. Marks-Cogan will discuss eczema, it's important connection to food allergies, and the latest guidelines for introducing allergenic foods to children with eczema.
What is Eczema?
Eczema is a common skin condition that affects up to 10 million children in the U.S. In addition to causing inflamed, irritated skin, eczema also directly affects a child's risk for developing food allergies. If your child has eczema, it could be a precursor for food allergies down the road.
What Causes Eczema?
While there is no known cause of eczema, research shows that the lack of a protein called filaggrin is strongly linked to the development of eczema. This filaggrin deficiency is caused by a mutation of the gene responsible for creating filaggrin. Filaggrin is a protein that helps your body sustain a healthy protective barrier on the top layer of your skin. Without enough filaggrin to build that strong barrier for your skin, moisture can escape and bacteria, viruses and more can enter. This is why many people with this filaggrin deficiency will develop eczema and in turn, will have dry and infection-prone skin. In addition, it is thought that a baby's microbiome may be an important factor in whether or not they develop eczema. Vitamin D levels may play a role as well.
The Strong Link between Eczema and Food Allergies
Eczema represents the most important risk factor for food allergy development: up to 1 in 3 babies with eczema will develop food allergies. More research is needed on understanding the link between eczema and food allergies but those with eczema have higher levels of Immunoglobulin E (IgE), a type of antibody that contributes to the body's allergic response to certain foods. Therefore, those with eczema may be more prone to an allergic response because of these increased IgE levels.
The Atopic March
Eczema and food allergies are part of a series of conditions known as the "atopic march." This term describes the order of when related conditions develop: eczema, and then food allergies, hay fever, and asthma, often in this order. It's important for parents of babies with eczema to be aware of the atopic march, because eczema can be a strong predictor for the other conditions, most notably food allergies.
Guidelines on Early Allergen Introduction for Babies with Eczema
If your baby has eczema, medical guidelines recommend early allergen introduction starting at 4-6 months of age. Many of these guidelines have specific recommendations for babies with eczema, because they are at the highest risk for developing food allergies and therefore early allergen introduction is strongly recommended for this risk group.
I know many parents may feel nervous introducing allergens, especially if your baby has eczema but it's important to know that early allergen introduction for babies under 1 year of age is safe. In the three clinical trials that started early introduction as early as 4 months of age, with over 2,000 babies (including those with eczema), there weren't any cases of anaphylaxis or hospitalizations. Furthermore, recent research reviewed the results of all oral food challenges at both Children's Hospital of Philadelphia and Vanderbilt University from 2016 to 2019 and determined that severe allergic reactions were the least common in infants, underlining the safety of early allergen introduction in infancy. In fact, the new USDA guidelines recommending early allergen introduction do not require any prior screening for babies with eczema.
"If an infant has severe eczema, egg allergy, or both (conditions that increase the risk of peanut allergy), age-appropriate, peanut containing foods should be introduced into the diet as early as age 4 to 6 months." - Dietary Guidelines for Americans, 2020-2025
About Katie Marks-Cogan, M.D.: Dr. Marks-Cogan is board certified in Allergy/Immunology and Internal Medicine, and treats both pediatric and adult patients. Originally from Cleveland, Ohio, she received her M.D. with honors from the University of Maryland School of Medicine. She then completed her residency in Internal Medicine at Northwestern and fellowship in Allergy/Immunology at the prestigious University of Pennsylvania and Children's Hospital of Philadelphia (CHOP). After finishing training, she moved to Southern California where she works in private practice and is the owner of Clear Allergy. She is also Chief Allergist and a member of the scientific advisory board for Ready. Set. Food! She has numerous media appearances and has authored many articles pertaining to topics in the field of allergy. She currently resides in Los Angeles with her husband, 6-year-old son, and 3-year-old daughter where she enjoys hiking, building LEGO castles with her kids, and cooking with her family.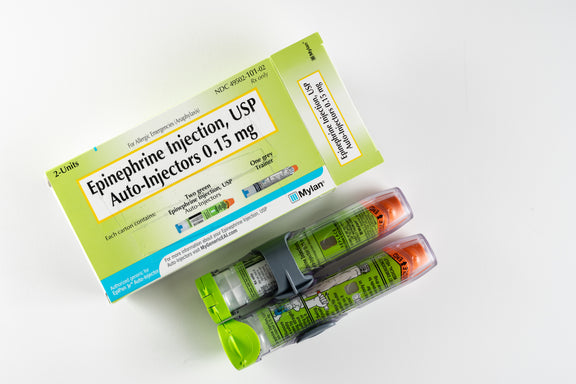 All health-related content on this website is for informational purposes only and does not create a doctor-patient relationship. Always seek the advice of your own pediatrician in connection with any questions regarding your baby's health.
These statements have not been evaluated by the Food and Drug Administration. Products are not intended to diagnose, treat, cure or prevent any disease.  If your infant has severe eczema, check with your infant's healthcare provider before feeding foods containing ground peanuts.