August is National Breastfeeding Month and here at Ready. Set. Food!, we support each and every parent's decision on how to feed and nourish their families.That's why we're proud to join National Breastfeeding Month in helping build a landscape of breastfeeding support.
If you have questions about breastfeeding, need help with any part of the process, or are having difficulty breastfeeding, you might decide to find a lactation consultant. How to choose the right lactation consultant? Learn the factors you need to consider.
Breastfeeding is very beneficial for both mother and child, but it can be difficult – especially if this is your first time. Fortunately, there are health professionals who specialize in breastfeeding assistance, and are trained for this process. They are known as lactation consultants.
If you have questions about breastfeeding, need help with any part of the process, or are having difficulty breastfeeding, you might decide to find a lactation consultant. How to choose the right lactation consultant? Today, we'll cover the factors you need to consider. But first, let's go over the reasons why you might seek out a lactation consultant.
Reasons to see a lactation consultant
There are many reasons why mothers might choose to see a lactation consultant. The list below covers the most common reasons.
A lactation consultant can help you out if:
You want assistance initiating breastfeeding right after baby is born

Breastfeeding is painful

Baby has trouble latching on

Your milk supply is low

You're struggling to find the right breastfeeding position

Your letdown is forceful or overactive

Baby doesn't seem to be getting enough breastmilk

Baby is losing weight, or isn't gaining weight

You have questions about breastfeeding and returning to work

Baby develops nipple confusion (starts refusing the breast – or the bottle – after a bottle of breastmilk is introduced)

Baby makes "clicking" sounds when feeding (a sign of an improper latch)

You have clogged milk ducts or mastitis

You want to breastfeed an adopted baby or baby born via surrogate

You want to relactate (restart breastfeeding after a complete stoppage) or start breastfeeding months after birth

You're interested in a supplemental nursing system

You want guidance on pumping breastmilk

Baby has overly short or overly long feeding sessions

You're breastfeeding multiples

You have a preemie or other NICU baby and want to breastfeed them

You have any other problem with breastfeeding not listed above

You have questions about breastfeeding
When to search for a lactation consultant?
Many moms decide to seek out a lactation consultant suddenly, when they're having breastfeeding issues. In these cases, it's most important to get affordable, compassionate care, from a certified professional, who is available immediately.
But if you're pregnant and planning on breastfeeding, or you've recently given birth and have decided not to work with a consultant right away, it's good to plan ahead. You can research lactation consultants and make a shortlist, so you're prepared in case you do need one.
Below are the factors to consider when choosing a lactation consultant.
1. Select an IBCLC
Many lactation consultants have the title IBCLC. This means that they are International Board-Certified Lactation Consultants. Lactation consultants earn this certification through the International Board of Lactation Consultant Examiners, which shows that they are comprehensively trained in lactation support and meet a high, globally recognized standard of care.
Just like other medical professionals, IBCLCs must pass a board exam to earn their certification. Prior to the exam, they must also complete other rigorous requirements. They must pass 14 health sciences courses, or already be licensed in another area of healthcare. Also, they must have at least 95 hours of lactation-specific education, and log 300-1000 hours of clinical experience directly working with breastfeeding moms. Once they're certified, IBCLCs commit to continuing education every year, and re-certifying every 5 years. This way, they're always up to date in their practice. IBCLCs are the gold standard for lactation assistance.
(You might also see lactation consultants use RLC after their names. Lactation consultants must be IBCLCs to call themselves RLCs, so you can trust that an RLC has gone through the same rigorous requirements to be certified.)
The International Lactation Consultant Association also has a search tool that you can use to search for IBCLCs in your area.
2. Investigate their background and experience
Even among IBCLCs, different lactation consultants will have different backgrounds in breastfeeding support.
Some work in hospitals, some are part of broader healthcare teams at doctors' practices, and others have private practices.
Some lactation consultants may also be doctors or nurses, while others started gaining health and medical experience during their training to become certified lactation consultants.
While some lactation consultants bring their clinical approach to their lactation support, other IBCLCs are more holistic.
And while some work most often with moms of newborns in a hospital setting (to start breastfeeding), others work with mom-child pairings at all different ages and stages of breastfeeding.
Many lactation consultants specialize in solving lactation problems such as low milk supply or engorgement. And select lactation consultants focus on situations like relactation, breastfeeding an adopted child or child born via surrogate, or breastfeeding a preemie or NICU baby.
You can learn more about most lactation consultants' experience, specialties, and care approaches on their websites.
3. Think about when and why you want to see the lactation consultant
If you want a lactation consultant to advise you at birth, first check to see if one is available at the hospital. Some hospitals have a lactation consultant visit all breastfeeding new moms as part of birthing care. If that option isn't available to you, ask if they'll let a private practice IBCLC visit you within the first few days after giving birth.
If you're looking for a lactation consultant to support you throughout your breastfeeding journey, you'll want someone with lots of experience in postpartum lactation support, who knows how to deal with many breastfeeding challenges.
If you already have a specific challenge or concern, see if they mention experience with those concerns.
Most importantly, you'll want to choose someone who will support your breastfeeding needs and goals, no matter what they are. Their care approach should align with the way you want to feed your child(ren).
4. Consider hours and location
If you're visiting a lactation consultant in person, you'll need to make sure that they're easily accessible. You don't want to drive for hours every time you need their guidance. Also, do the lactation consultant's hours work with your schedule, especially if you work outside the home?
Some lactation consultants offer home visits for more convenience and more personalized support. It may be worth checking if a nearby lactation consultant will provide this support.
Online lactation consultants are also an option, especially if you live far away from in-person IBCLCs. But while their hours and format are more flexible, you might still prefer hands-on, in-person appointments if you do have that option nearby. And there are some assessments and guidance that can only be completed in person.
5. Consult other moms for recommendations
Moms in your circle of friends might have lactation consultants they recommend. You can also look for online reviews and recommendations from moms in your area, and see what they tell you about lactation consultants.
6. Ask care providers
Your hospital, primary care provider, OB-GYN, pediatrician, or nurse may also be able to recommend a lactation consultant. Some lactation consultants work with or in hospitals, including to give breastfeeding support right after birth. And some lactation consultants work with pediatricians, so they can help you during a pediatric visit. Even if those options aren't available, many care providers may still have recommendations for private practice consultants.
7. See if your insurance covers a lactation consultant
Many insurance providers cover lactation consultants as a form of breastfeeding support. In fact, they're required to cover lactation services – for as long as you breastfeed – if the insurance plan was established after the Affordable Care Act.
But what exactly is covered will vary by insurance company and plan. So you'll need to check what services and which consultants are covered under your plan, and how much you'll still need to pay out of pocket, if you select a certain lactation consultant. You may also need to select a lactation consultant who is in your network for the insurance to pay for their services. If they're out of network (and no in-network options are easily accessible), you may need to submit a petition to get their services covered under insurance.
8. See if a lactation consultant is affordable
Based on the insurance info you've gathered and out-of-pocket costs, determine if a lactation consultant is affordable for you.
How much will you need to pay per visit, or per hour? And if you're paying by the hour, how long does a visit usually last?
If you need breastfeeding assistance and aren't sure if you can afford a lactation consultant, don't despair. Some states and areas offer free lactation support from IBCLCs through their WIC (Women, Infants and Children) programs.
9. "Interview" lactation consultants
If you have the time, it helps to ask possible lactation consultants questions, and make sure you're comfortable talking to them. They should be knowledgeable and clear, but also supportive, patient, compassionate, and non-judgmental.
Ask potential lactation consultants the following questions over the phone:
How long have you been an IBCLC?

Do you specialize in certain areas of lactation? If so, which ones?

How have you helped moms with with (name a breastfeeding issue or question you're interested in) in the past?

How have you handled difficult breastfeeding situations in the past?

What if I feel like I need to supplement with formula?

How can you help if I want to pump breastmilk and bottle-feed baby?

How accessible are you if I have a sudden question or need?

Can I text, email, or hop on a Zoom call if I have questions?
What to expect when you see a lactation consultant?
After you've found a lactation consultant, here's what to expect when you meet with one.
Visiting with a newborn or otherwise just starting to breastfeed
The lactation consultant will help you initiate breastfeeding. They'll show you different ways to position baby, and explain how to identify a good latch.

They'll explain how to know if baby has had enough to eat.

They'll give you a preview of what to expect in the next week or so.

They'll help you know what's normal when it comes to breastfeeding, and how to tell if something is wrong.
For more on visiting a lactation consultant with your newborn, check out this video from Lynda Swearingen, IBCLC and Registered Nurse:
Visiting with an older baby, after you've started breastfeeding
The lactation consultant will check your baby and your breasts for any possible problems.

They'll make sure that baby doesn't have a tongue or lip tie, or other problem that can make feeding difficult.

And they'll check that your nipples don't look damaged, and that your breasts look healthy. This often involves touching your breasts and nipples.

They'll also assess your position and baby's latch when you breastfeed, and give you tips to foster and identify a good latch. They might move your breasts, and baby, as needed.

They'll give you any other helpful tips for a successful feeding as needed, including how long to feed and how to tell if baby has eaten enough.

They might use a sensitive scale to see how much breastmilk baby drank.

Often, they'll guide you in how to maintain or increase your milk supply.

They'll help you with your breastfeeding goals.

If you have questions – say, about breastfeeding and returning to work, breast pain, using a supplemental nursing system, or engorgement – ask them. Your lactation consultant will give you guidance on how to solve your feeding problems or address your concerns.
Remember that your lactation consultant is here to help you breastfeed successfully. Part of that involves being open enough to ask any question that they could help you with, and sharing anything that could be affecting your breastfeeding (on both your and baby's end).
Don't feel embarrassed, and don't be reluctant to disclose anything related to breastfeeding – your lactation consultant will support you.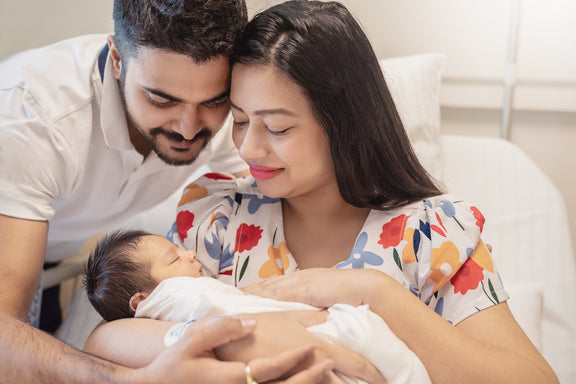 All health-related content on this website is for informational purposes only and does not create a doctor-patient relationship. Always seek the advice of your own pediatrician in connection with any questions regarding your baby's health.
These statements have not been evaluated by the Food and Drug Administration. Products are not intended to diagnose, treat, cure or prevent any disease.  If your infant has severe eczema, check with your infant's healthcare provider before feeding foods containing ground peanuts.