How to choose the right daycare for your little one? Learn the essential questions to ask and points to investigate as you screen childcare centers.
If you're planning on returning to work outside the home, and you won't have a family member at home to take care of your little one, you'll need to decide on the right childcare for your family. A daycare (also called a childcare center) is one option – and one that's often less expensive than hiring a babysitter or nanny to come to your house. Plus, daycare means time for little ones to meet others in the same age group. And many caregivers at daycares are licensed, trained, or both.
If you're thinking about sending your child to a daycare center, there's lots to consider. After all, entrusting your child to someone else's care, in a location outside of your home, can be an emotional task. You want to make sure you've chosen a clean, quality environment with professional staff and a program of care that meets developmental needs. So, research possible daycare centers thoroughly.
Usually, choosing a daycare involves five types of research:
Online research

Asking family and friends with children to give their childcare recommendations

Interviewing daycare providers over the phone

Checking in with former and current clients of daycares on your shortlist, if you can

Visiting childcare centers and speaking with staff in person
Here are our top 11 points to consider when choosing a childcare or daycare center for your little one.
1. Decide which type of daycare you prefer.
There are two main types of day care or childcare center: in-home daycare and state-licensed group daycare.
"In-home daycare" means a childcare center that someone runs out of their own home. Some states require in-home daycare providers to have a license, but others don't. So check into this during your research.
Often, the in-home childcare provider cares for their own children alongside the children who attend the daycare. These environments are less structured than group daycare, but they can often give more personalized care to each child, since in-home providers have less available space.
Keep in mind, though, that they might not have an alternate caregiver at the ready if the regular care provider is sick. And if they aren't licensed, in-home daycares won't have to be inspected regularly for quality.
"Group daycare" refers to a dedicated daycare facility that is not hosted at someone's home. These include incorporated daycare centers with multiple locations, work-sponsored daycare, and independent daycare facilities that have their own building.
All group daycare centers must be licensed by the state. They usually have programs that are more structured, like a school, and may follow a school schedule for operating days. Assuming it's open, you'll always have someone to take care of your children, because multiple caregivers are on staff. If you want care on a holiday because of your work schedule, though, you may be out of luck depending on their operating schedule.
2. Check in about cost, location, and schedules.
Before you place any daycare centers on your shortlist to visit, make sure they're affordable for your family. Also, make sure they're relatively easy to reach from home and work.
In addition, what are the centers' operating hours, and do they align with your needs? For instance, are they open on weekends and holidays if those days are part of your work schedule? If the cost and/or schedules don't meet your needs, cross the center off your list.
Finally, are there places open for a center to accept your child? As we'll cover below, some daycare centers have strict limits on the number of children they accept, to help maintain the standard of care. If you'll have to place your child on a waitlist, you might decide to investigate other options where your child can be enrolled right away.
3. Ask about accreditations
If a daycare you're checking out doesn't have to be state licensed under law, first check if it meets state standards. Keep in mind, though – even if a daycare center is licensed, that doesn't mean it's accredited. Licenses mean that a daycare center meets standards set by a state's government. But accreditations mean a daycare center goes above and beyond to meet more rigorous standards, set by national childcare associations. Follow the links below to learn more about the accreditation requirements.
Ginny the Ed.D. shares more detailed points of what to look for and avoid in a daycare, based on NAEYC standards:
4. Ask about experience, training, and certifications.
If you're looking into a group daycare, do the staff have early childhood development or early childhood education degrees?
And at any day care center, including an in-home one, ensure the staff all have experience actively caring for children your own child's age. Keep in mind that experience raising their own children counts as experience for an in-home provider.
All day care providers should also have training in first aid and CPR, in case of an emergency.
Keep in mind that under law, all staff at all child care providers – including in-home carers and all other adults in a home used for day care – must have completed a comprehensive background check every 5 years.
In addition, it's best to ask how many years of experience the staff members have in caring for children – and how many of those years have been in a group setting.
5. Find out about the kid-to-caregiver ratio.
The fewer kids that a given staff member must care for at once, the better – especially when your child is very young. If a single staff member is responsible for too many kids, they may get overwhelmed.
Keep in mind that licensed childcare centers must not go over a certain kid-to-caregiver ratio, although the ratios vary by state and children's age. Accredited child care centers must also follow strict ratios of children to staff – they can't accept more than a certain number of kids. Under NAEYC ratios, one staff member can't supervise more than four infants, and one staff member can't supervise more than six toddlers under the age of 3.
6. See if you align on childcare philosophies.
This includes your approach to feeding your child, putting them to bed, giving them opportunities to work towards developmental milestones, and more. What is the schedule of care like in detail? Check the childcare center's mission statement and approach, and see if this aligns with your priorities and strongest feelings about raising a child. Then, ask specific questions to learn more.
Some questions to ask include:
Does the daycare soothe children, or let children cry to soothe themselves to sleep?

How do staff work to provide developmentally appropriate opportunities to encourage children's motor and mental growth? (This includes playtimes for all children, and potentially a "curriculum" of daily routines and activities for toddlers to older kids.)

What are the staff's approaches to discipline? This applies more to toddlers and older children, but make sure children are never physically punished, and that any time-outs and consequences staff implement align with your beliefs.

And how do they handle feeding? Daycare staff should always follow your instructions for feeding your little one.

For all bottle-fed babies, make sure that they never prop bottles and that they always follow the feeding schedule you give (including if that's on-demand feeding).

For breastfed babies, make sure that you're allowed to bring in pumped breastmilk, and that it's properly stored.

For babies who have started solids, what foods or snacks are offered? Are they nutritious? Do they align with your weaning approach (whether that's purees, self-feeding, or a combination)?

For all children, does the food follow nutrition standards, especially those for a given age group?

For children with food allergies, do the staff know how to keep your child safe, including label-reading, avoiding hidden allergens, and cleaning to help prevent cross-contamination? Do they know what to do in case an allergic reaction occurs?
7. Check their health policies.
Must all the children at the daycare have all the needed immunizations for their age group? Make sure this is the case. This may seem like a given, but surprisingly, some in-home daycares don't require this.
Also, what are the health requirements for caregivers? They should be up-to-date on their medical exams and immunizations as well.
8. Check their sickness and emergency policies.
The daycare you choose should also have a clear policy that sick children should be kept at home, including what body temperature and symptoms count as "sick," and how long they must remain at home. Also, what happens if a child becomes ill while at daycare – how does the daycare decide if the child must go home, and how are parents notified?
In the event of an emergency onsite, what happens? And what happens if a caregiver gets sick or has a family emergency – are there backup staff on site who can step in, to ensure continuity of care?
9. Carefully examine the environment.
Once you've narrowed down your list and are visiting daycares in person, check cleanliness first.
How clean is the space?

Do staff clean surfaces and toys frequently?

Do they wash their hands after every diaper change, and before every food and bottle prep?

And do they keep every young child's pacifiers, bottles, and teethers separate, with no sharing?
Then, inspect the daycare for safety. Does the space look childproofed?
Is there nothing dangerous like choking hazards or electrical outlets in young children's reach?

Are children secured in the space, and prevented from accessing stairs or open windows?

Are children supervised closely at all times?

Is nothing broken, sharp, or otherwise harmful?

And are the available toys age-appropriate for the children who will play with them, with no choking hazards or other dangers?
Caregivers should show genuine interest and kindness towards the children in their care.
How often do they interact with kids, both physically and verbally?

Do they comfort kids when needed?

Do they know how to meet children's individual needs, including developmental needs?

What activities do they use to engage kids – such as reading, singing, and floor playtime? Are there outdoor play opportunities when the weather is suitable?

Do they mix "moving" and "exercise" activities with more relaxed activities?

Do their approaches seem welcoming to all kids from all backgrounds and all types of home lives?

Do children of all ages have time to interact with others in their age group?

Are they comfortable and relaxed in the environment, but not bored?

Do children's behaviors and body language seem to indicate that they feel loved?

And are kids truly engaged when staff interact with them, both inside and outside of activities?
Also, make sure children of all ages seem happy to be there, not withdrawn.
Then, take a look at what's available for the youngest children.
Do babies have dedicated space where they can move without toddlers and older children getting in the way?

And does each baby receive the one-on-one interaction and playtime with caregivers that they need to thrive?

When it comes to sleep, are there separate cribs for each baby – with no loose objects like pillows in the crib, since loose objects can be a hazard?

Can babies nap whenever they want?

Or is there a nap schedule – if so, what schedule? How closely does it align with home?

Once babies go down for a nap, are they put to sleep on their backs?
10. Stop by for an unscheduled visit and observe.
Once you've made a daycare shortlist based on research, and visited during scheduled visit times to get more info, it's best to follow up by showing up at a daycare unannounced. This way, you'll get to see a typical day and observe parts of routines and staff behavior – when staff aren't expecting you and aren't deliberately preparing to give the best impression they can.
11. Make sure communication "clicks."
You'll be communicating with your eventual daycare provider extremely regularly, since your little one will be in their care. Remember – check-ins with daycare staff are how you find out about your little one's feeding, playtimes, diaper habits, and sleep when you aren't around. So, as you ask staff at a potential childcare center questions (both over the phone and in person), make sure you're comfortable communicating with them and addressing your concerns. This includes telling them how your little one is eating, sleeping, playing, feeling, and dirtying diapers. If something seems off during your conversations with them, cross the potential daycare off your list.
You should also ask about the ways a childcare center uses to communicate with parents. For example, do they send notes home? Do they text or email? Can you call them and hear from them right away if there's a concern? And are you allowed to drop in if needed, to observe your child and ask questions?
Wrapping up
As you screen potential daycare centers, the number one question you should ask yourself is if a daycare seems like a safe environment where your little one can truly thrive. Will your child be happy there, and will they be nurtured with a mindset similar to your own? This is an important decision, so trust your gut. And remember, if you make a commitment and a problem arises, it's perfectly fine to keep looking and switching childcare arrangements so you can find one that works.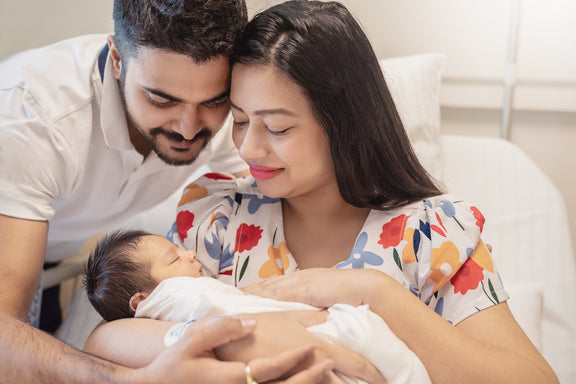 All health-related content on this website is for informational purposes only and does not create a doctor-patient relationship. Always seek the advice of your own pediatrician in connection with any questions regarding your baby's health.
These statements have not been evaluated by the Food and Drug Administration. Products are not intended to diagnose, treat, cure or prevent any disease.  If your infant has severe eczema, check with your infant's healthcare provider before feeding foods containing ground peanuts.