September is Baby Safety Month, and Ready. Set. Food! is committed to helping you keep your baby safe inside and outside of the home.
The kitchen has lots of hazards inside, especially if you have a curious baby or toddler. Follow these safety rules to lower the risk of a kitchen accident and make the kitchen a much safer place for your little one.
The kitchen has lots of hazards inside, especially if you have a curious baby or toddler. Follow these safety rules to lower the risk of a kitchen accident and make the kitchen a much safer place for your little one.
Protect your little one from oven and stove dangers.
The stove and oven are extremely dangerous for little ones, as they put your child at risk for burns. Make sure that little hands can't touch the stove or oven, or reach for hot food that could burn them.
If your stove has knobs, remove the knobs so your little one can't turn the stove on. Or, use knob covers that stop the stove from being turned.

If your oven has push buttons on the front (where your child could push them), engage the control lock when you are not using the oven.

Only cook on the back burners, so it's harder for your little one to reach pot handles.

Always turn pan and pot handles away from the front, so your baby or toddler can't grab them.

Consider a stovetop guard. This blocks the stovetop so babies and toddlers can't reach, but adults still have easy access to the burners.

If your oven is lower to the ground, invest in an oven lock. This will keep your child from opening the hot oven.

When you're cooking, always stay near the stove and oven. Never leave these appliances unattended.

Keep flammable objects (like towels and curtains) away from the stove and oven.

When you're not using hot pads or oven mitts, place them away from the stove and oven as well.

Never open the oven when your little one is nearby, and never leave the oven open.

Turn off the stove and oven immediately when you're done cooking.

It's safest to keep your baby or toddler out of the kitchen while you cook hot food, so consider using a baby gate to keep them from wandering in during those times (if the space allows).

You could also keep your little one in a high chair, place them in a gated play area, or cook when they're napping in their crib.

Once your child is old enough to start helping in the kitchen, teach them to stay away from the oven and stove. (Around 1 ½ - 2 years old, they can start helping with simple cold food prep tasks).

Warn them to not touch these appliances or anything on them.

Tell them, "No! Hot! Ouch!" or "Hot! Don't Touch!" when they get close or try to reach for the oven or stove.
Be extremely careful with hot food and liquids.
If you're moving hot food or hot liquids, do so carefully and very slowly. Make sure there's nothing you or your little one could slip on, and don't make quick or sudden moves.
Always be mindful of where your child is when you're holding something hot – ideally, they should be far away from you. If you move quickly near your child, or they grab you, you both could be at risk for a burn.
It's not safe to babywear when you're carrying or cooking hot food or liquid.
"NEVER carry your child and hot liquids at the same time. You can't handle both." – The American Academy of Pediatrics
Make sure pan and pot handles are tightly secure on the pans and pots, so the pots don't fall when hot food or liquids are in them. If a handle is loose, tighten it – or throw the pot or pan out if it can't be fixed.
Another rule to remember – never place hot food on the edge of a counter or table. And never place it anywhere that your child could reach for it. This includes skipping tablecloths, as baby could pull the bottom of the tablecloth and pull off the hot food. Food could fall on your baby and cause a burn if it's somewhere it can be easily toppled.
And if your little one drinks from a bottle, never heat up their bottle in the microwave, and never heat boiling water to warm a bottle (Similarly, never use a microwave or boiling water to thaw breastmilk). This could create pockets of overly hot milk or formula that could burn baby's mouth. Use warm running water, or a bowl of warm water, instead.
Store sharp objects where your little one can't reach.
Move knives, forks, scissors, and other sharp kitchen utensils to a locked drawer – or a drawer that's well out of your little one's reach.
Sharp appliances (like blenders and food processors) must go in a locked cupboard and/or high cupboard.
If you place sharp objects in the dishwasher, remove them right away so your child can't pull them out and access them.
Never leave knives or sharp appliances out in the open. And never babywear when you're using any sharp kitchen tool.
Foil and plastic wrap boxes are another danger that must be stored up high, because the boxes have very sharp serrated edges.
You might consider placing babyproofing locks on all drawers and cabinets, to protect your baby from any other kitchen dangers.
Secure the medicine and cleaning cabinets.
Keep your dish soap, dishwasher tablets or soap, bleach, and any other strong cleaning supplies up high where your little one can't access them and potentially ingest them. Secure the cabinet with a lock – out of sight and out of reach.
If you absolutely have to store some cleaning products in a low cabinet, secure the doors with a lock that locks automatically when the door closes, or a lock that requires you to press down on two points at once to open the door.
And if you store medicine in the kitchen, your medicine cabinet also needs to be high up and locked so your little one can't access the medicine.
Keep medicine and cleaning supplies in their original containers. Don't move them into containers that look like they hold food, because this might tempt baby to try to eat these dangerous substances.
Even More Kitchen Safety Essentials
Unplug all small appliances once you're done using them. This way, your child can't turn them on accidentally.

Make sure that cords don't dangle. They must be out of children's reach at all times. If needed, you can use cord shorteners.

Consider installing non-skid rugs to reduce the risk of falls.

Remove smaller magnets from your fridge, so kids can't grab and swallow them.

Keep glass and china items on high shelves (of cabinets and the fridge) so your child can't reach them.

Cover outlets with plug covers, so kids can't stick their fingers in.

If you have sharp corners in the kitchen (such as on countertops that stick out), cover them so your child won't injure their eyes or bang their head.

Make sure your child cannot access matches, trash, or garbage bags.

Clean and disinfect the counters and floors regularly, to remove any harmful bacteria and viruses.

If your toddler is helping you in the kitchen (or your little one is in the kitchen for any reason), keep a close eye on them at all times.

Safe kitchen tasks for toddlers (1 ½ -3 years) include pouring and mixing wet and dry ingredients in plastic bowls, rinsing veggies and fruits, tearing greens, sprinkling salt and herbs, using a pastry brush, and mashing veggies – all with your supervision.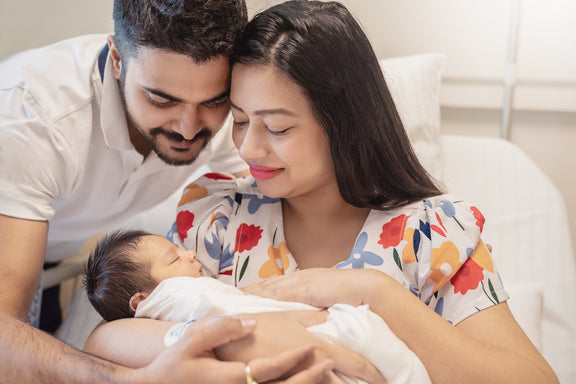 All health-related content on this website is for informational purposes only and does not create a doctor-patient relationship. Always seek the advice of your own pediatrician in connection with any questions regarding your baby's health.
These statements have not been evaluated by the Food and Drug Administration. Products are not intended to diagnose, treat, cure or prevent any disease.  If your infant has severe eczema, check with your infant's healthcare provider before feeding foods containing ground peanuts.