Learn what new guidelines from the FDA, NIH, and AAP on early allergen introduction studies mean for reducing your baby's risk of developing food allergies.
In a baby's first year, parents face an endless cycle of decisions to make for their family. Sleep training, baby-led weaning, breastfeeding, to name a few. We're parents too, and trust me, we've been there! With the new guidelines and
studies
surrounding early introduction, we're here to leave you with one less decision to stress over. Here's what you should know:
Early Allergen Introduction is Recommended
Recently, the AAP (American Academy of Pediatrics), NIH (National Institutes of Health), and FDA (Food and Drug Administration) all confirmed:
Feeding your baby peanut-containing foods at a young age helps prevent peanut allergy
These new guidelines were noteworthy because for decades, many experts (particularly pediatricians and allergists) had been recommending that infants avoid potential allergens during their first year, particularly peanut.
But Why? Demystifying Three Landmark Studies
The LEAP study showed that early and sustained introduction can reduce the risk of developing a peanut allergy by up to 80%
Here's our guide to these landmark studies:
Key Outcomes: An 80% reduction of developing a peanut allergy in high-risk infants who consumed the study-recommended amount of peanut protein per week for the suggested time period

Takeaways: LEAP established that sustained introduction of peanut beginning in the first 11 months of an infant's life was highly effective in preventing the development of peanut allergy. A follow-up study (LEAP-ON) later demonstrated that the same infants remained allergy-free through their 4th year of avoiding peanuts.
Key Outcomes: A 67% reduction in the prevalence of overall food allergy, 100% reduction in prevalence of peanut allergy, and 75% reduction in prevalence of egg allergy in the early introduction group

Takeaways: Early introduction of allergenic foods starting at 3 months of age compared to starting after 6 months of age was both safe and demonstrated a significant reduction in food allergy prevalence, suggesting that there are more benefits to introducing allergens earlier rather than later and as early as 3 months of age. One of the key findings from the study established that early allergen introduction did not negatively impact breastfeeding practices. However, the study could not achieve full compliance with protocol, indicating that early and sustained introduction was difficult to achieve at such a young age.
Key Outcomes: A 79% reduction in egg allergy prevalence among infants with eczema who consumed the study-recommended amount of cooked egg protein per week

Takeaways: Stepwise introduction of egg safely and effectively prevents the development of egg allergies in children. Delaying introduction of these allergens may actually increase the incidence of food allergies.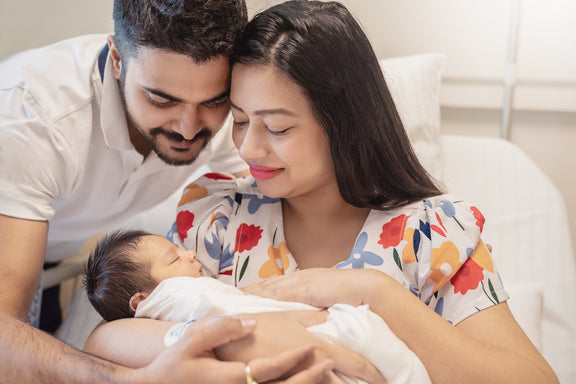 All health-related content on this website is for informational purposes only and does not create a doctor-patient relationship. Always seek the advice of your own pediatrician in connection with any questions regarding your baby's health.
These statements have not been evaluated by the Food and Drug Administration. Products are not intended to diagnose, treat, cure or prevent any disease.  If your infant has severe eczema, check with your infant's healthcare provider before feeding foods containing ground peanuts.