Cow's milk allergy may impact long-term growth in ways that peanut and tree nut allergies do not, based on results of a new study. We share what parents need to know about this groundbreaking research.
According to recent research, children with cow's milk allergies may struggle with long-term growth compared to their peers with peanut and tree nut allergies. In the first study of its kind, researchers examined the growth patterns of children with lasting food allergies from toddlerhood to adolescence. They did this by looking back at the records from the children's clinic visits.
As Karen Robbins, MD (Division of Allergy and Immunology, Children's National Health System in Washington, DC), the study's lead author, explained to Contemporary Pediatrics, "There has been research to look at growth in children with food allergy, but most of these studies only look at children at one point in time. Decreased growth has been observed in the past, but previous work has not addressed whether these children achieve catch-up growth. Furthermore, all food allergies are not the same, and cow's milk allergy specifically may be a risk factor for growth and/or nutritional problems."
The recent study's results showed that children with persistent milk allergy (milk allergy that they don't outgrow in their toddler years) continued to lag behind their nut allergic peers in both height and weight. This may be due, at least in part, to the more restrictive diets that children with milk allergies follow. Today, we'll break down the groundbreaking findings from this study, published in the Journal of Allergy and Clinical Immunology.
Breaking Down the Study: Milk Allergies and Long-Term Growth
We've put together a full overview of the study for families below.
Questions
Answers
Which children were included in the study?

191 young patients at the Johns Hopkins Pediatric Allergy Clinic

Had either milk allergy, peanut allergy, or tree nut allergy

111 had cow's milk allergy

80 had peanut allergy or tree nut allergy

All still had an allergy between the ages of 9-12 years (didn't "outgrow" the allergy).

All were required to have at least one complete clinic visit, with height and weight measurements, available from each of the following age ranges:

2-4 years

5-8 years

9-12 years

Did the children have to follow any dietary restrictions?

Yes. All the children had to follow a strict elimination diet (avoid all forms of the food they were allergic to).

This means children with a cow's milk allergy couldn't consume any milk ingredients, not even heated or baked ones.

Were any children excluded from the study?
Children were excluded if they had any other major medical conditions that could affect their growth.
How did researchers measure children's growth?

Researchers collected children's height and weight data from all clinic visits between the ages of 2-12 years.

Heights and weights were used to generate a "z-score," to show how children compared to their peers.

Researchers also tracked:

Other food allergies the children had

Other conditions related to allergies (such as asthma)

Medications the children were taking

More than 1,100 total clinic visits were reviewed, from between November 1994 and March 2015.

What did the study's results show?
Children with cow's milk allergies consistently had smaller heights and lower weights than their peers with peanut or tree nut allergies.
Why do researchers think cow's milk allergies affect long-term growth, while peanut/tree nut allergies don't?

Researchers don't know for sure, but they have several theories. One theory is that children with milk allergies tend to avoid more foods than just milk, a trend also observed in previous studies of children with cow's milk allergy.

Often, children with cow's milk allergy have other food allergies, so they must avoid other foods to keep themselves safe.

Some avoid other common allergens, like eggs, peanuts, and tree nuts, by choice (since they might have another unknown food allergy).

This may create significant nutritional deficiencies.

Will the negative impacts on growth from cow's milk allergies affect the children's adult height and weight?
This is an important question, but further investigation is needed to find out the answer. This was the first study to track long-term growth patterns for people with persistent milk allergies.
Were there any notable limitations to the study?
Yes. Since the study required long-term tracking of height and weight, there might have been a bias towards selecting children with more severe food allergies for the study.

Also, the study compared children with milk allergies to children with other allergies (nut allergies). More research is needed to compare growth patterns in milk allergic children to those in children without any persistent allergy.

Most notably, though, food allergy management has evolved since the first clinical visits included in the study. More allergen-free alternatives are available to fill in diet gaps, and access to dietitians has improved.
The Study's Results
Results of this study showed that children with cow's milk allergies consistently had smaller heights and lower weights than their peers with nut allergies.
Children with cow's milk allergies consistently had smaller heights and lower weights than their peers with nut allergies.
How did researchers determine this? Children's heights and weights were measured in terms of a "z-score difference."
A "z-score" shows how a child's height or weight compares to their peers.
A "z-score" is calculated by dividing how far a child's height or weight deviated from the average of their age-group peers by the standard deviation (the spread between the lowest and highest measurement of age-group peers.)
Each child's "z-score" from their first visit (at 2-4 years of age) was used as a baseline. Then, researchers checked how much the children's "z-scores" at 5-8 years and 9-12 years differed from the baseline "z-score," to track long-term growth. They also compared "z-scores" of children with cow's milk allergy to those of their nut-allergic peers.
The study found that:
"Children with cow's milk allergy had lower weight (mean z score difference, 0.39) and height (mean z score difference, 0.39) z scores compared with children with peanut or tree nut allergy, adjusting for age, sex, and ethnicity."

Cow's milk allergy was also associated with a greater decrease in weight z score at older ages, compared to the 2-4 year old visit (mean z score difference, 0.25).

Other allergic conditions, like asthma and eczema, didn't affect these results.
What should parents take away from this study?
Milk allergy already has a huge impact on quality of life. Now, we know that this may extend to children's long-term growth patterns.
Although we don't yet know why milk allergy negatively impacts long-term growth, it may be because children with cow's milk allergy tend to have other food allergies.
Children with milk allergies often avoid several types of food with high nutritional value, because they're associated with other common food allergies---even if they don't have a confirmed allergy to a given food.
If your child has a milk allergy, it's vital for you to closely monitor their nutrition, diet, and eating habits, as well as their height and weight, with the help of your pediatrician and allergist.
Only exclude foods when your child has a proven or probable allergy to them, and hasn't passed a food challenge involving them.
When it comes to the foods you must exclude, use allergen-free foods and nutritional alternatives to fill in diet gaps.
Also, keep in mind that your child may be able to tolerate baked milk even if they have a milk allergy. This may help fill in some of the nutritional gaps.

So, you may want to ask your allergist to give your child a baked milk food challenge.
In addition, watch your child's eating patterns carefully.

The fear of an allergic reaction could negatively impact their eating habits, since their unpleasant experience is associated with food.
If you still have concerns about your child's growth and nutrition, ask your doctor about a referral to a registered dietitian, who can help you make a detailed nutritional plan for your child.
Introduce Milk
The impact of milk allergies on growth underscores the importance of introducing food allergens early.
Thanks to landmark clinical studies, we now know that introducing babies to milk early and consistently, before they turn one year of age---and give them the head start they need to maintain healthy growth.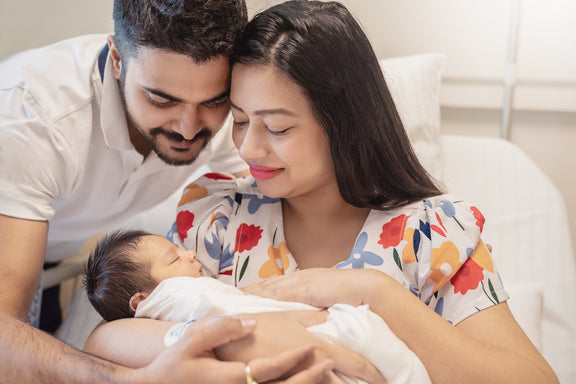 All health-related content on this website is for informational purposes only and does not create a doctor-patient relationship. Always seek the advice of your own pediatrician in connection with any questions regarding your baby's health.
These statements have not been evaluated by the Food and Drug Administration. Products are not intended to diagnose, treat, cure or prevent any disease.  If your infant has severe eczema, check with your infant's healthcare provider before feeding foods containing ground peanuts.