Learn how the Scientific Report of the 2020 Dietary Guidelines Advisory Committee addresses the relationship between complementary feeding of peanut and egg to babies and food allergen introduction.
In this article you'll learn:
What are the Dietary Guidelines for Americans and what they mean for your family

Important new guidelines that are specifically designed for infants and children 0-24 months of age

How new USDA recommendations include feeding peanut and egg to every baby starting at 4 months of age to reduce the risk of developing food allergies
"Introducing peanut and egg...after age 4 months may reduce the risk of food allergy." - USDA Scientific Report of the 2020 Dietary Guidelines Advisory Committee
What are the Dietary Guidelines for Americans (DGA)?
In 2021, the Secretaries of the Department of Agriculture (USDA) and the Department of Health and Human Services (DHHS) will release the 2020-2025 Dietary Guidelines for Americans (DGA), the ninth edition of evidence-based nutrition guidelines that help shape and promote the food choices made by millions of Americans -- children, parents, and seniors every day. They are developed every 5 years and are designed to help Americans eat a healthier diet. The Guidelines outline how people can improve their overall eating patterns with specific nutritional targets and dietary limits.
Who develops the guidelines?
The 2020 Dietary Guidelines Advisory Committee is composed of 20 committee members and is formed by the USDA and the DHHS. The Committee is responsible for reviewing the latest science and research and seeking public input on their Scientific Report.
2020 USDA-HHS Dietary Guidelines Advisory Committee Report: What Families Need To Know
The 2020-2025 DGA will impact the nutrition and health of millions of American families and here's what families need to know about the new guidelines:
Public Comment and Transparency

- For the first time ever, the USDA sought to encourage transparency by

posting for public comment the topics and supporting scientific questions

to be examined at the start of the process to develop the guidelines. This reflects an important change in the guidelines process as more than 62,000 public comments were submitted when the comment period closed on June 10.

Introducing Maternal and Early Childhood (0-24 Month) Guidelines

- Because of rising health concerns for children including obesity, the 2020-2025 DGA will attempt for the first time to provide strong, evidence-based recommendations for pregnant women, infants and young children.

No Added Sugar for Children Under 2

: As part of the new guidelines for babies and toddlers, the 2020-2025 DGA states

"Avoid foods and beverages with added sugars during the first 2 years of life."

Egg Introduction

: The Scientific Report stated that "Moderate evidence suggests that introducing egg in the first year of life (after 4 months of age) may reduce risk of food allergy to egg."

Peanut Introduction

: The Scientific Report stated that "Strong evidence suggests that introducing peanut in the first year of life (after 4 months of age) may reduce risk of food allergy to peanuts" and went on to state "This evidence is strongest for introducing peanut in infants at the highest risk (with severe atopic dermatitis and/or egg allergy)"
About the author: Our Chief Allergist, Katie Marks-Cogan, M.D., is board certified in Allergy/Immunology and Internal Medicine, and treats both pediatric and adult patients. Originally from Cleveland, Ohio, she received her M.D. with honors from the University of Maryland School of Medicine. She then completed her residency in Internal Medicine at Northwestern and fellowship in Allergy/Immunology at the prestigious University of Pennsylvania and CHOP. After finishing training, she moved to Southern California and currently works in private practice. She is a member of the scientific advisory board for Ready. Set. Food! She currently resides in Los Angeles with her husband, 4-year-old son, and 1-year-old daughter where she enjoys hiking, building LEGO castles with her kids, and cooking with her family.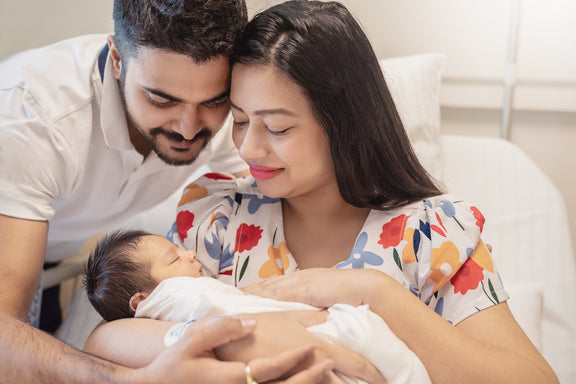 All health-related content on this website is for informational purposes only and does not create a doctor-patient relationship. Always seek the advice of your own pediatrician in connection with any questions regarding your baby's health.
These statements have not been evaluated by the Food and Drug Administration. Products are not intended to diagnose, treat, cure or prevent any disease.  If your infant has severe eczema, check with your infant's healthcare provider before feeding foods containing ground peanuts.