Learn why Dr. Gary Rachelefsky, former president of the American Academy of Allergy, Asthma and Immunology, recommends early, sustained allergen exposure.
All infants are at risk for IgE-mediated food allergy and food allergy rates are rising

The dual allergen exposure theory may help explain the rise in food allergies

Multiple

studies

suggest that early and sustained exposure is effective

Start early to avoid missing a critical immune window and sustain exposure in a consistent manner
Early and sustained allergen exposure can be challenging -- new products on the market can help
Our understanding of food allergies is evolving. Conventional thinking encourages parents to breastfeed their babies and gradually introduce food groups. Starting at about six months of age, when an infant demonstrates good head control and has an interest in oral feeding, pediatricians had been encouraging the slow and sequential introduction of fruits and vegetables [1]. Parents were advised to save the introduction of more common allergenic foods such as milk, egg, peanut, soy, wheat, and seafood until later. The intent in delaying the introduction of foods was to minimize food exposures until the immune system matures [2]. New medical evidence suggests that this process can actually promote food allergy development. If a food allergy diagnosis is made, then strict avoidance of the offending food is recommended, as there are no approved treatments for food allergy [2]. However, avoidance of food is not a cure [3]. Long term management by food avoidance puts the safety burden on patients and their caregivers and greatly affects their quality of life. Avoidance does not solve the underlying problem [4].
New Evidence on Early Allergen Introduction
In recent years, a significant amount of research has been done on food allergy. Multiple studies suggest that our recommendations for early allergen avoidance have not positively impacted food allergy rates [5]. Instead, food allergies have grown at a rate that seems to mirror an increase in other allergic diseases, including asthma and allergic rhinitis [6]. Some studies note that 3-6% of children in developed countries are afflicted with food allergies, while others report that up to 10% of children are affected [5]. Over 15 million Americans have food allergies, and 6 million of these are children under the age of 18. Over the last two decades, we have seen the greatest prevalence in food allergies emerge [2].
Many risk factors have been identified in the development of food allergies. Evaluation of genetic influences support that an allergic family history, male sex (during childhood), ethnicity, atopic dermatitis, and related genetic polymorphisms are impactful on the risk of having food allergies [7] [8]. What has caused the prevalence to rise so quickly? While many hypotheses for the mechanism of food allergies exist, one of the most interesting is the dual allergen exposure hypothesis. This theory, first put forward by Dr. Gideon Lack, suggests that cutaneous sensitization occurs in patients with food allergies, whereas early oral introduction may lead to food antigen tolerance [2] [4] [7] [9].
Oral administration of an allergen protein normally induces tolerance, however it may also result in sensitization and allergic disease [4]. Mechanisms that involve Th2 cell suppression, Treg cell generation, decreased IgE production, and allergic sensitization are also responsible for immune tolerance to other allergens [2] [4] 8]. Mechanisms that churn the immune system are still being defined. A growing body of evidence supports early antigen exposure.
Recent landmark studies are changing the way we think about early food introduction. In the LEAP trial (Learning Early About Peanut), early sustained introduction of peanut in infants with a history of egg allergy and/or atopic dermatitis was correlated with lower levels of peanut allergy after 5 years of age [10]. An 80% reduction of peanut allergy was noted [10]. This was followed by the EAT study (Enquiring About Tolerance) which demonstrated that introducing peanut, egg, and milk early in infancy was safe, and that there was no adverse impact on breastfeeding [11]. Furthermore, the PETIT study (Prevention of Egg allergy in high-risk infants with eczema) showed that a stepwise introduction of eggs alongside eczema therapy reduced the prevalence of egg allergy in high risk infants [6].
A New Paradigm for Parents of Young Infants
When should we introduce food allergens, how often should we give them, and for how long? It is important to establish the developmental window during which sensitization to foods and allergy occurs.[5]. The above studies suggest that the earlier the introduction of food allergens (at around 4 months of age), the more likely that we shift the paradigm to tolerance. In addition, the studies suggest that sustained exposure must be paired with early introduction in order to provide the most benefit. For young infants, the challenge is to consistently and easily introduce food when they are interested in eating, when they demonstrate good head control, and in a way that does not disrupt maternal bonding and breastfeeding. The slow, gradual introduction of food we have been advising may result in babies missing the immunologic window of tolerance, thus increasing allergy unwittingly. New products have emerged on the market that allow for physicians to advise and parents to implement sustained, expedient, and safe food exposures. A breadth of allergen exposure at an earlier age may swing the pendulum towards immunologic tolerance (5). Many infants are ready and will benefit from trying new foods at 4 months of age. The new paradigm should be to start early, be consistent, and be bountiful with food exposure.
References
Fleischer DM, Spergel JM, Assa'ad AH, Pongracic JA. Primary Prevention of Allergic Disease Through Nutritional Interventions. J Allergy Clin Immunol Pract. 2013;1: 29–36.

Burks AW, Wesley Burks A, Sampson HA, Plaut M, Lack G, Akdis CA. Treatment for food allergy. J Allergy Clin Immunol. 2018;141: 1–9.
Nowak-Węgrzyn A, Chehade M, Groetsch ME, Spergel JM, Wood RA, Allen K, et al. International consensus guidelines for the diagnosis and management of food protein-induced enterocolitis syndrome: Executive summary-Workgroup Report of the Adverse Reactions to Foods Committee, American Academy of Allergy, Asthma & Immunology. J Allergy Clin Immunol. 2017;139: 1111–1126.e4.
Sampson HA, O'Mahony L, Wesley Burks A, Plaut M, Lack G, Akdis CA. Mechanisms of food allergy. J Allergy Clin Immunol. 2018;141: 11–19.
Du Toit G, Sampson HA, Plaut M, Burks AW, Akdis CA, Lack G. Food allergy: Update on prevention and tolerance. J Allergy Clin Immunol. 2018;141: 30–40.
Natsume O, Kabashima S, Nakazato J, Yamamoto-Hanada K, Narita M, Kondo M, et al. Two-step egg introduction for prevention of egg allergy in high-risk infants with eczema (PETIT): a randomised, double-blind, placebo-controlled trial. Lancet. 2017;389: 276–286.
du Toit G, Tsakok T, Lack S, Lack G. Prevention of food allergy. J Allergy Clin Immunol. 2016;137: 998–1010.
Sicherer SH, Sampson HA. Food allergy: A review and update on epidemiology, pathogenesis, diagnosis, prevention, and management. J Allergy Clin Immunol. 2018;141: 41–58.
Nwaru BI, Erkkola M, Ahonen S, Kaila M, Haapala A-M, Kronberg-Kippilä C, et al. Age at the introduction of solid foods during the first year and allergic sensitization at age 5 years. Pediatrics. 2010;125: 50–59.
Du Toit G, Roberts G, Sayre PH, Bahnson HT, Radulovic S, Santos AF, et al. Randomized trial of peanut consumption in infants at risk for peanut allergy. N Engl J Med. 2015;372: 803–813.

Perkin M, Logan K, Craven J, Marrs T, Radulovic S, Flohr C, et al. Enquiring About Tolerance (EAT) study – feasibility of early introduction of allergenic foods and impact on breastfeeding. Clin Transl Allergy. 2015;5: O6.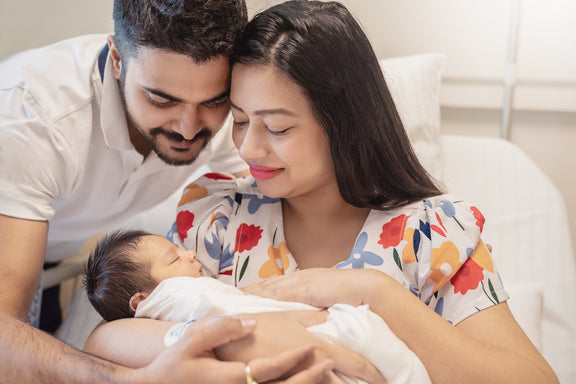 All health-related content on this website is for informational purposes only and does not create a doctor-patient relationship. Always seek the advice of your own pediatrician in connection with any questions regarding your baby's health.
These statements have not been evaluated by the Food and Drug Administration. Products are not intended to diagnose, treat, cure or prevent any disease.  If your infant has severe eczema, check with your infant's healthcare provider before feeding foods containing ground peanuts.