Chief Allergist Dr. Katie Marks-Cogan explains how to tell the difference between symptoms of COVID-19 and seasonal allergies.
A tickling throat. A runny nose. And a new dilemma. Seasonal allergies normally peak this time of year, thanks to the spikes in pollen. But this year, our world's also facing the novel coronavirus pandemic. How can you tell if your symptoms are caused by pollen or the coronavirus (COVID-19)?
Here's how to tell the difference, including tips from Dr. Katie Marks-Cogan, board-certified pediatric and adult allergist (and our chief allergist here at Ready. Set. Food!).
Common Symptoms of COVID-19
Dr. Marks-Cogan explains, if someone contracts COVID-19, "the most common symptoms include fever, dry cough, and difficulty breathing."
People with COVID-19 might also lose their sense of smell, lose their appetite, become fatigued, suffer from body aches, or feel chest pain or pressure. Sometimes, the virus causes symptoms in the stomach or intestines, such as nausea and diarrhea.
These symptoms usually emerge two to 14 days after someone is exposed to the virus. In milder cases, they typically last for 10 days to two weeks.
Severe Symptoms of COVID-19
With more severe cases of COVID-19, the virus spreads into a person's lungs. This can cause pneumonia, where the lungs fill up with pockets of fluid or pus. Pneumonia symptoms include painful coughing and extreme shortness of breath, that can last 2-3 weeks. In older adults and people with chronic health difficulties, these symptoms can linger for 6-8 weeks or longer.
Common Symptoms of Seasonal Allergies
When someone has seasonal allergies, they'll usually experience sneezing, itchy or watery eyes, and a runny nose.
According to Dr. Marks-Cogan, these are the most common seasonal allergy symptoms, but very rarely symptoms of COVID-19. However, she does caution that in young children with COVID-19, a runny nose and cold-like symptoms occur more often.
Also, keep in mind that allergic asthma flare-ups are more common in times of higher pollen counts. These flare-ups can cause wheezing, coughing, and shortness of breath, which are somewhat similar to COVID-19 symptoms.
How long do seasonal allergy symptoms linger? They can last for weeks or months, depending on what allergens trigger the symptoms. Dr. Marks-Cogan adds that these symptoms can get worse on days that pollen counts ramp up, such as on windy, dry days or right after thunderstorms.
Symptoms that COVID-19 and Seasonal Allergies Have In Common
Both COVID-19 and seasonal allergies can cause these symptoms:
Headaches

Wheezing

Fatigue

Dry cough

Loss of your sense of smell
However, these possible symptoms of COVID-19 are not symptoms of seasonal allergies:
Diarrhea

Fever

Abdominal pain
COVID-19 Vs. Allergies: How Can I Tell the Difference?
Do you experience similar symptoms at the same time each year? Are your symptoms mostly a runny nose, sneezing, and itchy or watery eyes?
Then, says Dr. Marks-Cogan, you're most likely suffering from seasonal allergies. Also, if you take Zyrtec, Claritin or other allergy medicine and these symptoms improve, they're probably due to your allergies.
But what if you lose your sense of smell?
"Some people with severe nasal allergies can sometimes experience a decreased sense of smell," says Dr. Marks-Cogan. "However, this usually occurs after long-standing nasal congestion is present or is due to nasal polyps which can be seen in people with seasonal allergies." She further explains that, if you suddenly lose your sense of smell and it isn't associated with chronic nasal congestion, you should talk to your doctor. This isn't caused by allergies, and could be caused by COVID-19.
What if you have asthma flares, which sometimes cause coughing and shortness of breath?
Dr. Marks-Cogan recommends that you contact your doctor. They will help you decide whether you need to increase your asthma medications, or if you should be tested for the coronavirus.
If you're concerned about the severity of your symptoms, and also suffer from a fever or a dry cough, Dr. Marks-Cogan advises that you speak with your doctor.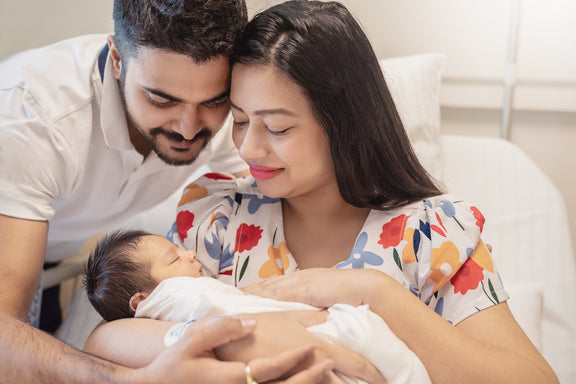 All health-related content on this website is for informational purposes only and does not create a doctor-patient relationship. Always seek the advice of your own pediatrician in connection with any questions regarding your baby's health.
These statements have not been evaluated by the Food and Drug Administration. Products are not intended to diagnose, treat, cure or prevent any disease.  If your infant has severe eczema, check with your infant's healthcare provider before feeding foods containing ground peanuts.