Looking for ideas of what to feed your 18-24 month old little one? Here are some ideas for what your toddler can eat in a day – for breakfast, lunch, and dinner – based on the United States Department of Agriculture (USDA) Dietary Guidelines.
The USDA Dietary Guidelines For 18-24 Month Olds
18-24 month olds are gaining lots of experience in eating solids. They can eat almost all of the same meals that the rest of your family eats, in the exact same preparations (as long as those meals don't contain choking hazards like whole raw carrots and whole nuts). So, family meal prep may get easier for you as the parent or caregiver.
18-24 month olds aren't growing as much as in their first year and a half. Their appetite may decrease overall compared to their first year and a half, and their small stomachs mean that they'll eat relatively small portions at each meal. But their bodies and brains are still going through a significant development stage, so they need plenty of nutrients to support their growth.
Unfortunately, some 18-24 month olds start to go through a picky eating stage, where they're not as willing to eat the same variety of flavors as they were in their first 18 months. But stay persistent! Sometimes, it takes 10-15 exposures to a new food before your toddler will try and learn to love that food.
Plus, giving your 18-24 month old the opportunity to try a variety of healthy flavors and textures is key to encouraging adventurous, nutritious eating later in life. Be sure to give your toddler meals and snacks that are filled with nutrients, to make every bite count!
Keep in mind that your little one is becoming more confident in identifying their hunger and fullness cues. They know when they're finished eating and when they need more to eat. It's important to honor your toddler's hunger and fullness cues so they continue to be intuitive eaters throughout their lives. Present a variety of healthy foods on a regular schedule, but respect their decision if they don't eat much or any of what you serve.
According to the USDA Dietary Guidelines for young children from birth to 2 years of age, your 18-24 month old's diet should contain a variety of foods from all healthy food groups, including:
Lots of fruits and vegetables – these should be prioritized

Many colors and varieties of vegetables daily, including:

Red and orange vegetables

Dark green vegetables

Starch vegetables (such as potatoes)

Beans, peas, and lentils

Other vegetables

High-protein foods, such as meat, fish, seafood, eggs, nut products, seed products, and soy products

Whole grains (choose whole grains over refined grains)

Dairy foods, such as milk, yogurt and cheese

Foods

without

any added sugar

Low-sodium foods
How Much Will Your Toddler Eat In A Day?
Unless you've chosen to keep breastfeeding, your 18-24 month old's diet will consist only of solids, plus water and/or cow's milk to drink. (And if you're still breastfeeding, solids will still make up the vast majority of your toddler's daily diet – they'll drink a lot less breastmilk than in their first year.)
Plan to give your 18-24 month old three meals and two to three healthy snacks per day, so they eat something every 2-3 hours. This will sustain your little mover as they increasingly get more active. It's a good idea to serve the meals and the snacks on a schedule rather than on demand, so your little one knows what to expect. The regular pattern also makes sure they don't end up grumpy from over-hunger.
For meals, you'll generally serve your little one a quarter to a half of an adult sized portion. If the amount your little one eats changes from day to day and from meal to meal, though, don't worry – their hunger may vary. If they show you that they're still hungry after they've finished the first portion you gave them, it's perfectly fine to give them more. And if they're full, don't force them to eat any more.
How much should you plan to offer your child in a day? The recommended amount for an 18-24 month old is between 800 and 1,000 calories per day, based on the average weight range for this age.
Here is a guide to what this looks like by food group, based on the USDA Dietary Guidelines:
Vegetables:

¾ cup to 1 cup per day

Fruit:

¾ cup to 1 cup

High-protein foods:

2 ounces per day (1 ounce of protein = 1 average sized egg, ⅓ chicken breast, or ¼ cup of cooked beans)

Whole grains:

2 ¼ to 3 ounces per day (1 ounce of grains = ½ cup pasta, 1 slice bread, 1 cup dry cereal, or ½ cup cooked oatmeal)
The USDA guidelines also have suggested amounts for specific types of vegetables and specific types of proteins. These amounts are by week. They're a good reminder to vary the different types of veggies and proteins your little one enjoys.
Vegetables
1 ¾ cup - 2 ½ cups of red and orange vegetables per week

⅓ cup - ½ cup of dark leafy greens per week

1 ½ cup - 2 cups of starch vegetables per week (such as potatoes, sweet potatoes, corn, beets, and squash)

⅓ cup - ½ cup of beans/peas/lentils per week (these also serve as a protein)

1 ¼ cup - 1 ½ cup of other vegetables per week (pick a variety of other veggies with different colors, textures, and flavors)
Proteins
7 ounces - 7 ¾ ounces of meats per week (beef, chicken, turkey)

2 ounces - 3 ounces of low-mercury cooked seafood per week

2 ¾ ounces - 2 ½ ounces of eggs per week

1 ounce - 1 ¼ ounces of nut and seed products per week
What Are Good Starting Serving Sizes?
You're probably curious about the suggested portions of healthy food you should offer your little one. Here are some suggested serving sizes for 18-24 month olds. (Remember: If your little one wants more after the first portion, it's perfectly fine to give them more.)
Fruit and Veggies
¼ cup chopped or sliced fruit

¼ cup chopped or sliced veggies

Equivalent of ¼ - ½ of a small fruit or veggie, sliced (such as ¼ - ½ of an avocado, mango, peach, or plum)

2 tablespoons cooked beans/peas/lentils

2 tablespoons hummus
Dairy Foods
2 tablespoons shredded cheese

⅓ cup plain yogurt (no added sugar)

½ cup milk
Proteins
1 ounce meat

1 ounce fish or shellfish

½ egg - 1 egg

2 tablespoons tofu

1 tablespoon smooth, watered down nut butter
Whole grains
¼ cup - ⅓ cup cooked pasta, quinoa, oats, or other cooked grains

¼ slice - ½ slice bread

¼ - ½ bagel

¼ cup whole grain cereal with no added sugar

½ whole grain tortilla
What About Drinks For Toddlers?
Water and whole unflavored cow's milk are the healthiest drinks for your toddler, and the only drinks your 18-24 month old should have (besides breastmilk if you're continuing to breastfeed).
Cow's milk supplies calcium, potassium, vitamin D, and protein. Choose plain whole milk for your little one – avoid flavored milks that contain added sugars.
Your child should have around 2 cups of milk daily (give no more than 24 ounces of milk, as too much milk may lessen your little one's appetite for solids.) In addition to the milk, they should have 2-4 cups of water per day.
By 24 months of age, your little one should be drinking from an open cup on their own, and be done with using sippy cups. So, the 18-24 month age range is prime time for giving most, if not all, drinks in an open cup.
What Your Toddler Eats In A Day: Choosing Meals
Your 18-24 month old is probably confident in feeding themself with their hands – and if they haven't yet mastered feeding themself thick, soft foods with a spoon, they're probably getting close to mastering this skill. If you haven't yet introduced a fork to your little one, you'll also want to introduce that in the 18-24 month age range.
Vary the way meals are typically eaten, so your child can gain experience eating many different types of meals with their hands, a spoon, and a fork. And give your little one a toddler-sized spoon and fork at every meal, to use if they choose.
There are lots of options to provide a nutritious diet for your 18-24 month old that follows USDA Dietary Guidelines. You'll also need to make sure that meals are safe and appropriate for your toddler, to reduce the risk of choking.
Follow these tips to choose age-appropriate and safe meals:
Hard foods, including whole raw carrots, are still a choking hazard for the 18-24 month age group. You'll still need to cook these foods to make them softer. In the case of hard vegetables like carrots, matchstick-thin strips are another safe option for this age group.
Never feed your toddler round foods. Cut round fruits and veggies into halves or quarters, and crumble up meatballs.
Stay away from hot dogs completely. There's no way to remove the choking hazard they pose.
Do not feed your toddler any chunky peanut butter, and do not feed them smooth peanut butter that isn't watered down.
Do not feed your toddler whole nuts. They are unsafe for children under the age of 4.
Continue to feed a variety of common allergen foods to your toddler, to sustain the introduction you started in baby's first year. Your toddler will eat many of these foods naturally when eating the USDA recommended diet.
Below, we'll share ideas for what to feed your 18-24 month old at breakfast, lunch, and dinner.
Note: If your child isn't consistently eating the 9 top allergen foods elsewhere in their diet yet, continue to choose Ready. Set. Food! options (Organic Oat & Fruit Bars, Stage 3 Mix-Ins and oatmeal) to maintain your toddler's exposure to common allergens!
You can use any of our Ready. Set. Food! products (our Stage 3 Mix-Ins, Organic Baby Oatmeal, and/or Organic Oat & Fruit Bars) to maintain your child's exposure, if they've already been introduced to these allergens.
Breakfast Options
Ready. Set. Food! Organic Baby Oatmeal with soft fruit pieces

Overnight oats with soft fruit of your choice (add Ready. Set. Food! Mix-Ins if desired right before feeding)

Cheesy broccoli egg cups with chopped red bell pepper, spinach, and/or mushrooms

Quiche with rainbow peppers

Scrambled egg with cheese, chopped bell peppers, mushrooms, and/or spinach

Crepes or pancakes made with Ready. Set. Food! Organic Baby Oatmeal, served with fruit

Whole-wheat toast topped with smooth nut butter puree (smooth nut butter mixed with some water) and fruit

Whole-wheat English muffin with smooth nut butter puree and fruit

Whole-wheat waffles with fruit (top with plain yogurt or ricotta as well, if desired)

Whole-wheat pancakes with fruit (top with plain yogurt or ricotta as well, if desired)

Homemade spinach and cheese waffles

Whole-wheat avocado toast

Mini toddler breakfast burritos (¼ tortilla filled with egg, tomatoes, peppers, cheese, and sour cream)

Smoothie bowl (plain yogurt and fruit smoothie, with sliced fruit pieces on top)
Lunch Options
Chicken, sweet potato, and zucchini bowl with avocado and feta

Chicken quesadillas with chopped kale and basil, on whole wheat tortillas

Quesadillas with mashed beans and turkey

Grilled cheese with avocado slices, on whole wheat bread

Rotini with veggie pieces, plus tomato or butternut squash puree (if you wish, add Ready. Set. Food! to the puree and pour over the rotini)

Roasted carrot "fries" with grape halves, paired with egg and veggie muffins

Veggie waffles, served with a cooked veggie and fruit of your choice

Whole wheat mac and cheese, with spinach and broccoli mixed in

Oven baked veggie "tots" with hummus dip and a side of fruit

Toddler turkey wrap (whole-wheat wrap with shredded turkey, hummus, and sliced cucumber)

Avocado, chicken, and cheese in a whole-wheat wrap

Taco pizza: Whole-wheat wrap with tomato sauce, cheese, mashed beans, and beef crumbles
Dinner Options
Fiesta bowls with ground turkey crumbles, beans, red pepper, avocado, corn, shredded cheddar and quinoa

Soy-ginger chicken quinoa bowl with butternut squash

Beef, turkey, or chicken meatball crumbles with shredded carrots and zucchini inside, served with the fruit of your choice

Spinach and falafel patty pieces, served with Greek yogurt or beet hummus for dipping, plus a fruit of choice

Green bean casserole with mushrooms, sour cream, and cheddar (mix in Ready. Set. Food! right before serving if desired)

Butter chicken with tomato sauce and spices, served with a fruit and a veggie

Beef crumbles with cooked red and orange peppers, served with quinoa

Low-mercury fish (bones removed) with a mango-peach salsa on top

Zucchini noodles with beef and tomato sauce

Herbed chicken with mashed potatoes and steamed veggies

Ground beef with shredded carrots, celery, and cucumbers, cooked in no-sugar soy sauce

Veggie burgers made with carrots, zucchini, and mushrooms

Steamed broccoli and carrots with chicken or turkey pieces

Pieces of grilled salmon with a veggie and a fruit of choice

Lasagna with veggie pieces
Snack Options
Ready. Set. Food! Organic Oat & Fruit Bars

Guacamole with thin veggie strips for dipping, or on whole-wheat bread

Hummus with thin veggie strips for dipping (mix Ready. Set. Food! into the hummus if desired)

Slices of soft fruit, such as banana, peaches, or mango

Halved or quartered grapes and halved or quartered strawberries

Apples sliced very thinly, with smooth peanut butter puree

Fresh fruit smoothie, made with whole milk (mix in Ready. Set. Food! if desired)

Plain Greek yogurt with fruit pieces mixed in (mix in Ready. Set. Food! if desired)

Chia pudding with fruit pieces (add Ready. Set. Food! Mix-Ins if desired before serving)

Healthy homemade cookies with no added sugar (such as sweet potato cookies or banana cookies)

Homemade fruit or veggie muffins with no added sugar

Cheesy broccoli egg cups with chopped red bell pepper, spinach, and/or mushrooms

Roasted carrot "fries"

Roasted butternut squash
What if my little one only wants to graze?
In the 18-24 month old age range, you might find that your child would rather fill up on quick little snacks throughout the day than larger meals, because they want to move around and play. How to encourage your little one to eat a healthy variety of foods?
Think of snacks like parts of a day-long meal – give your little one healthy snacks like fruit pieces, veggie matchsticks, and shredded cheese. (This is a great idea even if your little one isn't a grazer!)
It's also important to encourage your little one to be at the table for family meals, since healthy habits are formed in the first few years of a child's life. Try offering a wider variety of foods at mealtimes, and just one food at snack times. And remember – it's normal for your little one to eat something every 2-3 hours.
What if my little one is a picky eater?
What if your little one only likes to eat certain foods, will only eat foods that aren't touching, or will only eat a few different foods prepared a certain way? They may be a picky eater – but there are ways to encourage them to try and love a variety of healthy foods.
Toddlers can be picky eaters for several reasons. For instance, they might want control over the situation, or they might feel more comfortable with familiar meals.
Here are some strategies that work well for encouraging several different types of picky eaters to be more adventurous:
Involve your little one in simple meal prep tasks.

Give your little one a bit of the new food to look at, sniff, and touch outside of a mealtime, to get them used to it.

Put a small amount of food on your little one's plate, but give them control over whether they take a bite or not.

Serve small amounts of new food alongside old favorites (again, with no pressure to eat the new food).
Find more strategies for helping your picky eater enjoy lots of different foods in our guide to the types of picky eaters.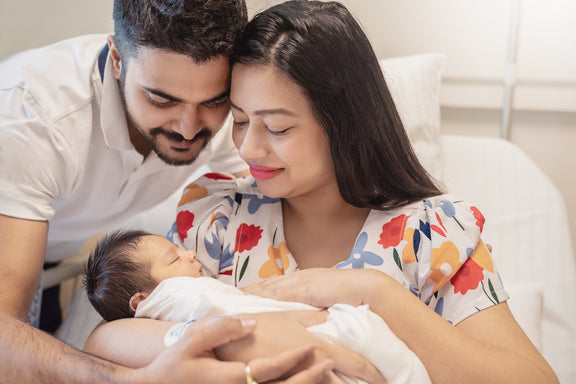 All health-related content on this website is for informational purposes only and does not create a doctor-patient relationship. Always seek the advice of your own pediatrician in connection with any questions regarding your baby's health.
These statements have not been evaluated by the Food and Drug Administration. Products are not intended to diagnose, treat, cure or prevent any disease.  If your infant has severe eczema, check with your infant's healthcare provider before feeding foods containing ground peanuts.