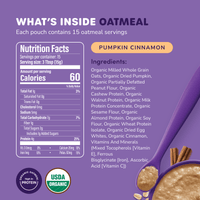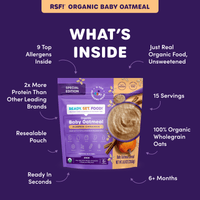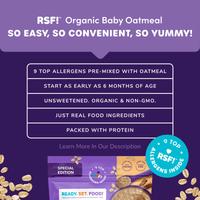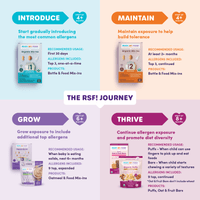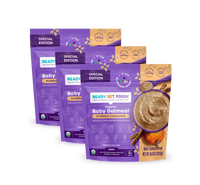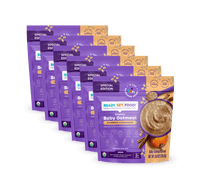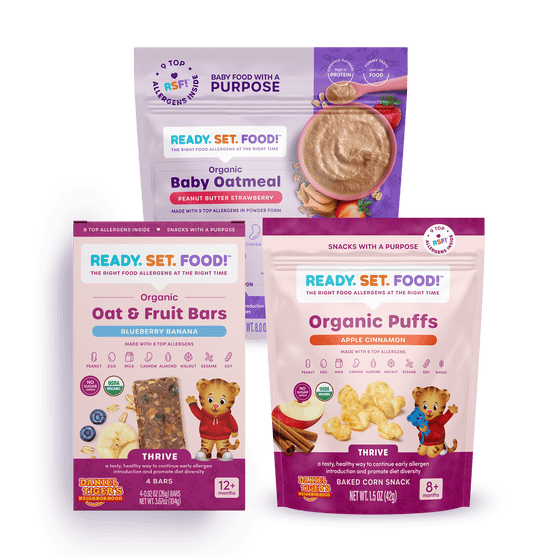 Organic Baby Oatmeal - Pumpkin Cinnamon
Pumpkin, spice and everything nice! Introducing allergens and exciting new flavors to your baby has never been easier or tastier. Our Pumpkin Cinnamon Organic Baby Oatmeal combines real organic pumpkin, organic milled whole-grain oats and 9 top food allergens. This fan favorite started as a limited edition and is now a year-round flavor due to popular demand.
Our Organic Baby Oatmeal provides an easy and wholesome way to introduce and maintain the most common food allergens in your little one's diet. Our 9 top allergens are inside: peanut, egg, milk, cashew, almond, walnut, sesame, soy, and wheat. This flavorful twist on the classic baby oatmeal is sure to leave your little one happy and satisfied. Follows USDA Guidelines for allergen introduction. Inspired by kids. Developed by allergists. Recommended by pediatricians. Loved by parents.
More +
Less -
High in protein
Fortified with iron
Organic and unsweetened
Resealable pouch
15 servings per pouch
Substitutable for Stage 3
MORE CHOICES FOR BABIES AT 6+ MONTHS
Stage 3 MIX-INS
VS.
Baby Oatmeal
If you are already feeding your baby 9 top allergens in Stage 3, now you have the freedom of substituting our new Organic Baby Oatmeal, which is available in a variety of flavors. Our oatmeal has the same allergens - peanut, egg, milk, cashew, almond, walnut, sesame, soy, and wheat - already in every tasty bite.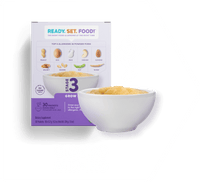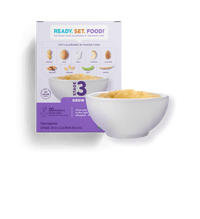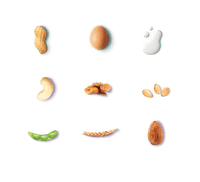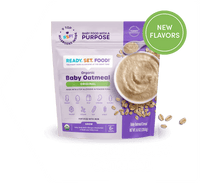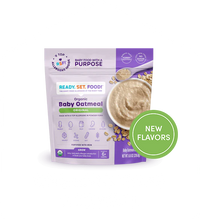 FAQ
What is Ready. Set. Food! Baby Oatmeal?
Why is Ready. Set. Food! Baby Oatmeal the best choice for my baby?
What age is appropriate to start using Ready. Set. Food! Baby Oatmeal?
Are the new flavors of Organic Baby Oatmeal made with just real, organic food ingredients?
Does Ready. Set. Food! Organic Baby Oatmeal contain heavy metals or glyphosate?
More Allergen Introduction Products From Ready. Set. Food!
More Ways to Introduce Allergens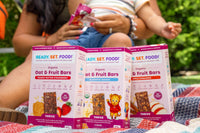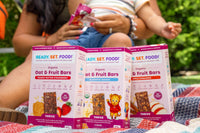 Oat & Fruit Bars Are Here!
ORGANIC OAT & FRUIT BARS FOR YOUR TODDLER
Ready. Set. Food! Organic Oat & Fruit Bars are snacks with a purpose, made from wholegrain oats and real fruit, with 8 top allergens premixed inside! Maintaining regular exposure to top allergens in your toddler's diet has never been easier – or more delicious. These bars will be loved by kids of all ages - and parents, too!