New Product!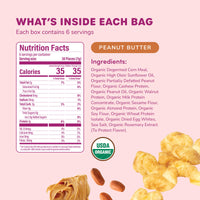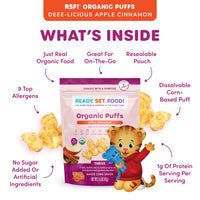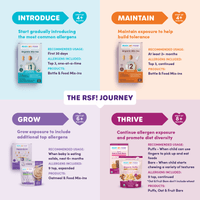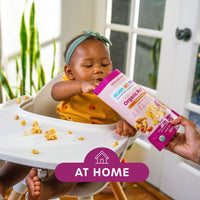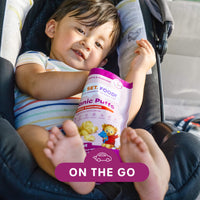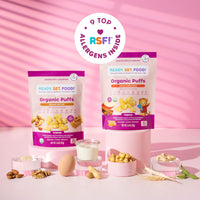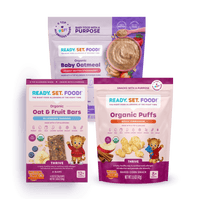 Organic Puffs - Variety Packs
These packs feature a delicious duo: Peanut Butter and Daniel Tiger Apple Cinnamon. Try both yummy flavors and find your family's favorite! Or add some Oat & Fruit Bars and make it a snack combo!

Maintaining your baby's exposure to top allergens has never been easier. Our Organic Puffs are a safe, easy and delicious solution to help parents follow the latest leading medical guidelines that recommend introducing allergens early and often while giving your child nutritious and healthy foods. Made with 9 top allergens: peanut, egg, milk, cashew, almond, walnut, sesame, soy and wheat. As parents ourselves, our goal is to make early allergen introduction as simple, mess-free and convenient as possible; our Organic Puffs are the perfect solution for busy families.
More +
Less -
No sugar added or artificial ingredients
Just real, organic food
Dissolvable corn-based puff
Resealable pouch
6 servings per pouch
For 8+ months
FILL -> sub title
FAQ
How many RSF! Organic Puffs can my baby eat in a single day?
When can I start using RSF! Organic Puffs?
Is there any added sugar in RSF! Organic Puffs?
What is the allergen dose of each serving of RSF! Organic Puffs?
How are RSF! Organic Puffs different from peanut puffs that aren't labeled for toddlers?
More Allergen Introduction Products From Ready. Set. Food!
More Ways to Introduce Allergens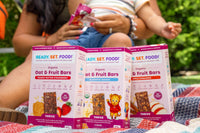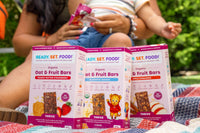 Oat & Fruit Bars Are Here!
ORGANIC OAT & FRUIT BARS FOR YOUR TODDLER
Ready. Set. Food! Organic Oat & Fruit Bars are snacks with a purpose, made from wholegrain oats and real fruit, with 8 top allergens premixed inside! Maintaining regular exposure to top allergens in your toddler's diet has never been easier – or more delicious. These bars will be loved by kids of all ages - and parents, too!