Decided to use baby led weaning to introduce solids? The possibilities are nearly endless. If you're looking for inspiration as you continue baby-led weaning, we've got you covered with these top 7 healthy recipes.
Baby Led Weaning (BLW): The Foundations
Doing baby led weaning means skipping the puree stage, and serving age-appropriate finger foods right away, when baby is ready for solids. This lets your baby feed themself, and helps them learn to identify when they're still hungry and when they're full.
During baby led weaning, you can feed your little one any combination of age-appropriate finger foods.
Create bowls or plates of anything on our best finger foods for babies list, and be creative!
Be sure to

prioritize a variety of fruits and vegetables,

as recommended in the

U.S. Department of Agriculture (USDA) Dietary Guidelines

for babies and toddlers.

Also,

include plenty of proteins (including meats, fish, eggs, and dairy).

Choose whole grains over refined grains.

Introduce a variety of healthy flavors and baby-safe textures.
You can also give baby BLW versions of the fruits/veggies/proteins/etc. that you're serving older family members. This way, you won't have much extra meal prep, and baby can see the rest of the family enjoying similar healthy foods.
For example, if you're serving burgers with tomatoes and homemade sweet potato fries, you could give baby ground beef crumbles, shredded cheese, diced tomato pieces, and the same fries.

If you're serving chicken, broccoli and sweet potatoes, serve those same foods in pieces baby can easily pick up and manage.
One of the best parts of baby led weaning is that you can enjoy meals together with your little one!
Now, without further ado, let's dive into the fun and healthy baby led weaning recipes.
1. Cheesy Broccoli Egg Cups
Inspired by Baby Foode
Ingredients:
6 eggs

¼ cup milk

½ cup low-sodium shredded cheese

¼ cup chopped broccoli

¼ cup other chopped vegetables (try bell peppers, spinach, and/or mushrooms)
Instructions:
Preheat your oven to 375 degrees Fahrenheit.

Whisk the eggs and milk together in a medium bowl.

Add in the veggies and cheese, and stir until well-mixed.

Pour the mixture into a lined muffin tin; fill each cup ¾ full.

Bake for 20-25 minutes or until the eggs are set.

Let cool.

Cut or tear the egg cups into pieces that baby can easily pick up and manage.

Serve.
2. BLW Meatball Crumbles
Inspired by Abbey's Kitchen
The recipe makes 12 meatballs, so your family can enjoy them alongside baby.
Remember: whole meatballs are unsafe for babies, but crumbled meatballs are great for baby-led weaning!
Ingredients:
½ cup iron fortified baby oatmeal (or, ½ cup rolled oats chopped in a food processor)

½ cup milk

1 ¼ pound ground meat (ground beef, turkey, or chicken)

1 egg

½ cup grated cheese

¼ cup shredded carrots, squeezed to remove moisture

¼ cup shredded zucchini, squeezed to remove moisture

1 teaspoon dried oregano

½ teaspoon ground black pepper
Instructions:
Preheat your oven to 400 degrees Fahrenheit.

Mix the oatmeal with the milk in a large bowl, and let it sit for 10 minutes.

Add all the other ingredients and mix until combined.

Roll the mixture into 1 tablespoon meatballs.

Grease the baking sheet and place the meatballs on it.

Bake for 15 minutes, or until the meatball temperature reaches 165 degrees Fahrenheit. Flip the meatballs halfway through the bake.

Let cool.

Crumble the meatballs, or cut them into quarters, so they are safe for baby.
Serve.
3. Banana Blueberry Pancakes
Inspired by Creative Nourish
Ingredients:
¾ cup rolled oats

1 banana

⅔ cup blueberries

¾ cup rolled oats

2 eggs
Instructions:
Using a blender or food processor, blend all the ingredients

except

the blueberries.

Wash the blueberries and cut them into quarters.

Mix the blueberries with the batter.

Heat a pan on medium heat and lightly grease it with olive oil.

Spoon the batter out to create pancakes, and cook.

Flip when the batter starts to firm around the edges.Then, cook for another 1-2 minutes.

Cut the pancake into strips for baby to pick up.

Serve with a side of baby-safe fruit. You might also let your little one dip the pancakes in plain yogurt with no added sugar.
4. Shredded Tikka Chicken
Inspired by Healthy Little Foodies. You'll need skewers to cook the chicken, but you'll take the chicken off the skewers and shred it before serving baby.
This recipe makes 6 servings, so it's perfect for your whole family to enjoy together.
Ingredients:
1 pound chicken thighs

½ cup plain Greek yogurt with no added sugar

3 teaspoons minced ginger

2 teaspoons minced garlic

½ teaspoon ground turmeric

1 teaspoon ground cumin

1 teaspoon ground coriander

1 teaspoon paprika

1 teaspoon Garam Masala

1 tablespoon lime juice
Instructions:
In a large mixing bowl, combine all the ingredients except the chicken. This is your marinade.

Add the chicken and mix so the marinade fully coats the chicken.

Cover and refrigerate.

Let the chicken marinate for at least an hour.

If you're using wooden skewers, soak them in water for 30 minutes so they don't burn while cooking.

Preheat your oven to 400 degrees Fahrenheit.

Thread the marinated chicken onto skewers.

Coat a baking sheet with aluminum foil and place the skewers on the sheet.

Bake for 20 minutes or until cooked through and lightly charred.

Remove from the skewers and shred the chicken into pieces for your baby.

Serve with veggies and/or fruits of your choice, prepared for BLW.
5. BLW "Taco Bar"
Inspired by Baby Foode. The recipe makes 6 small servings; feel free to double the recipe if you need more for the entire family to enjoy together.
Ingredients:
For the taco meat:
½ pound lean ground turkey

1 tablespoon olive oil

½ cup canned black beans (rinsed)

¼ teaspoon onion powder

½ teaspoon garlic powder

1 teaspoon paprika

2 teaspoons chili powder

2 tablespoons water
Serve these with the taco meat:
Pepper, cut into strips and cooked if needed

Chopped avocado

Chopped tomatoes

Shredded cheese
Instructions:
On medium heat, heat the olive oil in a pan.

Add in the turkey and cook until the turkey is browned.

Stir every few minutes to break the larger chunks of turkey.

Add the beans, spices, and water.

Keep stirring until well-combined.

Simmer on low heat for 5-10 minutes and stir as needed.

Remove from the heat and let the turkey cool a bit.

Serve the turkey crumbles with some shredded cheese, peppers, avocado, and tomatoes, for baby to pick up and eat as desired.
6. Kale Chicken Quesadillas
Inspired by Baby Foode.
Ingredients:
For a simple kale "pesto" mixture:
1 cup packed kale

1 cup packed basil

2 small garlic cloves

½ cup parmesan cheese

½ cup olive oil
For each quesadilla, you'll also need:
2 whole wheat tortillas

⅓ cup shredded cooked chicken

¼ cup shredded mozzarella cheese
Instructions:
Prepare and shred the chicken.

Pulse all the kale pesto ingredients in a food processor until they're fully combined.

Heat a skillet over medium heat.

Spread ½ a tablespoon of kale pesto on one side of each tortilla.

Sprinkle cheese and shredded chicken on one of the tortillas.

Place the other tortilla on top, pesto side down.

Heat the tortilla for 3 minutes on each side, or until the cheese is melted and the tortilla is golden brown.

Let cool slightly.

Cut into strips or wedges for baby to pick up.

Serve.
7. BLW Falafel Patties
Inspired by Girl Versus Dough.
Ingredients:
1 can chickpeas (15 oz.) with no added salt, drained and rinsed

1 slice toasted whole wheat bread

Olive oil

2 teaspoons dried dill

2 green onions, sliced

2 tablespoons cooked peas, mashed

2 tablespoons lemon juice

½ teaspoon cumin
Instructions:
Preheat your oven to 400 degrees Fahrenheit.

Lightly brush a baking sheet with some olive oil.

Pulse the whole wheat toast into fine breadcrumbs using a food processor.

Set aside 2 tablespoons of breadcrumbs for the falafel. Store and save the rest for later.

Combine ¾ cup of chickpeas and the onions in the food processor and pulse them until finely chopped.

In a small bowl, mix the chopped chickpea and onion mixture with the 2 tablespoons breadcrumbs, the dill, and the lemon juice. Stir until well-combined.

Combine the rest of the chickpeas, the mashed peas and the cumin in the food processor, and process until smooth. (If needed, you can add a little olive oil to keep the mixture moist.)

Then, combine the two mixtures together in the small bowl. Mix well.

Make 12 small patties out of the mixture. Place them on the baking sheet.

Lightly brush the patties with olive oil.

Bake for 15-20 minutes or until the patties are golden brown and baked through. Flip the patties halfway through baking.

Crumble the patties as needed.

Serve with plain Greek yogurt (no added sugar) and sticks of cucumber.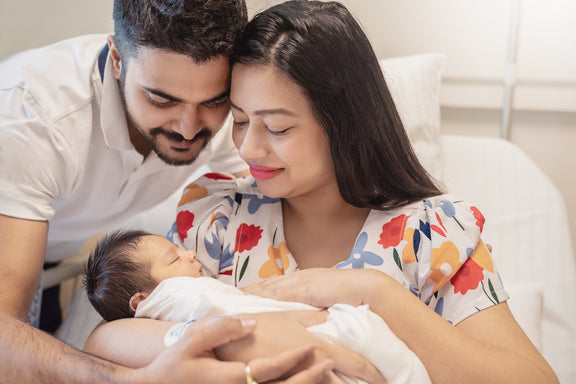 All health-related content on this website is for informational purposes only and does not create a doctor-patient relationship. Always seek the advice of your own pediatrician in connection with any questions regarding your baby's health.
These statements have not been evaluated by the Food and Drug Administration. Products are not intended to diagnose, treat, cure or prevent any disease.  If your infant has severe eczema, check with your infant's healthcare provider before feeding foods containing ground peanuts.