Enjoy our dietitian approved recipes to celebrate Thanksgiving (and food freedom!) with your little eater!
Peanut Butter Pumpkin "Pie"
Age: 4-12 months
Ingredients:
¾ cup Pure pumpkin puree (canned)

½ cup canned coconut milk

2 Tbsp Maple Syrup

½ Tbsp Pumpkin pie spice or plain Cinnamon

½ cup All Natural Peanut Butter- creamy, unsalted, no sugar added

(4) packets of Stage 2 Mix-Ins
Method:
In a medium bowl, blend all ingredients with hand beaters or a whisk, or blend all in a blender on high until uniform.

Pour into a pie dish. Place in the freezer for 1hr or until firm- remove from freezer, slice and serve at desired temperature. Can be stored in the freezer and thawed slice by slice for consumption. Thaw time is 5-7 minutes, at room temp.
Total Time: 10 minutes
Serving Size: 1 slice
Number Servings: 4-6
Benefits of Peanut:
Peanuts are packed with fiber and healthy fats to promote and maintain regulation of body systems such as daily bowel movements and healthy tissue repair. Loaded with minerals such as phosphorus and potassium peanuts are known to strengthen cognition and support a regular heartbeat. The healthy fats in peanuts offer protective benefits for your little one's nervous system and can curb cravings for unhealthy sweets.
Green Bean Casserole
Age: 4-12 months
Ingredients:
2 cups green beans

2 Tbsp Unsalted Butter

½ tsp sea salt (optional)

Pinch onion powder

1 tsp honey (optional)

1/3 cup chopped mushrooms

1/3 cup Sour cream

1 cup shredded mild cheddar

(4) packets of Stage 3 mix-ins
Method:
Preheat the oven to 400 degrees Fahrenheit.

Boil 3 cups of water, once boiling, add green beans and cook for 3 minutes until softened. Remove from heat, strain and set aside.

In a medium saucepan over low-medium heat, melt butter. Once melted, stir in Stage 3 packets and stir gently until uniform (about 1 min). With the heat still on, mix in honey, mushrooms, sea salt, onion powder and sour cream- stir until uniform and let cook 1 min. Add in green beans and stir to coat. Turn off heat. Immediately transfer mixture to a baking dish and spread into the dish evenly. Sprinkle shredded cheddar over the top and bake for about 18 minutes until the cheese is melted.
Total prep time: 5 minutes
Oven Time: 15 minutes
Total Time: 20 minutes
Serving Size: 1 Cup
Servings: 4
Benefits of Dairy:
Dairy is a true growing food! Dairy offers a balanced combination of vitamins and minerals, protein and healthy fat for strong bone and muscle growth, nervous system development and healthy teeth. Dairy is chock-full of super minerals such as calcium, potassium and magnesium, which promote fine and gross motor skill tuning and a balanced nervous system. Dairy's immune boosting properties are owed to its vitamin D content and its heart health benefits are promoted by a punch of Potassium.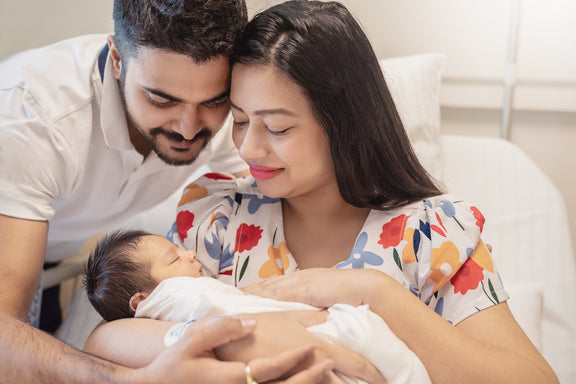 All health-related content on this website is for informational purposes only and does not create a doctor-patient relationship. Always seek the advice of your own pediatrician in connection with any questions regarding your baby's health.
These statements have not been evaluated by the Food and Drug Administration. Products are not intended to diagnose, treat, cure or prevent any disease.  If your infant has severe eczema, check with your infant's healthcare provider before feeding foods containing ground peanuts.