Learn how Ready. Set. Food! can help you safely introduce food allergens to your infant, following international medical societies' recommendations.
Is Early Allergen Introduction Safe?
Learn more about how early allergen introduction is inherently safe from our Chief Allergist and Board Certified Allergist Katie Marks-Cogan M.D:
International organizations support the safety of early allergen introduction
The safety of early allergen exposure for infants has been demonstrated by a number of studies, which has led many allergy societies worldwide (Canada, UK, Australia, etc) to recommend the practice without any universal screening or testing.
For example, the following are early allergen introduction guidelines from leading health organizations.
The new USDA 2020 Dietary Guidelines (DGA) recommends:
"Potentially allergenic foods (e.g., peanuts, egg, cow milk products, tree nuts, wheat, crustacean shellfish, fish, and soy) should be introduced when other complementary foods are introduced to an infant's diet"
The NIAID Guidelines state:
"Early introduction of peanut will result in the prevention of peanut allergy in a large number of infants."
Learn more about the international guidelines here.
No evidence of serious allergic reactions
Multiple studies have shown that allergic reactions are significantly milder in infants than in older children and adults. Furthermore, according to a recent study from Ann & Robert H. Lurie Children's Hospital of Chicago, infants experience less severe reactions compared with older children, and that in turn, all infants can benefit from the early introduction of allergenic foods into their diet.
"We found that infants, unlike older children, have a low-severity food-induced anaphylaxis, which should come as reassuring news to parents who are about to introduce their baby to potentially allergenic foods like peanuts," says lead author Waheeda Samady, MD, from Lurie Children's, who also is an Assistant Professor of Pediatrics at Northwestern University Feinberg School of Medicine.
It is now widely believed that less than one year of age (and considerably younger) is the safest time to introduce allergenic foods. In fact, our medical advisor and head of the food allergy division at Children's Hospital of Philadelphia, Jonathan Spergel MD, recently concluded a study on national health registries that demonstrated the absence of serious allergic reactions in infants and reinforced the importance of introducing allergens early to maximize safety. Dr. Spergel explains "Babies have the fewest severe allergic reactions of any age group, with the severity of allergic reactions increasing as the child gets older."
The British Society for Allergy and Clinical Immunology (BSACI) 2018 also points out:
"Some infants will already be allergic to these foods...to date, no life-threatening reactions have been reported."
In the three landmark clinical trials demonstrating the efficacy of early allergen introduction in infants (LEAP, EAT, PETIT), there were no cases of severe allergic reactions in over 2,000 infant participants, between the ages of 4-11 months of age.
How Ready. Set. Food! Maximizes Safety
We sought out to develop a safe approach to early allergen introduction with Ready. Set. Food! We've taken the stress and guesswork out of early allergen introduction, so that families everywhere can introduce allergens safely with Ready. Set. Food! Here's everything you need to know about how we take safety seriously:
Our Safety Principles
Early bottle introduction

:

Allows families to start at an early age with the most common allergenic foods (peanut, egg, and milk) through our Stage 1 and Stage 2 products, when reactions, if they do occur, are known to be mild

100% Ingredient transparency:

Ready. Set. Food! is made of 100% real organic food. No sugar, no additives, no preservatives. Stages 1 & 2 have only three ingredients - all organic: peanuts, egg whites, and cow's milk. Nothing else! Stage 3 ingredients include all Top 9 allergens, all organic and nothing else: peanuts, egg whites, cow's milk, cashews, almonds, walnuts, sesame, soy and wheat. It's the same kind of real organic food you would feed your baby. And remember there is no added sugar and no preservatives.

Graded exposure

:

Our Stage 1 system starts with an ultra-low dose of peanut, egg, and milk before gently increasing to the amount used in the clinical trials. As a result, the initial allergen exposures are much more gentle than what families typically feed their infants. For example, our initial doses are equivalent to less than 1 teaspoon of yogurt or cow's milk, 1/8th teaspoon of peanut butter, & 1/250th of a cooked egg.

Evidence-based dosing:

Our Stage 1 and 2 products

use the exact protein amounts studied in the landmark clinical trials on early and sustained allergen exposure, none of which documented severe allergic reactions.

Sequential approach:

Our Stage 1 system allows families to introduce the most common allergens, one allergen at a time over several days, which follows recommendations from the AAP and CDC.

Avoids cross-contamination

:

Since many parents and siblings already suffer from a food allergy, Ready. Set. Food! makes the preparation of allergenic foods for use in early allergen introduction much safer by eliminating the risk of cross-contamination in the house. Our easy stick packs being poured directly into a bottle or food limit exposure for a food allergic sibling, or another member of the household, far better than any alternative.
Ready. Set. Food! Is Pediatrician-Approved and Trusted by Moms
Because we've developed a product that's not only safe but also effective, we've earned the trust of both pediatricians and moms alike. Over 1,000 pediatricians and allergists already recommend Ready. Set. Food! in their office; learn more about our endorsements from the medical community here. Furthermore, our medical advisory team is comprised of nationally recognized allergists and pediatricians, who oversee product development as well as our outreach to the medical community. You can see the bios from our medical team here.
In addition, we're proud to have the support of moms who know that Ready. Set. Food! is the best option for introducing allergens safely. Read testimonials from Ready. Set. Food! families here.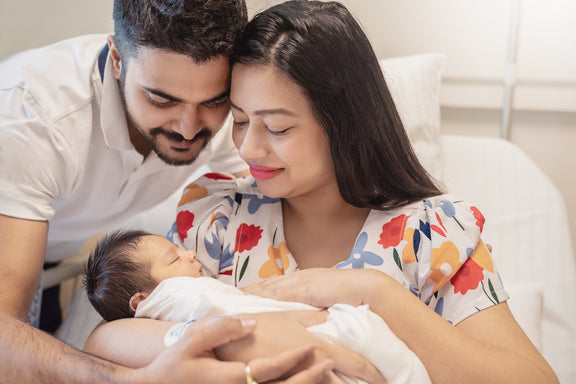 All health-related content on this website is for informational purposes only and does not create a doctor-patient relationship. Always seek the advice of your own pediatrician in connection with any questions regarding your baby's health.
These statements have not been evaluated by the Food and Drug Administration. Products are not intended to diagnose, treat, cure or prevent any disease.  If your infant has severe eczema, check with your infant's healthcare provider before feeding foods containing ground peanuts.