Babyproofing your home involves many new changes. Learn how to babyproof each room and what you'll need with this Ultimate Babyproofing Checklist.
As your baby begins to crawl and ultimately walk, he or she will be fascinated by all things located in your home. Not to mention, your baby's imagination is at a peak when motor and coordination skills begin to develop, making your little one more and more motivated to discover and adventure around your home. You'll notice your baby touching almost every surface they can get their hands on. As you know, your baby will also stick almost anything they find in their mouth.
As this is almost inevitable, safety is key. Whether you're planning ahead on baby proofing your home or making adjustments after your baby's arrival, we've got you covered on what essential baby proofing items you'll need for each room.
The Ultimate Baby Checklist: A Checklist for Each Room
The Kitchen
Both you and your baby will spend a lot of time in the kitchen. Kitchens include many safety hazards like sharp objects, corners and electricity outlets. Although your baby may be in a feeding chair, having covered all areas will keep your mind at ease. Here are the main kitchen Babyproofing areas:
1. Cabinet and Drawer Locks
Install childproof cabinets and drawer locks to each cabinet and drawer. Although some may only install locks for drawers that contain sharp or harmful objects, it is recommended to seal all entry ways. This way, your baby will be fully prevented and out of harm's way. Installing locks on each drawer will also help convince your baby that these locks are permanent, further preventing them from trying to open other drawers in the future. As technology continues to provide new parents with more convenient alternatives, consider opting for a magnetic lock system. They are easier to install as there is no drilling or screwing involved. Also, when you're ready, removing the lock system is easier, too.
2. Stove-Knob Covers
These are essential! Stove-knob covers restrict any movement and help prevent your baby from playing with stove knobs. Some stove-knobs are extremely sensitive and can be accidentally turned on with the slightest touch.
3. Non-Skidding Rugs
The kitchen can be a messy place, especially with a newborn. Bottles will fall, food will spill and if you have a pet, accidents are prone to happen. Installing non-skid pads or buying non-skidding rugs are a great way to decrease any hazards from occurring. Babies can be clumsy and often slip as they're learning to move on their own. Opting for non-skidding rug options in the kitchen as well in all areas of the home are highly recommended to prevent both you and your baby from getting hurt.
4. Childproof Outlet Plug Covers
This is also an essential item for babyproofing. Among touching every surface, your baby will be highly intrigued by holes and, well, sticking their fingers wherever they can. Make sure all outlets, high or low, are safety covered with proper outlet plug covers.
5. Locked Food Canisters
Along with locking all cabinets, safely keep snacks and treats in locked food canisters. Whether you keep your locks in the pantry or out for guests, this is a safe way to make sure your baby does not eat something not fit for their little bodies.
The Living Room
Like the kitchen, you and your baby will be spending a lot of time in the living room. Where this is a place for downtime, your baby will be full of energy and always looking for an opportunity to learn about new objects. Here's what you'll need to babyproof your living room:
1. Childproof Outlet Plug Coverings
As previously mentioned, your baby will most likely want to stick their little hands wherever they can. Cover all outlets with childproof outlet covers.
2. Corner Guards
Another essential item for ultimate babyproofing. Your living room, as well as other areas of your home may have furniture with sharp edges. To prevent your baby from hurting themselves, stick-on corner cards to furniture, sharp window sills and any other area that may be unsafe for your baby.
3. Cord Shorteners
Babyproof your Multi Outlet Extension Cords. Now that you've covered all of the unused outlets, it is vital to consider the one's being used. Some families use extension cords for multi-purpose usage, especially in the living room. Cord shorteners allow for excess storage and hide the cord so that your baby is unable to access them. Cord shorteners also prevent your baby from pulling the cords out of the outlet.
4. Outlet Cover Boxes
An alternative to cord shorteners are outlet cover boxes. They're similar in nature and are just as safe and effective. This outlet cover box option is a great example.
5. Cordless Blinds/Long Curtains
As you know, babies can feel very motivated to pull on things, not only your hair! Pulling curtains can result in rods falling on your baby, which we don't want. Installing cordless blinds and avoiding long curtains will make your living room a much safer place.
To learn more on how to safely and effectively babyproof your home from Dr. Cliff James III:
The Nursery Room
Although your baby will be spending most his or her time in the crib or being changed, babyproofing your baby's sanctuary is key. Here is what you'll need:
1. A Non-Skid Carpet and Rug Cover
As mentioned, keeping your baby as safe as possible when falling is a major safety net. Decorate your baby's nursery with a comfortable rug to help cushion any falls. Rugs are also more gentle on your baby's knees and provide more cushion when crawling. Rug covers are easy to remove and wash. Rug covers also help kill germs and keep your baby's room sanitary.
2. A Safe Toy Box
Your baby will keep themselves very entertained with the plentiful amount of toys in the nursery. As this is something they will learn to access on their own, open toy boxes are highly suggested. If you prefer things kept away, make sure your baby's toy box is not heavy and made of foamy and baby-friendly materials.
3. UL-listed Night Lights
UL products have been tested by Underwriters Laboratories for fire safety and electrical safety. As these products are the most safe and have passed specific safety requirements for home users, it is recommended to use UL-listed night lights for your baby's nursery.
4. Babyproof Light Switches
Along with installing a safe night light, we want to make sure your baby refrains from playing with the lightswitch, too. We suggest having these in all rooms.
5. Finger-Guards
Install finger-guards for hinges on your baby's room door. Those tiny fingers must stay out of harm's way when playing with doors. Likewise, install these to any other doors you foresee your baby playing with.
The Bathroom
1. Cabinet and Drawer Locks
Like your kitchen, install locks to all drawers and cabinets your baby may access. This is especially important to keep your baby away from accessing the medicine cabinet. Likewise, keep all medicine in safely locked containers for extra safety reassurance.
2. Toilet Locks
Yes, your baby may also venture into the toilet. Install toilet locks to prevent germ contamination and potential drinking. Some babies will even stick their heads in the toilet, a major safety hazard.
3. Non-Skid Bathtub Mat
Like non-skid rugs, which we also highly recommend having in your bathrooms, place a non-skid bath mat into your baby's tub. Whether your baby is bathing in a bathtub seat or not, a non-skid bathtub mat will lessen any slippery movements.
4. Water Thermometer
Buy a safe, rubber water thermometer to check the water temperature before placing your baby in the bath. There are many fun thermometer options that can serve as bath toys, too.
Top 12 Tips for Parents
Install finger-guards on all doors across your home.

Place outlet covers on all outlets across your home, visible or not.

Babyproof all the light switches around your home.

Install finger guards to all doors.

Install safety gates at the entrance or exit to any "off-limits" rooms.

If your home contains stairs, install a gate at the start and end of your staircase.

If you have a fireplace, install a gate around your fireplace.

If you have house plants, make sure they are non-toxic and out of your baby's reach to avoid consumption.

If you have a bar cart, make sure to lock up all alcohol. Alcohol can cause serious damage to your baby. Also, most alcoholic drinks are sold in glass containers.

Try to clean and vacuum on a regular basis to avoid consumption of small items that may not be visible to the naked eye. Your baby may spot these items quicker than you, posing choking hazards.

Keep other small items, such as batteries and other toxic materials stored away.

Make sure your laundry room is always closed and that all toxic products are put away safely.
Should your baby ingest a harmful item or experience a serious injury, The American Academy of Pediatrics (2021) strongly advises that you take your baby to the nearest hospital immediately.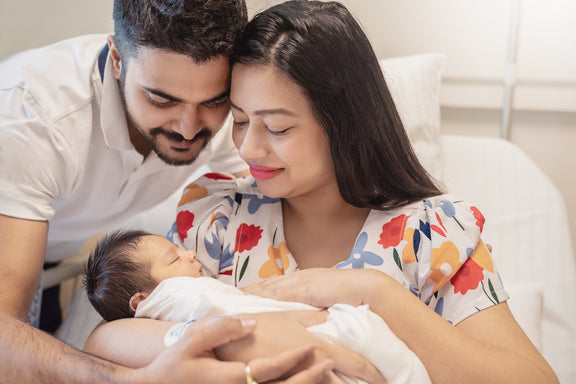 All health-related content on this website is for informational purposes only and does not create a doctor-patient relationship. Always seek the advice of your own pediatrician in connection with any questions regarding your baby's health.
These statements have not been evaluated by the Food and Drug Administration. Products are not intended to diagnose, treat, cure or prevent any disease.  If your infant has severe eczema, check with your infant's healthcare provider before feeding foods containing ground peanuts.