Preparing for your baby's arrival can be stressful for new mothers. Learn when you should begin prepping your hospital bag and what essential items to pack.
When Should You Begin Packing Your Hospital Bag?
As you're getting ready for your baby's arrival, the last thing you want to worry about is when and what to pack in your hospital bag. You want to be prepared, feel comfortable and relieved in knowing that you have all of your essentials ready for your special day. Luckily, for expecting mothers, planning to pack a hospital bag provides much bandwidth. According to the National Health Service (NHS, 2021) it is recommended for expecting mothers to have their hospital bag ready to go between 32 to 35 weeks of pregnancy. In many cases, your baby may arrive earlier than expected, so it is important to start prepping around the start of the 3rd trimester. This way, you can always add more items or modify as needed to best suit you and your baby's needs.
The Ultimate Hospital Bag Checklist for Expecting Mommas
1. Identification and Important Documents
Pack your Photo ID, Insurance information, hospital forms. Some families have a specific birth plan. If you do, pack your birth plan, too. The hospital admission process can be a tedious one, and these items are essential. Forgetting to bring your photo ID and insurance information can lead to a longer waiting period before you're admitted. Of course, waiting for your comfortable room and bed is the last thing you want to do when arriving at the hospital. This is especially important when considering the high cost of healthcare treatment. Suppose you send your partner back home to pick up these items and they miss a crucial moment. You want to spend every second with your partner during this experience, let's make sure we prevent this from happening.
2. Personal Items
This includes eyeglasses or contacts, if you wear them. If you use contacts, pack your contact solution. If you use disposable contacts, pack enough single-use packs for two to three days or more. Remember, overpacking for your special day is encouraged!
3. Specific medications (if needed)
This includes allergy medications or any other medications that you have been taking over the course of your pregnancy. Always consult with your doctor on whether to bring these medications for your delivery.
4. Cell phone and charger
Usually, USB charger cables are the most convenient. For extra comfort, bring a portable charger so that you can easily charge your phone and other devices in the comfort of your hospital bed. Also, you'll want to take lots of photos of your new arrival so make sure to bring a camera, if you prefer that over using your phone.
5. Maternity undergarments and nursing accessories
As your body has already endured a lot of changes, we recommend packing your favorite pairs of comfortable undies (four to five) to maintain cleanliness and comfort. Maternity underwear and low-rise postpartum options are recommended for ultimate comfort. Also pack at least two non-wire nursing bras and nursing pads to support any leaks you may experience and if you plan to nurse.
6. Comfortable clothing
Pack comfortable pairs of pajamas (two to three), a warm robe and sweaters. Hospitals tend to be cold, no matter how many warm blankets they provide you with! Also, although hospitals typically provide non-skidding socks, pack a pair in case. These are vital and the safest option for when walking the hospital halls both before and after giving birth to your baby.
7. Favorite pair of slippers
Fuzzy and warm slippers are highly suggested for optimum comfort when walking the hospital halls or even when sitting down to read or watch TV.
8. Preferred toiletries
This includes your toothbrush, toothpaste, floss, shampoo, conditioner, hair care products, hairbrush, deodorant and face wash. To maximize space in your ultimate hospital bag, pack travel sized options. If your favorite product does not come in travel size, there are many great travel bottle kit options.
9. Daily self-care products
Hospitals can be dry, pack chapstick. Pack your favorite scrunchies and a headband to prevent sweating. Hair dryers are encouraged, too. Pack face masks, eye masks and any other self-care products to make your experience as seamless as possible.
10. Towels
Hospital towels can be rough on the skin. For those with sensitive skin, listen up! Using towels provided by hospitals better serve to dry your hands, wash your clothing (or your baby's) or to clean up any spillage. They are also less absorbent and smaller than your own towels and smaller towels are not ideal for your body during delivery. So, pack your favorite comfortable and clean towels. We suggest that you avoid packing white towels to prevent permanent stains and more cleaning.
11. Favorite pillow
As your excitement to take your baby home is, of course, apparent, packing your comfiest pillow can provide you with a sense of home for the duration of your hospital stay.
12. Electronic devices for entertainment
Hospital television options aren't the most exciting and channels can be limited. Pack your iPad or laptop and enjoy your favorite shows and movies. Don't forget your earbuds or AirPods!
13. Light reading or your electric reading device
Being in the hospital can bring a lot of stress, bring your favorite book to distract you or just to provide yourself with a peace of mind. If you have a Kindle, don't forget to pack your charger!
14. Postpartum recovery essentials
This includes heating pads or ice packs, should you prefer yours over the hospital's options.
15. Breastfeeding pillow
In addition to your sleeping pillow, you want to ease your baby into becoming accustomed to feeding time and using a breastfeeding pillow. Breastfeeding pillows also can help make bottle-feeding easier and more comfortable too. Breastfeeding pillows have many benefits for both mothers and newborns. Consider the following pros of using a breastfeeding pillow:
Help your baby latch on easier.

Help mothers who are healing from a C-section.

Can Provide your baby relief from reflux and/or vomiting and even prevent it from happening.

Support both you and your baby's posture

Help make your baby's muscles stronger sooner.

Support a new mothers back and arms.
Consider this Best of Baby Winner for Top Feeding Pillow.
16. Healthy snacks
The best part! Pack your favorite healthy and nutrition packed snacks for cravings, especially those late night cravings.
Watch the Bjorkman's, an OB/GYN couple, share their own experience in preparing for what you need for the ultimate hospital bag for you, your baby and your partnerL
The Ultimate Hospital Bag Checklist for Your Baby
Packing for your new best friend can be fun, too! You won't need much, but you can never be too prepared for your little one's arrival.
1. Baby's coming-home outfit
Like many mom's, imagining your baby's arrival at their new home wearing their first outfit is so exciting. Planning your baby's outfits can also ease stress and enhance positive emotions for your future with your new baby. Some moms enjoy matching outfits. Others enjoy monogrammed outfits. Regardless of your style choice, make sure to pack different sized clothing to ensure an appropriate and comfortable fit. It is also recommended to pack a top knot newborn hat to enhance safety and comfort for your newborn.
2. Warm blankets
Like you, your baby will most likely be cold in a hospital setting. Pack comfortable and warm swaddle blankets.
3. Install a newborn car seat
Whether you sit in the back seat with your baby or not, make sure that your infant car seat is properly installed before your hospital stay. Stroller-compatible infant car seats are recommended, as they are versatile and serve to be multi purposeful.
The Ultimate Hospital Bag Checklist for Your Partner
Whether you're the planner or the more organized of the two, it is helpful to either pack or provide an essential list for your partner. Your partner will also most likely be spending a night or more with you in the hospital. Here are some overnight essentials for your partner:
Cell phone and charger

Comfortable change of clothes

Pajamas

Toiletries

Medication (if needed)

More snacks!

Entertainment

Camera
Now that we've touched on the ultimate hospital bag checklist for you, your baby and your partner, you should feel very much at ease knowing you're prepared for all that this beautiful experience will bring for your new family. It is highly suggested to keep your bags by the front door in case of an unexpected surprise! For those families expecting multiples, it is suggested to prepare your ultimate hospital bags a bit earlier. Consult with your doctor for additional guidance.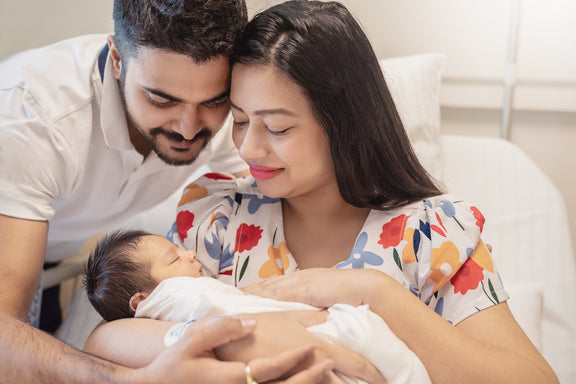 All health-related content on this website is for informational purposes only and does not create a doctor-patient relationship. Always seek the advice of your own pediatrician in connection with any questions regarding your baby's health.
These statements have not been evaluated by the Food and Drug Administration. Products are not intended to diagnose, treat, cure or prevent any disease.  If your infant has severe eczema, check with your infant's healthcare provider before feeding foods containing ground peanuts.