In this article, learn more about the new USDA Dietary Guidelines for Americans and their recommendations for early allergen introduction. We'll break down these important recommendations for your family from

the 2020-2025 USDA Dietary Guidelines.

For millions of American families, the United States Department of Agriculture (USDA) is considered a trusted source on health and nutrition related issues. New USDA guidelines are published every 5 years to keep up with trends and new scientific findings concerning diet as well as nutrition. Given that, the newest 2020-2025 guidelines were recently released.

Learn more about the USDA Guidelines from FOX17 featuring Board Certified Allergist Katie Marks-Cogan, M.D.:

In a groundbreaking move, the most recent guidelines give recommendations that include 0 to 2 year olds for the first time ever. One key recommendation that stands out from these findings is that parents should "introduce infants to allergenic foods." In this article, we'll break down these important new food allergy guidelines from the 2020-2025 USDA Dietary Guidelines.
USDA Guidelines on Early Introduction: 5 Key Takeaways for Parents
"Introduce Infants to Potentially Allergenic Foods

" - The new Dietary Guidelines recommend that infants be introduced to allergenic foods such as: peanuts, egg, cow milk products, tree nuts, wheat, crustacean shellfish, fish, and soy. For example, introducing peanut "reduces the risk that an infant will develop a food allergy to peanuts." Parents should introduce these allergenic foods in a baby's first year of life along with other complementary foods.

No Evidence for Delaying Peanut Introduction

- There is no evidence to support that delaying the introduction of allergenic foods can help prevent food allergies. It is important to introduce these foods early, in your baby's first year of life.

For High Risk Infants, "Introduce Peanut-Containing Foods at 4-6 Months" -

Infants at high risk for food allergies are defined as those with severe eczema and/or egg allergy. For these high risk infants, introduce peanut at 4-6 months of age to "reduce the risk of developing peanut allergy." It is recommended that parents consult with their healthcare provider before introducing peanut to determine the safest way to introduce peanuts for high risk infants.

"Nuts, Chunks of Peanut Butter..Can Be a Choking Risk"

- Parents need to find appropriate forms of allergenic foods to introduce to their baby as nuts and peanut butter can pose a choking hazard. Learn more about how to safely introduce peanut from the NIAID Guidelines

here

.

"Consume a Variety of Complementary Foods and Beverages" -

In addition to allergenic foods, it is strongly recommended to introduce a variety of foods across all food groups to ensure critical growth and development goals are met for your child.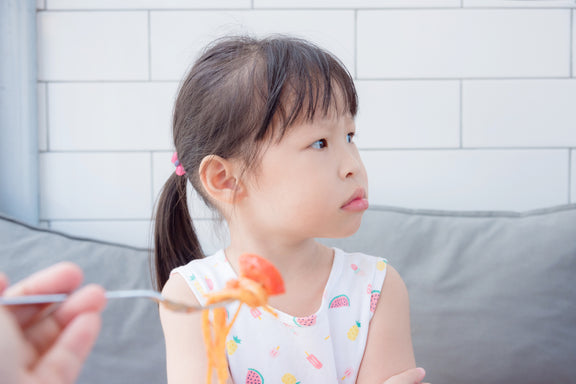 All health-related content on this website is for informational purposes only and does not create a doctor-patient relationship. Always seek the advice of your own pediatrician in connection with any questions regarding your baby's health.
These statements have not been evaluated by the Food and Drug Administration. Products are not intended to diagnose, treat, cure or prevent any disease.  If your infant has severe eczema, check with your infant's healthcare provider before feeding foods containing ground peanuts.