TEAMING UP TO GIVE BABIES A HEALTHIER FUTURE
Ready. Set. Food! was created so that parents could have access to a safe and easy way to introduce their babies to the most common allergens, following USDA and medical guidelines.
Loading code...
Coupon code will be automatically applied at checkout
Shop now with 50% off your first month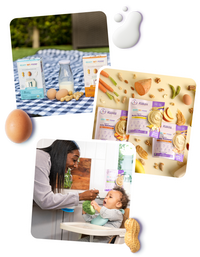 Genevieve Howland
Mama Natural
I love Ready. Set. Food!'s safe and scientifically-based program!
As the only baby cereal with allergens inside, Ready, Set, Food! Organic Baby Oatmeal provides your baby with an everyday, tasty meal they'll love awhile introducing the allergens that they need. Remember, you can also use RSF Baby Oatmeal as a substitute for any daily feedings of Stage 3.