In this article, we'll provide recipes and DIY options for introducing peanut early and consistently, to follow the new guidelines on food allergen introduction.
Thanks to recent landmark studies and new medical guidelines, we now know that introducing babies to common allergy-causing foods (like peanut) early is safe.
The LEAP study shows that:
Introducing peanut starting as early as 4-6 months, and before your baby is one year old is safe.

Consistently feeding baby peanut, 2-7 times per week for at least 6 months, is just as important as starting early.
The AAP, NIH, AAAAI and other leading medical organizations around the world have based their new guidelines for introducing peanut on the LEAP study.
These recipes are some options for introducing peanut early and consistently, to follow the guidelines.
What to Know Before You Start
Before using these recipes to introduce peanut to your baby (or sustain their exposure to peanut), remember:
Never give your baby whole peanuts, peanut butter directly from a spoon, or any chunky peanut butter.

These are choking hazards.

Also, watch out for added sugar, and other additives, in peanut butter. Even many two-ingredient peanut butters contain additives that babies don't need, like salt and palm oil.

Natural peanut butter (made with only peanuts) is best.

Introduce one new food at a time, and wait 2-5 days before introducing each new food. For example, if a recipe contains peanut butter, oats, and bananas, you'll need to introduce oats and bananas first if that recipe is your baby's first exposure to peanut.

Most of these recipes are meant for babies who are already eating solid food. However, waiting until your baby is ready to eat solids may be too late.
Homemade Peanut and Fruit Puree
Note: For babies ages 6 months and up.
Ingredients:
2 bananas

1 cup chopped mango

2 tablespoons smooth peanut butter

1/4 cup coconut milk
Instructions:
Chop the mango.

Blend the mango, banana and peanut butter until smooth.

Add the coconut milk until you've reached the texture you want.
Peanut "Smoothie" with Fruits and Vegetables
Note: For babies age 6 months and up who are starting solids, and who use a mesh or silicone baby feeder.
Ingredients:
1 cup spinach

1 banana

½ cup frozen mango

1 tablespoon smooth peanut butter

½ cup water or breastmilk
Instructions:
Blend the spinach, banana, mango, peanut butter and water (or breastmilk) together.

Serve the "smoothie" in a mesh or silicone baby feeder.
Soft Peanut "Cookies"
Note: For babies age 8 months and up, who are already eating solids.
Ingredients:
1 cup mashed bananas (2 medium bananas)

1 cup rolled oats

¼ cup smooth peanut butter

½ teaspoon cinnamon
Instructions:
Preheat your oven to 350 degrees F.

Lightly grease a cookie sheet.

Mash the bananas.

Divide the 1 cup of rolled oats in half.

Pour ½ cup of the rolled oats into a food processor and blend into flour. Leave the other ½ cup as is.

Mix the mashed bananas, oats, oat flour, peanut butter and cinnamon together in a large bowl.

Scoop out spoonfuls of the batter with a large spoon. Place each spoonful onto the cookie sheet.

Shape each spoonful into the shape you want now, because the cookies won't change shape while they bake.

Bake for 10-12 minutes.

Remove the cookies from the oven and let them cool.
Softened Bamba
Note: For babies ages 8 months and up, who are already eating solids.
Ingredients:
Instructions:
Soften Bamba puffs with 4-6 teaspoons of water, and mix well.

Feed to baby with a spoon.
This recipe may seem simple, but using Bamba brings more complications than you might think. Before introducing peanut to your baby with Bamba, here are a few things to know:
Bamba is unhealthy for your baby. It contains corn, palm oil, and salt, and is high in fat and sodium. Using Bamba means feeding your baby additives that they don't need.

When feeding your baby Bamba, it's difficult to know how much Bamba you need to effectively introduce allergens, since Bamba contains additives. What if you give baby too little---or too much---peanut at once?

Even when softened, Bamba is only for babies who have started eating solids.
To learn more about why Bamba isn't the best option to introduce peanut, check out our article here.
An Easier Way to Introduce Peanut, Plus Egg and Milk
All of these recipes contain peanut, but not egg or cow's milk (the other two top allergy-causing foods). Peanut is only responsible for around 25% of childhood food allergies. To cover 80% of childhood food allergies, you'll need to introduce your baby to egg and milk, in addition to peanut.
Fortunately, this doesn't mean finding, and spending even more time preparing, egg and milk snacks for baby.
Ready. Set. Food! makes it easy for all families to introduce peanut, egg and milk to babies, because it:
Follows the exact dosing

used in the landmark studies

and recommended by clinical guidelines

Only contains organic peanut, egg, and milk---no added sugar, salt, or other additives

Easily dissolves into breastmilk or formula, so you don't have to wait until baby is ready for solids

Eliminates guesswork: just pour the pre-measured stick packet into baby's bottle, or bowl of puree
Give your baby the best chance of food freedom with Ready. Set. Food! We have done the research, calculated the doses, and made the mess, so you don't have to. Learn more about why Ready. Set. Food! is the easy way to do early allergen inrtoduction.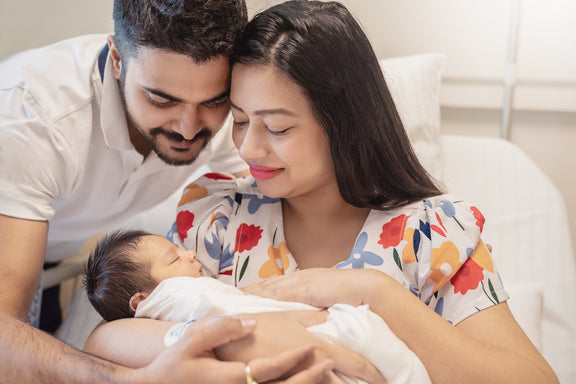 All health-related content on this website is for informational purposes only and does not create a doctor-patient relationship. Always seek the advice of your own pediatrician in connection with any questions regarding your baby's health.
These statements have not been evaluated by the Food and Drug Administration. Products are not intended to diagnose, treat, cure or prevent any disease.  If your infant has severe eczema, check with your infant's healthcare provider before feeding foods containing ground peanuts.