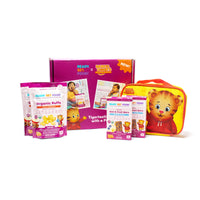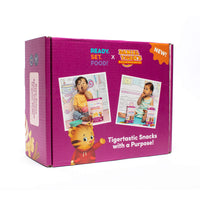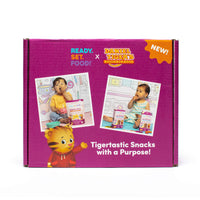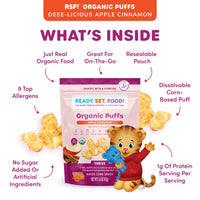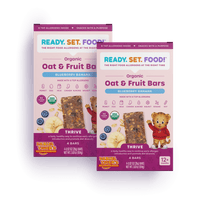 Daniel Tiger Snack Box
Hi, Neighbor! Introduce your little one to tigertastic first-of-its-kind organic snacks made with top allergens already inside, making it easier and tastier than ever to maintain your little one's exposure to top allergens. This fun assortment includes 2 boxes of Blueberry Banana Organic Oat + Fruit Bars, 2 pouches of Apple Cinnamon Organic Puffs, and a soft lunch box for snacks on the go.
Daniel Tiger knows the challenges of living with a food allergy and Ready. Set. Food! is helping make sure that all friends can live a life of food freedom. Daniel Tiger's Snack Box is exclusively available from Ready. Set. Food! Perfect for snack time, lunch time, or any time!
This item qualifies for FREE SHIPPING.
More +
Less -
FAQ
Can you explain your partnership with Daniel Tiger?
Which products are available with Daniel Tiger?
How many servings of fruit are included in each Organic Oat & Fruit Bar?
What is Ready. Set. Food! Baby Oatmeal?
Why is Ready. Set. Food! the best way to introduce allergens?
More Allergen Introduction Products From Ready. Set. Food!
More Ways to Introduce Allergens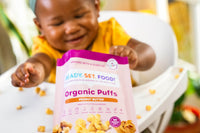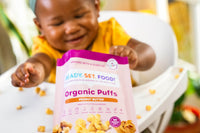 New Organic Puffs
ENJOY ORGANIC PUFFS AT HOME OR ON THE GO
These are puffs with a purpose, made with 9 top allergens on an organic corn base. Maintaining regular exposure to top allergens in your little one's diet has never been easier – or more delicious.